EPA's McCarthy: Contaminated water from Colorado mine will spread
EPA Administrator Gina McCarthy warned Tuesday that millions of gallons of contaminated water from a Colorado mine now surging along Colorado's Animas River could eventually impact Mexico, Utah and the Navajo nation.
McCarthy also told a press conference the agency is still trying to determine how it accidentally unleashed the wastewater into the river and vowed to use the "full breadth of the agency" to clean up the mess.
"We're working around the clock," McCarthy said. "It pains me to no end to see this happening."
"It pains me to no end to see this happening."
She also said there have so far been no reports of illness as a result of the spill, which occurred last week.
The spill occurred while an EPA crew, using heavy equipment, was working with federal and contract workers, to inspect the abandoned mine near Silverton, Colorado.
McCarthy said the response includes diverting water, treating it to remove metals, setting up command centers and providing alternative water supplies.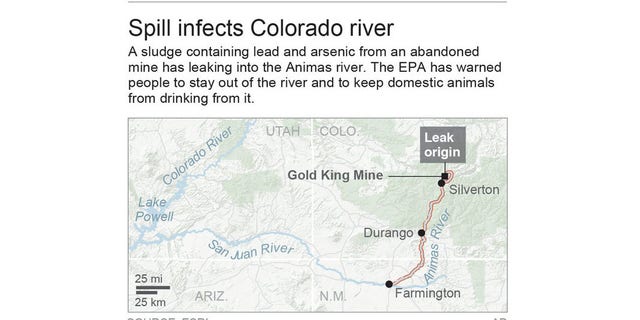 She also said she has been in touch with state, congressional and White House officials and promised "a full review of exactly what happened to ensure it will never happen again."
Tuesday marks the first day people affected by the spill can file claims with the Environmental Protection Agency.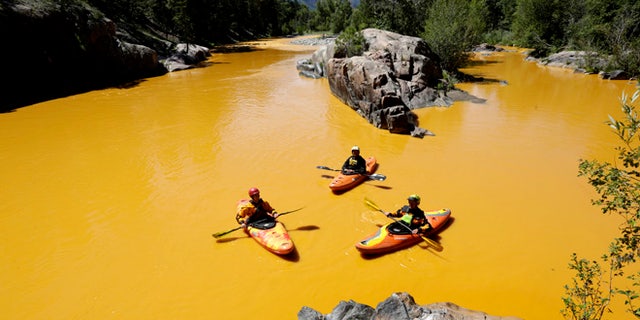 The agency estimates more than 3 million gallons of sludge laden with lead, arsenic and other heavy metals has already flowed at least 100 miles downstream to New Mexico.
Communities and farmers along the Animas and San Juan rivers were forced to stop using river water, and it was unclear when it will be safe to resume irrigating.
Colorado Gov. John Hickenlooper began his visit to the scene Tuesday with a tour of a fish hatchery in the southwestern city of Durango.
Cages have been placed in the river to catch fish and measure any effects on them from the spill.
Hickenlooper issued a disaster declaration for the area Monday, releasing $500,000 to assist affected businesses and towns.
The Associated Press contributed to this report.