Energy Chief says We'll Learn from Japan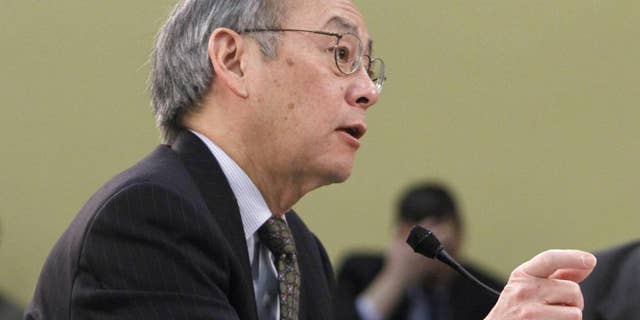 Energy Secretary Steven Chu is on Capitol Hill Tuesday to discuss the agency's 2012 budget, but the nuclear crisis facing Japan dominated his discussion.
Chu said he stayed up until 2:30am Monday reviewing information, including a system that can predict some of the contamination.Japan is facing a grave situation after the country's largest earthquake on record, which caused a devastating tsunami. Nuclear facilities exploded and radiation started leaking.
"The American people should have full confidence that the United States has rigorous safety regulations in place to ensure that our nuclear power is generated safely and responsibly," Chu reassured the House Energy Committee. "Information is still coming in about the events unfolding in Japan, but the administration is committed to learning from Japan's experience as we work to continue to strengthen America's nuclear industry."
Chu noted they sent two personnel to the region on the outset of the quake, but have upped that to more than 30 personnel including members from the Energy Department and the Nuclear Regulatory Commission (NRC).
Calling it a "serious situation," the secretary said the White House is monitoring developments closely and providing aid to the region, but also using what's happening in Japan as a point for U.S. nuclear and energy policies.
He was asked in light of the tragedy, does the U.S. still plan on moving forward with the next generation of nuclear reactors. The NRC is considering permit requests for 20 new nuclear towers. There are a couple that have made it through the initial phases, and only one is moving toward a loan guarantee.
Some experts have suggested that the U.S. should put the "brakes" on building power plants and maybe even take it off the board until the full impact of Japan is known. Sen. Lieberman, I-Conn., supported that notion on Sunday.
Chu responded that we need a diverse supply of energy and shouldn't depend on just one source and that all our energy right now produces some risk.
He said the world learns a lot from each new incident, just like they did with the 1979 Three Mile Island nuclear meltdown in Pennsylvania. But the administration does plan on continuing to pursue safe nuclear power.
"Safety remains at the forefront of our effort to responsibly develop America's energy resources, and we will continue to incorporate best practices and lessons learned into that process," Chu said.
He added that they already err on the side of worst case scenario.
"We look at what is max size of earthquake and we design considerably above that," Chu said.
Most Republicans on the committee noted that they would like support cutting the department's budget and at least one Democrat agreed.