Eccentric candidates make for strange Idaho gubernatorial debate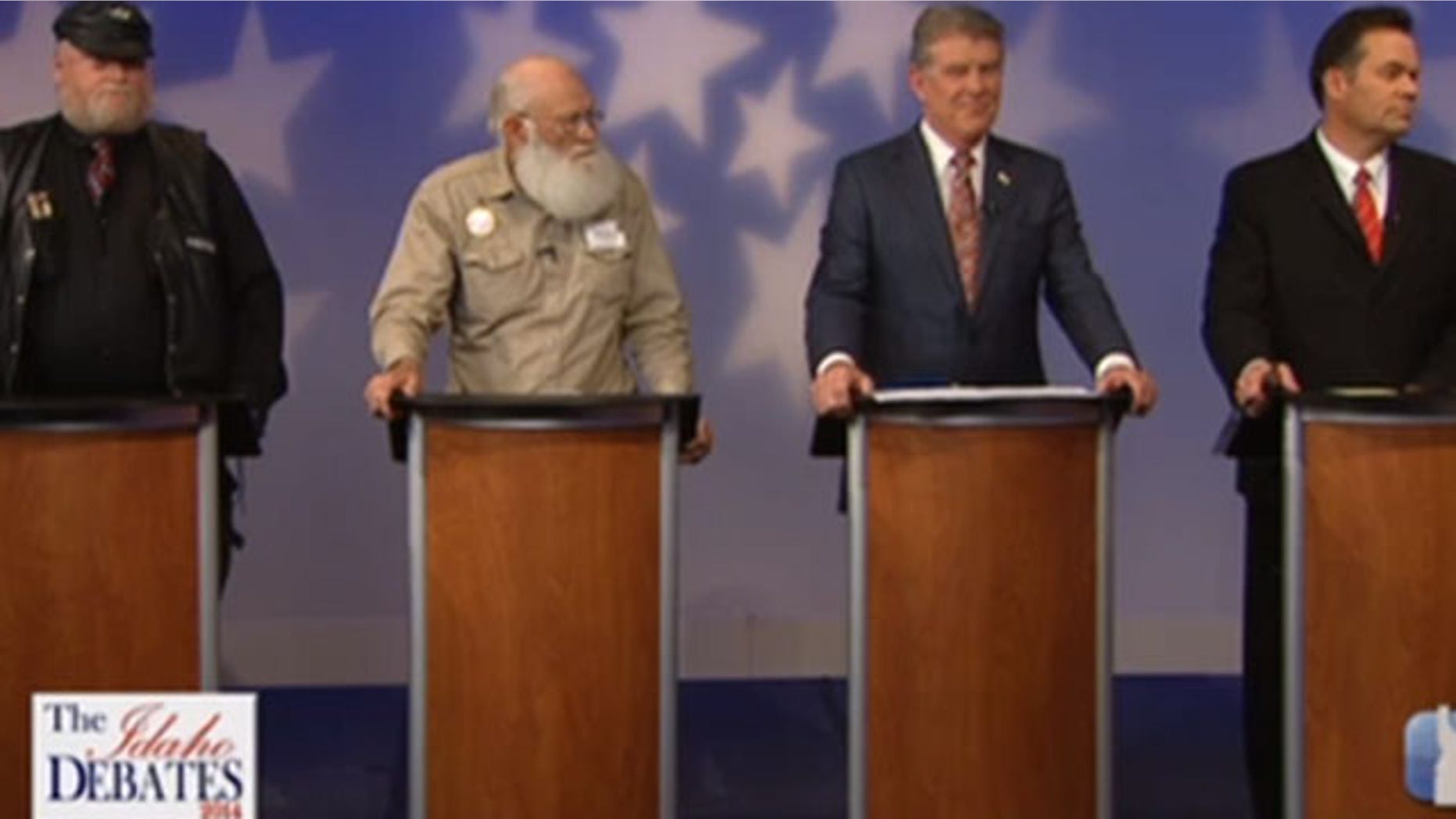 Was this the weirdest political debate ever?
Idaho's Republican governor and his Tea Party challenger were completely overshadowed Wednesday by a biker who claimed God told him he would be president and a longtime Idaho resident with 16 children who said he went to jail for home schooling.
The two eccentric candidates were permitted to participate at the debate in Boise, allowing them to sound off on their views on social and political issues alongside Gov. Butch Otter and state Sen. Russ Fulcher. The four are running in the Idaho gubernatorial Republican primary on May 20.
The format made for some interesting debate, and their performance has gone viral.
Harley Brown came dressed in his biker regalia. In his opening remarks he proclaimed that after a low point in his life, God told him he would become the commander in chief.
"Don't think I'm crazy, 'cause I'm not," he said.
Brown said he is running against political correctness, saying it "sucks" and is "bondage." He said he is also fighting to stop discrimination against bikers, who he said are "cop magnets" who get pulled over as often as Playboy bunnies get hit on.
"You have your choice, folks," he said. "A cowboy, a curmudgeon, a biker, or a normal guy. Take your pick." For the record, he thinks Fulcher is the "normal guy."
The other long shot, Walt Bayes, primarily discussed his anti-abortion views. When asked by a reporter if he could actually do the job of governor, he noted he was willing to go to jail for home schooling and was willing to serve as governor and stop abortions until thrown out of office.
He also said he wants to take back the land in Idaho from the federal government. Hammering his family's anti-government credentials, he said his wife drove for three years without a license because she didn't want to take her car for an emissions test.
"We've got a bunch of eastern idiots running everything," he said.
The debate was a throwback to the infamous 2010 debate among New York gubernatorial candidates where the "rent is too damn high" candidate Jimmy McMillan and an adult film star stole the show.
Watch the video of the Idaho debate here or just the highlights here.