DSCC Chairman Manages Expectations for Senate Dems Tonight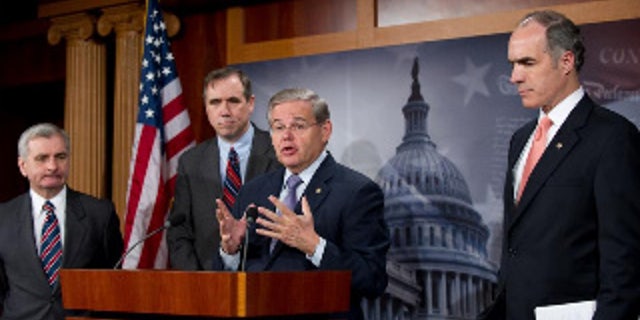 Democratic Senatorial Campaign Committee (DSCC) head Robert Menendez tells Fox News he expects Democrats to lose seats but maintain a majority in the Senate at the conclusion of tonight's midterm elections.
"Despite an economy that we inherited and are trying to turn around-working assiduously to turn around, and despite the challenges that all brings, we're gonna have a majority in the Senate tonight," the New Jersey senator told Fox News in an interview with Senior Capitol Hill Producer Trish Turner.
Though Menendez claims maintaining a Senate Democratic majority as a victory in a tough election cycle, his tone was hardly one of triumph. Democrats are expected to maintain their majority by a slim margin but could potentially lose major players like Majority Leader Harry Reid, who's locked in a tough battle against Tea Party favorite Sharron Angle in Nevada.
Instead, Menendez managed expectations, couching his predictions on a history of presiding party losses in midterm elections. "It would be a historical exception that we don't lose some seats tonight," he said.
"In the face of that midterm election history, in the face of an economy that we inherited that has created so much pain for so many families... I just simply believe that the results of the election--to still have a Democratic majority will speak wonders."
Such an exception occurred in 2002, however, when Republicans gained the majority in the first midterm under former President George W. Bush.
Democrats' limited success is due in part to the party's missed opportunities in trumpeting legislative victories, Menendez said. The senator claimed the party was too successful for its own good this term, moving so quickly through its many legislative victories that democrats missed opportunities to pat themselves on the back and attract voters accordingly.
"There were just so-a slew of successes, that the opportunity to explain and educate the public about how [each law] was going to positively affect their lives was lost, because we were on to the next legislative agenda... and trying to improve the lives of families," Menendez said.
The DSCC chair also argued that the electorate's misdirected anger may have cost Democrats some key races. "You have to understand who put you in this predicament that you're in," Menendez said. "So take your anger and channel it against the Republican Party and the Bush policies that gave us the economic crisis we're in, and help the Democrats who are working to get us out of that crisis."