Deported Iowa pastor speaks publicly for the first time since arriving in Honduras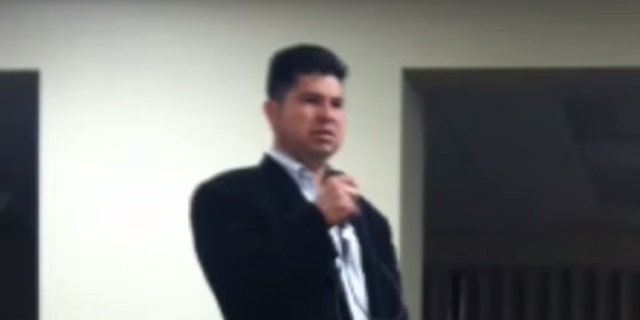 The Iowa pastor whose detention and ultimate deportation sparked rallies in support of him spoke to the media for the first time since he was sent back to his native Honduras last week.
Speaking to the Spanish-language news channel Univision, Max Villatoro said that he was going to fight to be allowed to return to the United States and also criticized the treatment he and other immigrants received while in custody.
"I don't think I should be treated as a criminal," Villatoro said. "It's as if it doesn't matter that I overcame my record so I could stay. Overnight they can just arrest you, send you from jail to jail and treat you like an animal."
Villatoro, who was convicted in 1999 of drunken driving and tampering with records, was arrested on March 3 as part of a nationwide roundup of more than 2,000 undocumented immigrants who had been convicted of crimes. During his interview with Univision, the pastor spoke about the deplorable conditions in which he was held before his deportation.
"The last jail I was in [before being deported] had 200 people, and four sinks and four toilets. For 200 people," Villatoro said.
Villatoro's attorney, David Leopold, said his client's deportation contradicted the supposed new priorities among immigration agents that call for focusing on arresting and deporting those who pose the greatest danger to public safety and national security. Another attorney for Villatoro said that U.S. Citizenship and Immigration Services granted Villatoro a work permit about a decade ago that remained valid until his arrest.
"These convictions were in the late 1990s," Leopold told Fox News Latino last week. "This is a good man, the worst thing you could say about him is he had a DUI in his life."
Immigration officials have said they are "focused on smart, effective immigration enforcement that prioritizes the removal of convicted criminals and public safety threats. The agency exercises prosecutor discretion, on a case-by-case basis, as necessary to focus resources on these priorities."
Since his drunk driving arrest, Villatoro married his wife, Gloria, had four children, and became a pastor at Torre Fuerte, a Spanish-speaking Mennonite congregation in Iowa City. The 41-year old holy man left Honduras in 1995, but says that he has no support network in the Central American.
Villatoro added that he would not seek to bring his family to Honduras and, if he was unable to return to the U.S., he would seek another country to live in.