Dennis Rodman will be in Singapore during Trump-Kim summit, report says
Former NBA star Dennis Rodman and North Korean dictator Kim Jong Un will reportedly continue their unusual bromance at the much-anticipated summit in Singapore.
Rodman, who struck up a relationship with the strongman during a visit in 2013, will be traveling to Singapore a day before the June 12 sitdown between President Trump and Kim, the New York Post reported Tuesday.
"No matter what you might think about his presence, one thing's for sure the ratings will be huge," a source told the Post. "A lot of times in situations that involve complex diplomacy, countries like to identify ambassadors of goodwill, and whether you agree with it or not, Dennis Rodman fits the bill."
The Hall of Famer is also reported to be playing "some sort of role in the negotiations."
In the past, 56-year-old Rodman has praised Trump for the planned summit, saying it was "a historical meeting no U.S. president has ever done."
The legendary rebounder -- who played from 1986 to 2000 for the Pistons, the Spurs, the Bulls, the Lakers and the Mavericks -- has previously said that he would have liked to "straighten things out" between Kim and the U.S. amid nuclear tensions, but also admitted that the dictator was "probably a madman."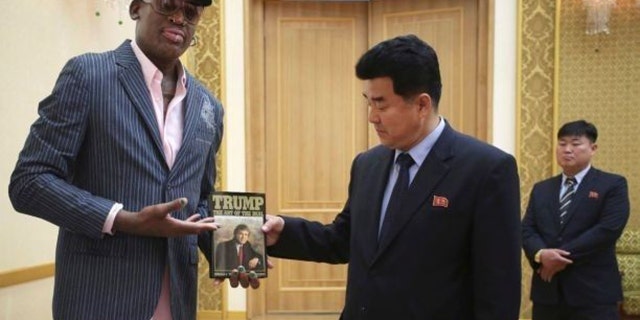 Rodman has visited the Hermit Kingdom five times since 2013 and even gave the regime's sports minister a copy of Trump's "The Art of the Deal" as a gift for Kim's birthday in 2017.
Rodman, aka "the Worm," also has ties to Trump, with an appearance on his reality TV show "Celebrity Apprentice" back in 2009 and again in 2013.
Fox News' Ryan Gaydos contributed to this report.