Dems Weigh Other Options for Passing Health Care if GOP Wins Kennedy's Seat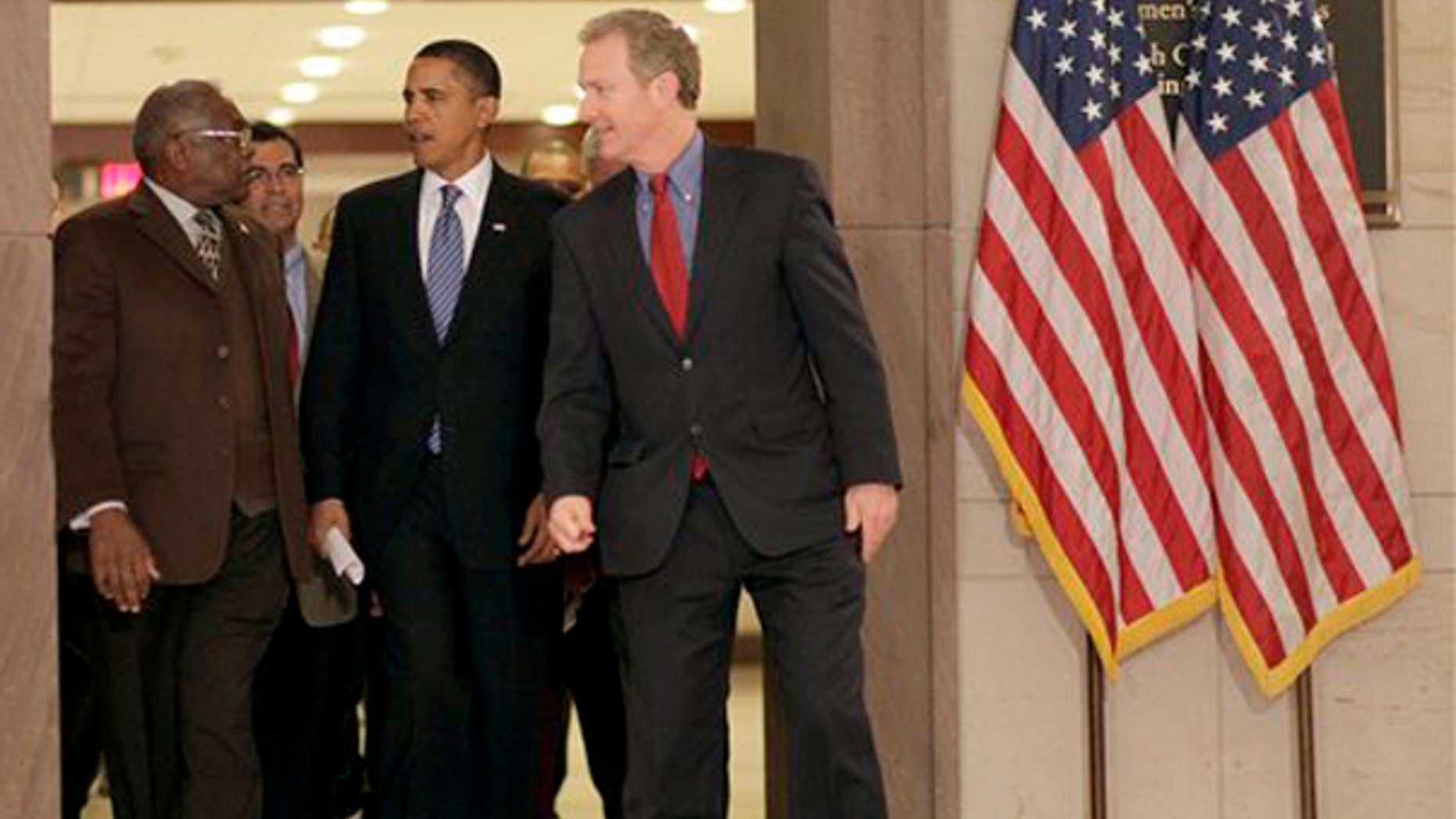 Democrats on Capitol Hill are dusting off the so-called "nuclear option," the latest sign that their health care push could be derailed by a Republican win in Tuesday's surprisingly competitive special election for Massachusetts senator.
The procedural move known as reconciliation, called the "nuclear option" because it would shut down a GOP filibuster, has been discussed by Democrats since last year as a last resort to pass health care reform legislation intended to lower health costs and cover millions of uninsured Americans. President Obama has made it his domestic policy priority.
Democrats hold a commanding majority in the House, and in the Senate, their 60 votes are enough to avoid a filibuster. But the balance could change if Republican Scott Brown beats Democrat Martha Coakley on Tuesday to win the late Ted Kennedy's former Senate seat.
If Republicans win, Obama and Democratic congressional leaders would have a political window of perhaps days if they were to try ramming a final bill through the Senate -- at considerable risk of incurring public wrath. All 40 Republicans are opposed to the legislation out of concern that it costs too much and increases the government's role in the health care industry.
Democrats clearly are weighing their options.
Rep. Chris Van Hollen, D-Md., chairman of the Democratic Congressional Campaign Committee, told Bloomberg this week that Democrats are still considering reconciliation, a tactic that allow certain legislation to pass in the Senate with just 51 votes, or a simple majority. The House Ways and Means Committee structured the bill so the Senate could tuck the legislation into the annual budget spending package, leaving the door open to reconciliation.
"Even before Massachusetts and that race was on the radar screen, we prepared for the process of using reconciliation," Van Hollen said.
"Getting health care reform passed is important," he said. "Reconciliation is an option."
But choosing that option means Democrats would have to strip the legislation of items not related to the budget because of Senate rules.
Another option is to scrap the current negotiations between the White House and Democratic leaders from both chambers on differences between the House and Senate version and persuade enough House members to pass the Senate version as is, making another Senate vote unnecessary.
But that could unravel the fragile deal negotiators reached with union leaders, who vehemently oppose taxing high-end insurance plans that many of their members have to pay for the legislation. And there are other unresolved sticking points, including abortion and coverage of immigrants.
Of course, some such considerations become moot if Coakley, the state attorney general, beats Brown, a state senator. Polls show a dead heat, triggering panic among Democrats because Coakley was once the front-runner.
Republicans worry that if Brown wins Tuesday, Democrats will drag out the certification process just long enough so that he won't be able to vote to block health care reform.
But a spokesman for the Secretary of the Commonwealth's Office said the winner could head to Washington as soon as early February.
At the White House on Friday, spokesman Robert Gibbs was unequivocal that Obama's effort would prove successful.
"As you heard the president say yesterday, we're going to get health care done," he said.