Democrats gain entry to NJ immigration detention center after arguing with cops, 'literally banging on the door'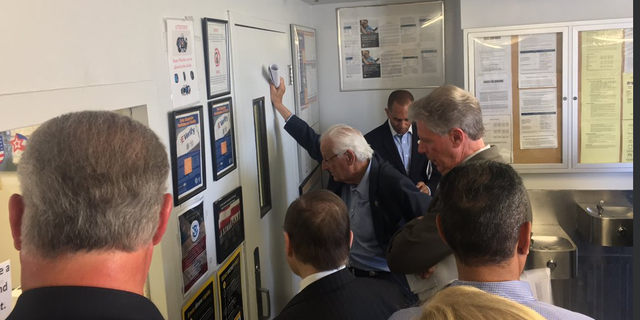 Seven Democratic lawmakers gained entry to an immigration detention center in New Jersey on Sunday after "arguing" with the police and "literally banging on the door," one of the congressmen posted on Twitter.
The Father's Day episode was the latest in a series of similar trips by Democratic lawmakers to immigration detention centers, which are part of a broader effort to draw attention to the family members who have been separated by federal authorities while illegally crossing the border from Mexico into the United States.
Also Sunday, first lady Melania Trump weighed in. "Mrs. Trump hates to see children separated from their families & hopes both sides of the aisle can finally come together to achieve successful immigration reform. She believes we need to be a country that follows all laws but also a country that governs w/heart," her office told Fox News.
Before being allowed inside the Elizabeth facility on the unannounced visit, Rep. Jerry Nadler, D-N.Y., said that he was forcibly holding a door open at the site.
"We have gotten the door open at the Elizabeth, NJ ICE detention center and refusing to let it close until we are given access to the detainees," he wrote.
Even after being promised access, Rep. Bill Pascrell of New Jersey voiced his indignation at security protocols at the facility.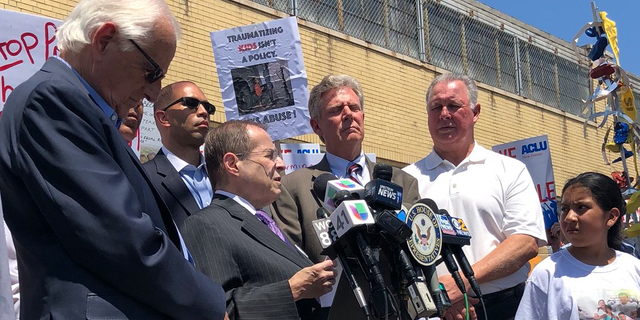 "Now they're asking us to empty our pockets like we're common criminals?" he tweeted. "We are duly elected Members of Congress -- and we want access," he wrote, adding that he had been very "patient."
ICE's website for the New Jersey facility says visiting hours are only for "friends and family" of detainees, and that all visitors are subject to pat-down searches.
"The Congressman came unannounced but ICE accommodated their request and they were allowed to visit and meet with several detainees," ICE told Fox News.
Earlier this month, Democratic Sen. Jeff Merkley was denied entry at a detention center he attempted to visit in Texas after the police were called and an official told him to "please go away." He and other Democratic politicians have successfully visited other immigrant detention facilities.
In a press conference outside the facilty, Nadler, appearing to read from prepared remarks, said that "several" of the detained parents he had spoken to inside had their children "ripped from their arms" and were "in tears when we were speaking to them."
He went on to accuse President Trump of "lying" about why the families were separated.
COPS CALLED ON DEM SENATOR AT IMMIGRATION FACILITY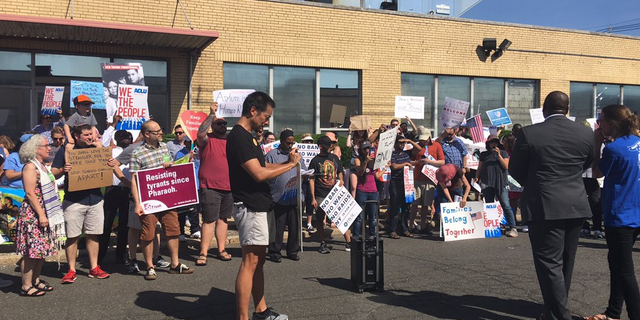 Nadler was joined at the facility Sunday by New Jersey Reps. Pascrell, Frank Pallone and Albio Sires, as well as fellow New York Reps. Hakeem Jeffries, Carolyn Maloney and Adriano Espaillat.

But authorities initially refused to let the group in, Jeffries tweeted Sunday, along with a picture of the representatives idling in what appeared to be a lobby area.
"ICE staff told us to wait five minutes. That was 50 minutes ago. @RepJerryNadler @FrankPallone @RepSires @RepMaloney @RepEspaillat @RepJeffries and I literally banging on the door to gain entry to the jail to see separated families," Pascrell wrote in a tweet.
"We're here to stand against the Trump admin's policies that have led to a sharp increase in detained immigrants and separated families," Pallone said.
Nadler tweeted later Sunday that "we're going in now," as cameras followed the New York Democrat into the facility.
Just minutes later, he added that the group had been temporarily thwarted again.
WATCH: OBAMA-ERA PHOTOS OF KIDS IN CAGES GO VIRAL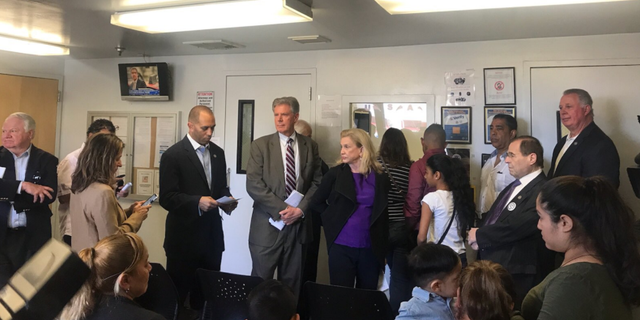 "Now @BillPascrell and I are arguing with Elizabeth Police as we face further delays and stalling tactics preventing us from entering ICE detention center," Nadler wrote.
Rep. Maloney at one point claimed that officials were "covering the windows with paper" so the representatives could not see in. She added, "This is not America."
After officials at the facility relented and allowed the Democratic representatives to access the building, the reporters who had been following the congressmen apparently staged their own act of defiance.
"With congressional Members just allowed inside to see prisoners and conditions, jail staff now asking all press to leave and go outside," Pascrell wrote. "Press and staff refusing to move."
The Trump administration, which has called it "horrible" that illegal immigrant children are sometimes separated from their parents when their parents enter criminal proceedings, has been criticized in recent weeks for increasing the proseuctions of illegal immigrants under a "zero-tolerance" policy that critics say leads to those separations.
Children illegally entering the U.S. are generally separated from adults at the border if the child is in danger, has no clear relationship to the adult, or the adult enters criminal proceedings.
Fox News' Matt Leach contributed to this report.