Democrats' Campaign Arm Pressing Miserly Members to Cough Up Dues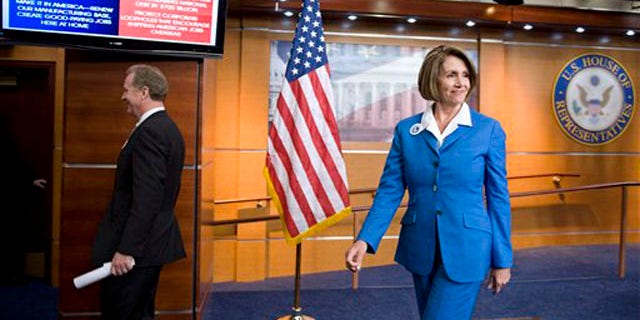 The Democratic Congressional Campaign Committee is pressing members to cough up their dues following a report showing nearly three-quarters of the caucus has not paid in full.
Members of Congress are expected to pay a hefty fee to their respective campaign committees by Election Day -- the dues every two years for Democratic House members range from about $100,000 to $500,000 depending on seniority, according to a Democratic aide. That money goes toward the salaries and expenses that keep the campaign arm running, as well as toward the campaigns of vulnerable lawmakers who need the funding most.
But Democrats have had mixed results in persuading their rank-and-file to show them the money.
"We are appreciative of everything our members have done for the DCCC. In the final stretch of the election cycle, DCCC leadership is asking all members to do more to ensure our success this cycle," DCCC spokesman Ryan Rudominer said in an e-mail.
CQ-Roll Call reported that 186 of the 255 House Democrats have not paid in full, with the shortfalls particularly high among the Congressional Hispanic Caucus -- lawmakers either claimed the political environment made it tough to give the full amount or that they were withholding the cash out of frustration with the lack of progress toward a comprehensive immigration package.
A House GOP strategist said the National Republican Congressional Committee is not having trouble collecting dues, noting that members are showing "heavy" involvement in propping up the GOP campaign cause this cycle. "We've received a very strong level of support from members," the strategist said.
However, a Roll Call report over the summer noted that dozens of House Republicans had not yet paid half the amount they owed -- the range of dues payments is similar to that for Democrats.
Neither the NRCC nor DCCC would share their latest dues tallies.
But with Democratic incumbents facing tougher competition this year than Republicans, some representatives said they couldn't spare the change. Rep. Raul Grijalva, D-Ariz., had forked over just $10,000 of his $150,000 bill; Rep. Albio Sires, D-N.J., had paid a third of his $300,000 requirement, according to CQ-Roll Call.
One Democratic aide said lawmakers in competitive races may be given a pass on their dues, but warned that miserly giving might not be tolerated in safe districts.
"We're a membership organization -- probably a third of our money comes from the dues of our members," the aide said. "There's definitely a serious expectation that these dues be paid."
The DCCC uses the money not just to defend its seats in Congress, but to play offense wherever possible. Its "Red to Blue" program has targeted about 30 Democratic challengers for extra funding in their campaigns against incumbent Republicans.
The DCCC won't necessarily hire a collection agency to extract the dues payments but Democratic leaders have other ways to put the squeeze on delinquent members.
"It's noted when members that give and that don't give," the Democratic aide said. "There's a consideration that goes into committee assignments and other things, how much of a team player you've been."
Just because members are behind on payments doesn't mean the DCCC has fallen on hard times.
The organization pulls in revenue from fundraising and other sources and as of its end-of-August filing had pulled in more than its Republican counterpart. The campaign finance report showed the DCCC had pulled in $108 million, with $39 million on hand. The NRCC had pulled in $91 million, with $26 million on hand.