Democratic Virginia Rep. Bobby Scott accused of sexual harassment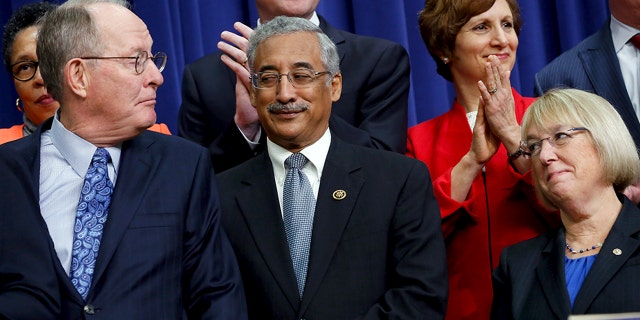 A former congressional aide Friday accused Rep. Bobby Scott, D-Va., of sexually harassing her and claimed she was fired and blackballed from further work on Capitol Hill when she refused his advances.
Reese Everson, a former Congressional Black Caucus Fellow, alleged that Scott touched her leg and body without permission and promised to advance her career if she let him flirt with her.
Everson discussed her allegations on an episode of Fox News' "The Ingraham Angle" last month, but did not identify Scott as the lawmaker who allegedly harassed her.
'I WAS BLACKBALLED': CONGRESSIONAL STAFFER RECOUNTS ALLEGED SEXUAL HARASSMENT BY LAWMAKER
"[He said], 'So Reese, are you gonna be a good girl?'" Everson told Ingraham at the time. Everson later said Scott asked her "if you're gonna be a good girl, what is the point of you being here?"
Scott issued a statement denying Everson's claims and accusing her of being "backed by a Republican operative known for dabbling in outlandish conspiracy theories." The statement included a link to a Daily Beast article about Jack Burkman, a Republican lobbyist who has offered a $100,000 reward for information leading to an arrest in the murder of Democratic National Committee staffer Seth Rich.
"I have never sexually harassed anyone in my 25 years of service in the United States Congress, or in my 40 years of public service, or at any other time," Scott added. "... I am confident that this false allegation will be seen for what it is when the facts are adequately reviewed."
Scott, 70, has represented Virginia's 3rd congressional district since 1993. The district includes most of the state capital, Richmond, along with majority African-American precincts in the cities of Norfolk, Hampton and Newport News.