Democratic political campaigns lack enough minorities, Latino and black lawmakers say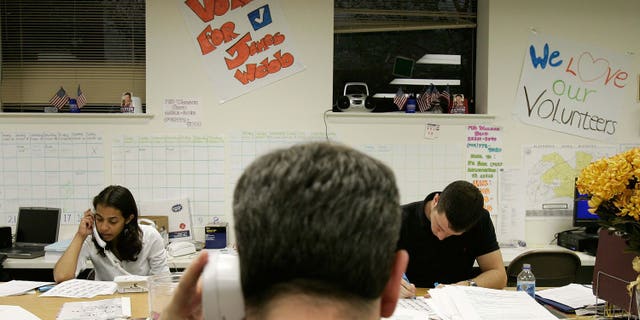 NEWYou can now listen to Fox News articles!
Democrats bill themselves as the party that best represents minorities.
But some minority lawmakers say that Democrats are failing to make Latinos and blacks a real part of election campaigns. The woeful lack of minority contractors, such as consultants and pollsters, involved the mid-term election campaigns last year, for instance, they say, likely contributed to many minority voters staying home.
"I think the lack of diversity in the contracting is quite clear. They can do better," Politico quoted Mississippi Democratic Rep. Bennie Thompson, a senior Congressional Black Caucus member, as saying. "Minorities, both black and brown, are the most loyal people to the party, and I think a recognition of that loyalty can come through the contracting."
Republicans scored enough wins to give them majorities in both the Senate and the House, and now Democrats are aiming to step up the involvement of Latinos and blacks in campaigns.
Some lawmakers and political consultants see a bright spot – DCCC Chairman Ben Ray Luján, a New Mexico Democrat who is heading the House political campaign committee.
Luján has complained about the lack of Latinos involved in campaign dynamics in the past, and in his new role has identified increasing minority contractors for the 2016 election cycle as a main goal.
"Just beginning the second month of my first quarter here and I'm proud of the diverse staff we're building this cycle," Luján said in an emailed statement. "I'm looking forward to continuing to work with my Democratic colleagues and our allies to put the majority in play in 2016 and do it with a team that truly represents the electorate."
A recent report by PowerPac+, a Democratic group, reported that less than 2 percent of the $514 million that the Democratic Party spent during the 2010 and 2012 election cycles went to firms owned by minorities, according to Politico.
PowerPac+ used figures from the Democratic National Committee, the Democratic Congressional Campaign Committee and the Democratic Senatorial Campaign Committee.
Thompson told Politico that he is "taking [Luján] at his word that we'll be surprised at the involvement" of minority contractors in 2016.
Democrats lost 13 seats in the November mid-term elections. Minorities had a weak voter turnout, not uncommon in non-presidential elections. Republicans generally did well among Latino voters, getting better than 30 percent of the electorate votes in various elections across the nation.
Politico noted that both the DCCC and DNC declined to provide details of how many minority-owned firms they're aiming to hire in 2016, saying only that they're committed to diversity.
Democratic consultant Chuck Rocha said to Politico: "We saw how badly the new American electorate preformed in the last cycle. When Latinos go from 73 percent to 67 percent — that 5 percentage point drop means something. We have to do a better job at everything we're doing."
Rocha expressed optimism that Lujan would bring improvement.
He said it's apparent that Democratic campaign committees have a better appreciation of the importance of connecting with minority voters after the poor performance of several party candidates in 2014.
"If there is going to be work done in Latino districts, districts where the majority of the populace is Latino, they want Latinos doing the work," he said, referring to informal goals the committees outlined. "We should have Latino operatives doing all of the work."
The Politico story observed: "Both the Latino and African-American communities underperformed at the polls during the 2014 elections — mirroring a broader decrease in turnout among all voters. Despite nearly 10 million more Hispanic voters becoming eligible to vote in 2014 than 2006, the participation rate among Latino voters stayed flat at 8 percent."
Follow us on twitter.com/foxnewslatino
Like us at facebook.com/foxnewslatino