Democratic candidate for governor in West Virginia owes millions in taxes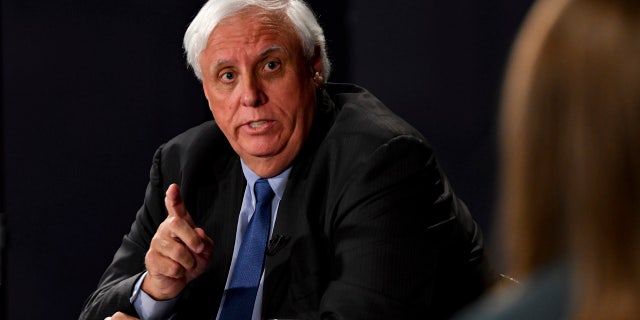 HINDMAN, Ky. – Jim Justice, a coal billionaire running for West Virginia governor, owes millions in back taxes to some of Appalachia's most impoverished counties, including one in Kentucky that is struggling to pay the debt on a new rec center and has turned the lights off in its parks and reduced hot meals for senior citizens, according to tax records and government officials.
Many of these counties have been devastated by the collapse of the coal industry over the past few years, and their financial struggles are not all Justice's fault. But county officials say things would be a lot easier if he paid up.
"It's just absurd that a billionaire wouldn't pay his taxes," fellow Democrat Zach Weinberg, the top elected official in Kentucky's Knott County, said as he thumbed through a folder of Justice's debts.
Justice, who is leading in the polls, makes no apologies for the debt owed by some of his coal companies, saying he is doing everything he can to keep his businesses running and workers employed while other companies go under.
One of the biggest chunks of money owed is in Knott County, where Justice has unpaid taxes of $2.3 million dating to tax year 2014. That's a substantial hole, given the county government's $10 million budget and its separate $23 million school budget.
Justice has other unpaid tax bills scattered across the hills and hollows of eastern Kentucky: $1.2 million in Pike County, $500,000 in Floyd County, $228,300 in Magoffin County and $167,600 in Harlan County, according to county officials.
He also has millions in West Virginia state tax liens against his companies. Because of privacy laws, the state won't say whether he is paying them back.
The Associated Press has reported previously on Justice's debts to coal suppliers and contractors, and a recent National Public Radio report compiled a list of Justice company debts, including back taxes and mine safety fines totaling $15 million.
At the same time, Justice — the richest man in West Virginia, with a fortune estimated at $1.56 billion by Forbes magazine and a profusion of coal and agricultural interests — has spent almost $2.6 million of his own money on his campaign.
His opponent, Republican Bill Cole, has made an issue of Justice's bills, saying the businessman is putting counties at risk. "They don't need the money in a year or two years from now," Cole said during a recent debate. "They need it right now."
In his defense, Justice cites the downturn in the coal industry and the complexity of the 102 businesses he is juggling. He doesn't have "barrels of money" sitting around, he said, and his companies have paid over $70 million in taxes annually over the last four years.
Justice has cast his efforts to keep his mines open in heroic terms.
"I didn't declare bankruptcy, did I?" he said when asked about his unpaid debts at the debate. "You saw every great coal company in the world belly up. They stiffed everybody. I just kept digging. It's tough. It's really tough at times. But we didn't give up."
He added: "If we would have given up, what would have happened? Those good people, men and women that were working, they would have gone home, they wouldn't have had their jobs. And I won't feel bad for a second for trying to keep those people in their jobs."
Justice's campaign has also emphasized his ability to pull off unthinkable economic development projects, pointing to his purchase and turnaround of the once-broke Greenbrier resort, a longtime playground in West Virginia for members of Congress and foreign dignitaries.
As recently as five years ago, Knott County had about 1,000 miners producing some 5 million tons of coal a year and could count on $8 million to $9 million a year in mining-related taxes. In those heady times, the county built a 66,000-square-foot sports and activity center on top of a former mine.
Now, the county doesn't have a single working mine, unemployment is around 10 percent — or more than twice the national average — the mining tax revenue is down to just a few hundred thousand dollars a year, and the county still owes $6 million on the sportsplex.
"We're trying to do everything we can to keep the doors open, to provide services to keep the roads up, to keep the jail going, to keep the dogs off the road, and we just really don't have money to do it," said Weinberg, the county's judge executive.
For 2014 and 2015, Justice owes the county $1.46 million in property and other taxes, and $915,000 in fees involving unmined minerals.
There and in other counties, Justice agreed to installment plans to pay his back taxes but then stopped making payments, officials said. Knott County sued one of Justice's businesses and set up a second plan, with the company making the first $40,000 installment in September, Weinberg said.
In the meantime, the county is trying to save money by shutting off the lights at 10 parks and substituting cheaper cold meals once a week for senior citizens who depend on food deliveries. County employees also are being asked to take on more duties.
Chris Amburgey, who runs the sportsplex, parks department and tourism office, said he worries that drug use and vandalism could increase in the darkened parks. Standing on a basketball court near a recently closed coal mine, he pointed out the nets and stripes, upgrades made before the bottom fell out.
"This is a popular park, but kids can't play here at night anymore," Amburgey said.
Knott County's 2,100-student school system — where, in a measure of the region's poverty, 86 percent of the youngsters receive free or reduced-price lunches — says it can't afford full-time gym and art teachers at its five elementary schools. About 60 percent of what Justice owes would go to the school system, money that school Superintendent Kim King said she would put toward teacher training.
The money, King said, "would help us immensely."
As for the sportsplex, it is too big for the area it serves, now that many former coal miners and their families have moved out, Weinberg said. The county is paying about $12,000 a month just to keep the lights on.
"We're really struggling to come up with the money to pay for it," he said. "I just don't know if we'll be able to do it. Especially when people won't pay their taxes."