Dem Senator in Standoff With DOD: No Info? No Nominees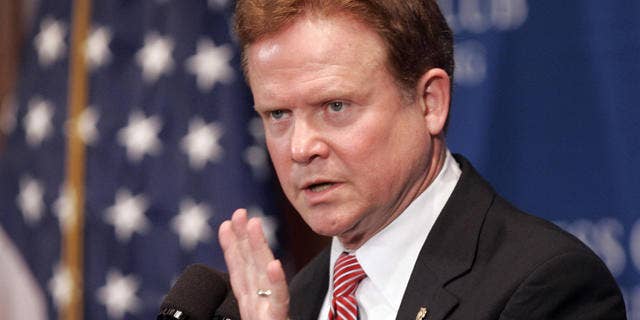 Fed up with what he says is a lack of answers from the Pentagon about its decision to shutter Joint Forces Command in Norfolk, Va, a critical jobs lifeline to that military-centric area of the state, Sen. Jim Webb, D-Va, is taking his frustration to the next level --- to block DOD nominees and promotions until he gets what he wants.
"This failure to respond to a request for basic information that should be readily available is indicative of the lack of cooperation that has characterized the proposal to close" JFCOM, Webb wrote in a letter Monday to Defense Secretary Robert Gates, adding, "For this reason, I will place a hold on all Department of Defense civilian and flag/general officer nominations until such time as my request for information is satisfied."
A senior Democratic aide for the Senate Armed Services Committee said two civilians are currently being held up by members other than Webb, but the Virginia senator's intention to hold all nominees would effectively block these if the current objections were to be resolved. Those affected, according to the aide: Solomon Watson to be the Army General Counsel and Jonathan Woodson to be Assistant Secretary of Defense for Health Affairs.
Webb, a member of the Armed Services panel and former Navy Secretary, has been angry since Gates made the announcement in August, following an advisory board's recommendation, and said in a release from his office at the time that he was "disappointed that the White House did not consult with members of the Virginia delegation prior to this announcement."
Webb, according to Monday's letter, is seeking information "on current and historical staff levels in the Office of the Secretary of Defense," as well as, "a historical comparison of the size of selected major headquarters staffs in the Department of Defense and military departments."
The Pentagon did not immediately respond to questions from Fox about why it has not yet provided the senator with the information he has requested.
"The culture of endless money that has taken hold must be replaced by a culture of savings and restraint," Gates said in August, but the dissolution of JFCOM in Norfolk and surrounding areas would stand to throw as many as 6,000 people into the unemployment line in an already depressed region, though the secretary did indicate that some people could be reassigned.
"Any decision of this magnitude should have followed the Base Realignment and Closure process (BRAC), which would have enabled appropriate participation by stakeholders as well as consideration of the impact on the local community," Webb admonished in a statement released by his office in August, adding, "The Secretary of Defense claims JFCOM is not subject to the base realignment statutes because it is a work-force reduction rather than a base closure. However, I believe a strong legal case can be made that the base closure statutes are applicable because this involves a reduction of more than 1,000 civilian personnel."
Indeed, Gates said in August that this was not about the defense budget, rather a "reallocation internally." In fact, the secretary indicated the savings could mean billions more for the ship-building industry, another major jobs provider in the Hampton Roads area.
"If, as a result of these efforts, I'm able to add a billion or two billion dollars to the Navy's shipbuilding program of record, Virginia may well come out with a lot more jobs than it loses," Gates said.
And Webb is certainly not alone in his protest of the combatant command closure. Gov. Bob McDonnell, R-Va, joined by the bipartisan House delegation from Hampton Roads, rushed to condemn the Obama Administration as cutting corners on national defense. "It appears as though this administration is cutting investments in national defense in order to pay for massive new social programs," McDonnell said.
The closure sent ripples through the hard-fought House campaign in the Norfolk area. Democratic freshman incumbent Rep. Glenn Nye, in whose district JFCOM is located, immediately condemned Gates' decision as "short-sighted and without merit" while standing alongside McDonnell, but his GOP opponent, Scott Rigell, pounced anyway, blaming Nye for the base's likely demise. "Once again, our region is on the verge of losing a major military asset, and our freshman incumbent has done little to stop such a move. Hampton Roads and Eastern Shore families cannot afford another two years of Glenn Nye and his lack of leadership on jobs and growing our economy," Rigell said in a statement following the Gates' announcement.
The Pentagon's decision has been the subject of heated debate fodder and television ads in the race ever since.