Dem Mothers' Group Slams McMahon Over Former Role as WWE CEO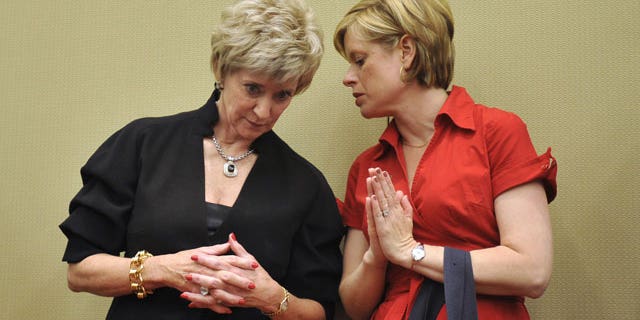 Connecticut Republican Senate candidate Linda McMahon, who gained fame and fortune with her husband through their WWE empire and putting "the smackdown" on her opponents in the wrestling ring, now faces a Democratic group trying to put her on the ropes with an ad attacking the sport's sex and violence.
The online ad by a group calling itself Mothers Opposing McMahon strings together a montage of clips showing female wrestlers being humiliated and objectified, including Linda McMahon slapping her daughter in the ring. The ad was paid for by a Connecticut Democratic political action group.
McMahon stepped down as the WWE's chief executive to launch her bid for Senate.
"WWE CEO Linda McMahon has vowed to spend $50 million to buy a U.S. Senate seat," the ad says in the opening. "Do you know how she made her millions?"
The first scene shows her husband, Vince McMahon, in 2001 forcing a female wrestler Trish Stratus to get on her knees and bark like a dog. Then he makes her strip.
Another scene from 2002 shows a female wrestler being dragged by her hair in the ring and lifted above the shoulders of a male counterpart flirting with tossing her out of the ring.
"Humiliating, degrading, and incredibly violent treatment of women and Linda McMahon marketed it to children," the ad says, showing clips of children cheering the wrestling.
"A vote for Linda McMahon is a slap in the face to Connecticut women," the ad said.
The ad comes as McMahon continues to trail in polls by double digits the Democratic candidate, state Attorney General Richard Blumenthal, despite her cash advantage and the scandal over his misstatements on his service in Vietnam.
The latest Quinnipiac poll out Friday found McMahon behind Blumenthal by a 17-point margin, 54-37 percent. The poll of 1, 367 registered voters taken July 7-13 is actually an improvement from the previous month's poll, with Quinnipiac University poll director Douglas Schwartz noting that so far McMahon has cut Blumenthal's lead by 41 points since she January.
On its Facebook page, Mothers Opposing McMahon described itself as a group of concerned mothers and others joining forces to "give light to the graphic, steroid-fueled violence and sexually explicit WWE content marketed to kids under Linda McMahon's watch at WWE CEO."
"While McMahon profited, kids learned that it was okay to mistreat women that violence is acceptable behavior," the group said.
Five women with the group held a news conference this week to announce their intention to derail McMahon's candidacy because of her former role in the wresting world.
But the McMahon campaign dismissed the group as a bunch of "Democratic operatives."
"I don't think anybody considers it particularly newsworthy that a handful of Democratic operatives and activists held a press conference to announce they were not supporting the Republican candidate," McMahon campaign spokesman Shawn McCoy said in an e-mail to FoxNews.com. "The press conference was organized and paid for, after all, by the state Democratic Party."