Dem lawmakers worry California's cap-and-trade expansion will drive up gas prices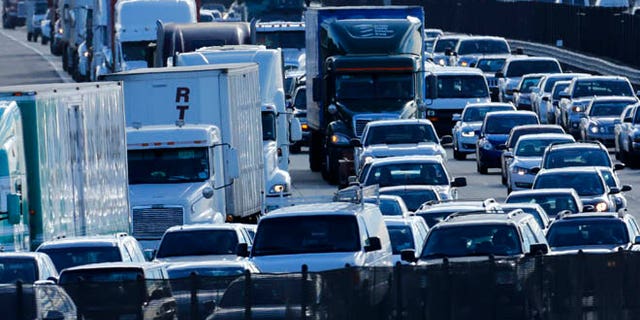 NEWYou can now listen to Fox News articles!
A group of California Democrats is having second thoughts about the state's expanding cap-and-trade program, urging Gov. Jerry Brown's administration to rethink the plan out of concern that it will drive up gas prices and hurt low-income residents.
The Golden State already has the program in place -- which caps greenhouse gas emissions and requires companies to buy permits in order to breach those caps -- but right now it only applies to power plants and other heavy manufacturers. Next year, California is set to expand the regulations to transportation fuels.
Sixteen state Democratic lawmakers wrote a letter to the head of the California Air Resources Board earlier this month warning this could trigger a cost increase of roughly 15 cents per gallon of gasoline.
The Assembly Democrats said they were "concerned" about the impact on their constituents, and urged the state to either delay the expansion or "change the program" to minimize the impact at the pump.
"Fuel prices for consumers are going to be driven up once fuel is covered under cap-and-trade at the start of next year, weakening the economy just as California is recovering from the last recession, and hurting the most vulnerable members of our communities who must commute to work and drive long distances for necessary services like medical care," they wrote.
The letter signals a break in the Democratic ranks over California's robust cap-and-trade program -- something Democrats at the national level have been unable to push through Congress.
California already has the highest average gas prices -- topping out at over $4 per gallon -- in the continental United States. The prospect of that price rising higher still has lawmakers of both parties concerned it could stunt economic growth at a fragile time.
The letter sent earlier this month warned that, at a time when many areas are still struggling with double-digit unemployment, the plan to could be "putting the brakes on our economic recovery." The expansion is set to go into effect Jan. 1, 2015.
Assemblymember Henry Perea, among those who signed the letter, said in a statement that the plan would take money "out of the pockets of hard working Californians who drive to work or school and make necessary trips to the grocery store or doctor's office."
Environmentalists and others pushing the change, though, argue that higher gas prices are needed to change people's driving habits.