Dem candidate Nunn uses HW Bush image in campaign ad -- despite being warned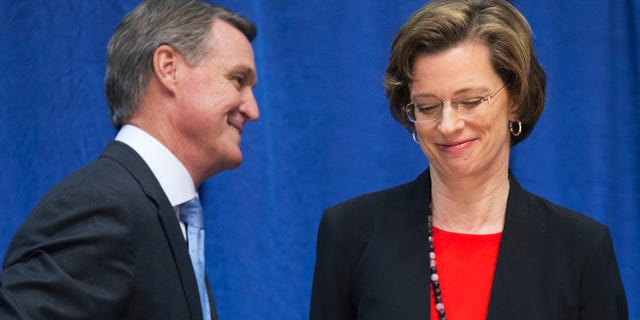 NEWYou can now listen to Fox News articles!
WASHINGTON – Democratic Senate candidate Michelle Nunn once again has used former President George H.W. Bush's image to push her own Senate bid, despite repeatedly being asked by the 41st president not to do that.
Bush already endorsed Nunn's Republican opponent, David Perdue, and his office is not happy about Nunn defying his wishes again.
Nunn's new ad is meant to respond to Perdue's narrative that she is a President Obama lackey. The ad, which began airing Saturday, tries to explain a photo the Perdue camp has used of her standing next to the sitting president. The picture was taken at an Oct. 16, 2009, event that Nunn and Obama attended.
Nunn's new 30-second ad starts off with the same picture that Perdue uses in his ads. In the ad, Nunn asks, "Have you seen this picture? It's the one David Perdue has used to try and attack me in this campaign. But what he doesn't tell you is that it was taken at an event honoring President [H.W.] Bush, who I worked for as CEO of his Points of Life Foundation."
The ad then shows an image of Nunn next to the 41st president. (Nunn, as noted in the ad, previously ran the Points of Light Foundation alongside Neil Bush, the ex-president's son, for several years.)
Bush spokesman Jim McGrath made clear that the former president did not approve that message.
"Michelle and her team have been clearly, repeatedly and consistently told that President Bush did not want them to use his photo as part of this campaign," McGrath said in an email to FoxNews.com. "Apparently, the Nunn team feels they can repeatedly disregard the former president's wishes, which is very disappointing because it's so disrespectful."
This is not the first time Bush 41 has emerged as an issue in the Georgia Senate race.
Earlier in the campaign season, Perdue aired ads claiming the foundation previously led by Nunn and founded by Bush gave money to organizations linked to terrorists.
The ad triggered a feud of sorts between the Perdue camp and the president's son, Neil Bush, who is the current chairman of the Points of Light Foundation. The younger Bush called the allegations "ridiculous."
"Neither Points of Light nor Michelle Nunn have had anything to do with funneling money from our organization to terrorist organizations," Neil Bush said in an interview at the time with the Atlanta Journal-Constitution.
The office of George H.W. Bush, though, did not speak out against the ad.
McGrath has criticized Nunn before, saying that she did not have permission to use the president's photos in any of her campaign ads and that Bush's objections had been privately communicated to Nunn's camp.
The Georgia Senate race is one of the most competitive in the country. Nunn and Perdue have been trading the lead in the polls; an average of polling from Real Clear Politics shows the race virtually tied.
Democratic groups have turned their attention to the Georgia Senate race and recently allocated another $1 million in television ads for Nunn.
Both candidates come from political families.
Nunn is the daughter of former Sen. Sam Nunn – a conservative Democrat who served as Georgia's senator from 1972-1997. Perdue's cousin, Sonny Perdue, served as a state senator for more than a decade and was governor of Georgia from 2003 until 2011.
Calls to Nunn's campaign headquarters for comment were not immediately returned.