Defense Chief: China Stealth Fighters Will Lag Behind U.S. for Years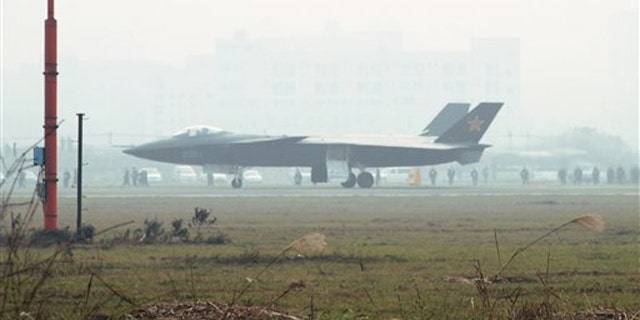 WASHINGTON -- The United States will retain a far bigger fleet of top-end fighter planes than China for years to come despite Beijing's early test of a Stealth-style jet that has stoked concern over its military buildup, the U.S. defense chief said Thursday
Defense Secretary Robert Gates told lawmakers that China faces a "long road" before deploying its J-20 stealth fighter in any numbers, and predicted a continuing "huge disparity" compared with America's fleet of low-observable aircraft.
The chief of the Pacific Command, Adm. Robert Willard, acknowledged that China also has a "formidable" ballistic missile capability that has grown for two decades.
Willard said the United States was watching "very carefully," and it was important for China to be open and hold a dialogue with the U.S. and other countries in the region about its intentions.
"If the two militaries are coming into contact with each other at the rate they are, then it's important that my commanders on the high seas or my mission commanders in the air have enough familiarity with that counterpart military not to misjudge, miscommunicate or misunderstand," he told journalists, alluding to concerns that a chance confrontation could spark conflict.
China's military buildup has caused unease among its neighbors in the Asia-Pacific, with whom it has territorial disputes. China's buildup also has raised questions about how long the United States can retain its military predominance in the region, which Washington views as vital for stability and policing sea lanes that keep for international trade moving.
China's arsenal of ballistic and cruise missiles, including one designed to target an aircraft carrier, and its growing surface and submarine fleet, could potentially constrain U.S. operations in waters of the western Pacific, although Willard maintained that China's capabilities had not necessitated a rethinking of America's military strategy for the region.
The U.S. Pacific Fleet alone includes five aircraft carrier strike groups, approximately 180 ships, 1,500 aircraft and 100,000 personnel.
China maintains that it has no offensive intentions, and sees its military capabilities as in keeping with its rising economic and diplomatic influence.
In a move seen by some as flagging the communist nation's clout, however, China staged a test flight of its Stealth jet during a visit by Gates to Beijing in January aimed at rekindling military ties.
Beijing had severed contacts earlier in response to the latest U.S. announcement of arms sales to Taiwan.
Gates told the Senate Armed Services Committee that the test flight was between half and one year earlier than U.S. intelligence estimates. He played down its significance, saying the United States would retain far more "fifth generation" fighter jets than China for years.
"There's still a huge disparity in terms of these aircraft," Gates said. "This is their first low-observable aircraft and given the challenges we have had, and we have been at this for more than 20 years, they have a long road in front of them before this becomes a serious operational aircraft in any numbers."
He said China may have 50 of the aircraft deployed by 2020, and a couple of hundred by 2025.
Despite rolling back acquisition of top-end F-35 jets for five years as part of budget cuts, Gates said the United States still will have 325 F-35 jets by the end of 2016, and in addition to its F-22 jets, would have in all about 850 fifth-generation aircraft by 2020.
He predicted the number would rise to 1,500 by 2025.