Debate On Legalizing Undocumented Immigrants Who Serve In Military Heats Up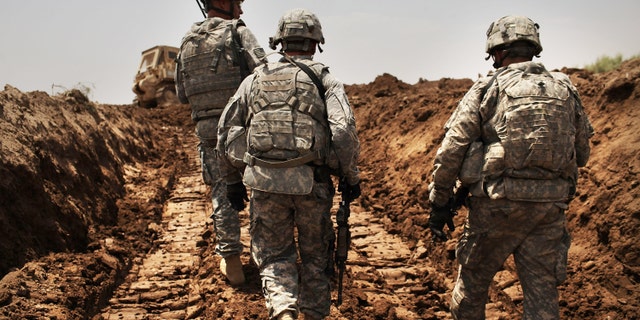 NEWYou can now listen to Fox News articles!
More than a dozen undocumented immigrants brought to the United States as minors are heading to Capitol Hill to push for a measure that would allow a path to legal status for people like them who want to serve in the U.S. military.
The immigrants, who as a group are known as Dreamers, say they should not be punished for the actions of the adults who brought them here illegally, and that they want to serve the country as military members.
One of the young adults who will be in Washington D.C. pushing for the measure is Alina Cortes, a 23-year-old Texas resident who came from Mexico at the age of 5 and participated in the Army ROTC program at Texas A&M University.
Her ROTC experience, said Cortes, convinced her that she is meant to have a military career.
"My experience in ROTC changed my life," said Cortes in a statement sent to Fox News Latino. "I realized that I have not only the desire but also the leadership capabilities to serve as an officer in the Corps — to stand up for others and to lead with courage and respect."
"To be able to serve the only nation I call home is now is my biggest dream," Cortes said. "I know that this is what I was meant to do. I only ask for a chance to prove that I am just as American as anybody else who was born here."
The Dreamers' push comes as lawmakers in both the Senate and House wrangle over whether to include an amendment granting a path to legal status to undocumented immigrants who enlist in the U.S. military.
Senate Democrats are considering adding a measure known as the ENLIST Act to their defense budget bill. On Monday, in an attempt to fuel the idea of moving forward the ENLIST Act, Sen. Dick Durban, an Illinois Democrat, held a field hearing in Chicago.
"I am confident that Dreamers will soon have the chance to serve honorably in the armed forces," Durbin said, according to published reports. "On that day America will be [a] stronger and better country."
The head of America's Voice, a group that advocates for more lenient immigration measures, said the undocumented immigrants willing to give their lives for the United States deserve special consideration.
"We're very thankful that Senator Durbin is shedding light on this important policy problem and working hard to give young immigrants who are American in all but paperwork the opportunity to serve the country they know and love," said Frank Sharry, executive director of America's Voice. "If an immigrant is prepared to put his life on the line to contribute to the country he loves, then I believe he has earned the right to be called a citizen."
Meanwhile, a House Republican from California, Rep. Jeff Denham, filed his military-immigration bill as an amendment to the sweeping defense policy measure that the House will consider this week.
Denham's legislation would create a path to citizenship for immigrants who were brought illegally to the U.S. as children and serve in the military.
The House Rules Committee will decide on Tuesday on what amendments the House will vote on during work on the defense bill, which should be completed by week's end.
House Majority Leader Eric Cantor said he would block efforts to include the ENLIST Act in a larger bill.
Last week, Cantor spokesman Doug Heye said: "No proposed ENLIST amendment to [the defense budget bill] will be made in order."
Heye said no stand-alone vote on the measure would be permitted, either.
It was the latest setback for President Barack Obama's efforts to move comprehensive immigration legislation through Congress to boost border security, remake legal worker programs and offer legal status to the estimated 11.5 million people now living here illegally. The Senate passed an immigration bill last year, but it's been stalled in the GOP-led House.
Denham's measure was widely popular and seen as perhaps the likeliest area for compromise.
But in recent weeks prominent conservative groups, including the Heritage Foundation, announced their opposition. Heritage Action, the group's political arm, announced it would include the vote in its ratings on lawmakers and called Denham's legislation "deplorable."
Cantor himself, who previously had supported offering a path to citizenship for immigrants brought illegally as children, faces a primary challenge in Virginia on June 10, from a tea party opponent who has criticized the majority leader for not being conservative enough and accused him of supporting amnesty for immigrants living here illegally.
Cantor, House Speaker John Boehner and other House GOP leaders have insisted they want to advance immigration legislation, though they've rejected the Senate's comprehensive bill.
Chances have always looked slim, but the White House and outside advocates saw a window for action over the next several months, before Congress' August recess and November midterm elections.
One of the young immigrants in Washington D.C. this week, Lorenzo Robles-Gomez, 20, said he hopes that face-to-face appeals to lawmakers and their staffs will compel them to move on a measure that could help young immigrants.
"I came illegally when I was five," the Kansas youth said to Fox News Latino, "but I didn't have anything to say about it."
He said he would like to join the U.S. Air Force, a way that he feels he could "give back to this country for what it has given me."
The Associated Press contributed to this report.