Deadline Near To Recall Arizona Sheriff Joe Arpaio In Light Of Information He Targeted Latinos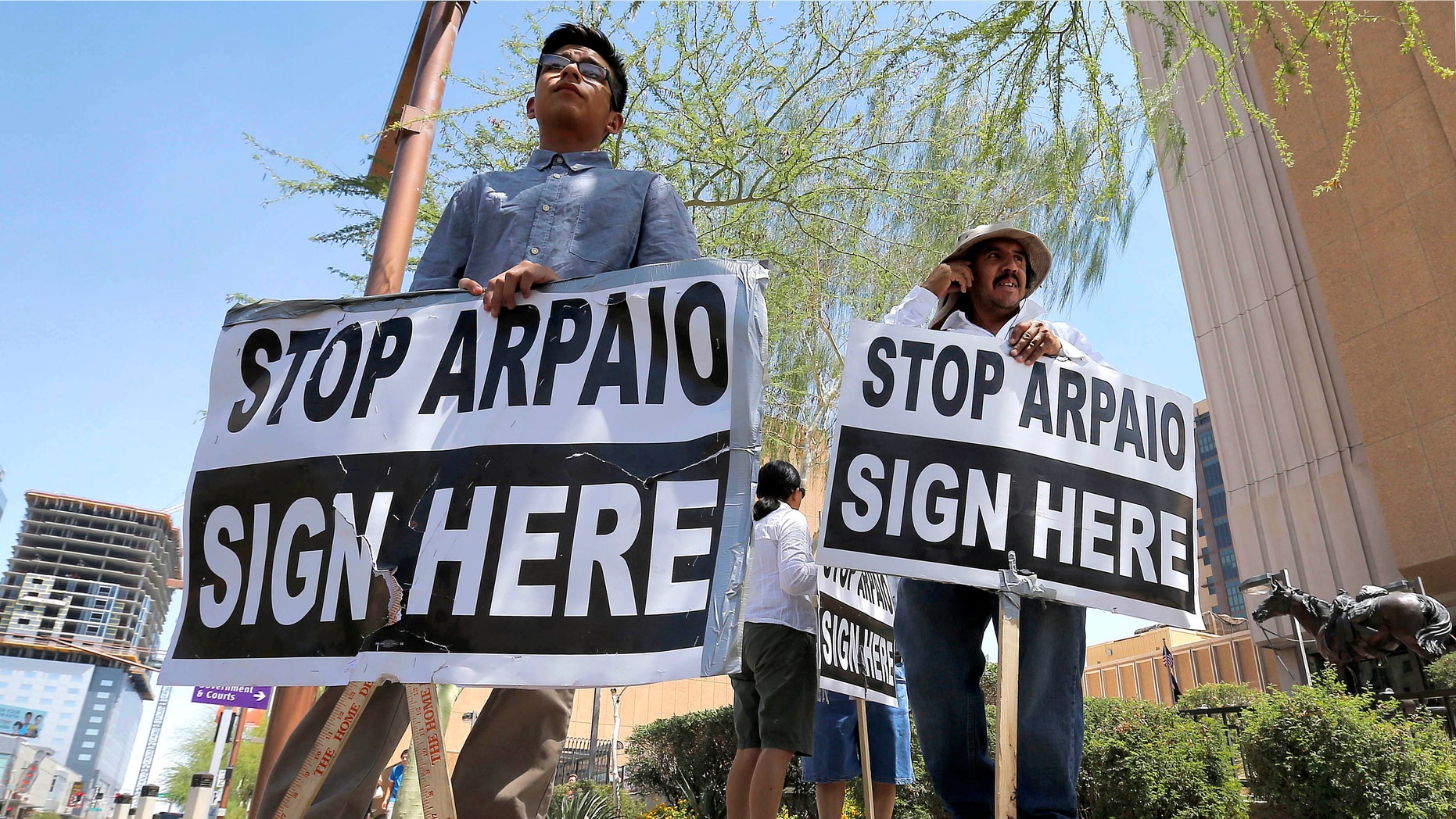 A group trying to oust polarizing Sheriff Joe Arpaio is facing an uphill battle in an attempt to force a recall election by Thursday's deadline.
We can't allow the sheriff to stay in office four more years
In order to make the recall happen of the Maricopa Country Sheriff happen, organizers must turn in the more than 335,000 valid voter signatures by 4 p.m. Thursday.
So far they have struggled to raise funds and have had to rely mainly on volunteers to collect signatures as they mount a campaign against a Arizona politician who has a base of devoted supporters.
Arpaio should be dismissed, they say, because his office has failed to adequately investigate more than 400 sex crimes cases, has cost the county $25 million in legal settlements over treatment in county jails, and a federal judge ruled that his office had systematically targeted Latinos in his signature immigration patrols.
"We can't allow the sheriff to stay in office four more years," said recall campaign manager Lilia Alvarez.
Arpaio gained national attention for his often contentious efforts to combat illegal immigration across Arizona's 3,169 kilometer (1,969 mile) border with Mexico.
The plaintiffs in the lawsuit alleged that Arpaio's deputies pulled over some vehicles only to make immigration status checks. They also accused the sheriff of ordering some immigration patrols not based on reports of crime but rather on letters and emails from Arizonans who complained about people with dark skin congregating in an area or speaking Spanish.
The recall group said more backers have come forward since the racial profiling decision on Friday. Supporters have been camped outside a county building since Sunday in their final push.
Arpaio supporters say the sheriff won re-election fairly and that recall organizers shouldn't be allowed to contest the election simply because they don't like the outcome. The sheriff, whose campaign fund was depleted after spending more than $8 million during the last election cycle, has cited the recall effort in recent fundraising efforts.
"By their own admission, they have a steep hill to climb," Arpaio campaign manager Chad Willems said of recall organizers.
Alvarez would not say Wednesday how many signatures her group has gathered. Five weeks ago, the group said it had collected 200,000 signatures.
The recall effort began just weeks after the 80-year-old Republican sheriff started his sixth term in January.
Arpaio, through his campaign manager, declined an interview request about the recall effort. In the past, the sheriff has apologized for the bungled sex-crimes investigations and said his office has moved to clear up the cases and prevent a repeat of the problem. He has vigorously denied allegations that his deputies racially profiled people in traffic patrols targeting immigrants who were illegally in the country.
County election workers will face a June 10 deadline for determining whether the group has enough d signatures to meet the threshold. If there are enough signatures, then election workers will have two months to examine the signatures to determine if they are valid. If so, a recall election would be set, likely in March, in which Arpaio would have to run against other candidates.
Based on reporting by The Associated Press.
Follow us on twitter.com/foxnewslatino
Like us at facebook.com/foxnewslatino