Cuban 'lifers' in U.S. with deportation threats against them worry about diplomatic thaw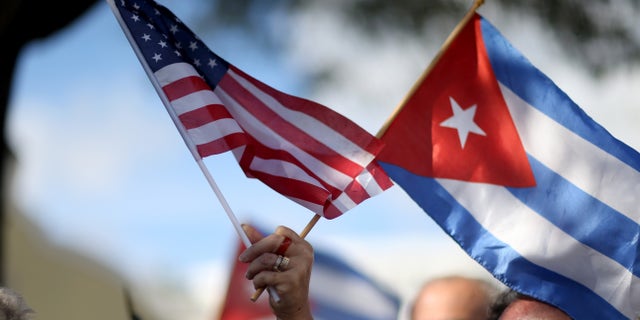 Tens of thousands of Cubans have been ordered to be deported or declared ineligible for permanent residence in the United States – but, still, they remain here.
Cuba, for more than half a century a sworn enemy of the United States and therefore unwilling to take back nationals who, because of criminal convictions here, have been put in deportation proceedings or just classified as inadmissible.
But the normalization of diplomatic relations now underway between Cuba and the U.S. is focusing attention on the limbo of these people, most of whom have served their prison sentences – many of them decades ago – and are at liberty.
Immigrants in indefinite detention have sometimes been referred to as "lifers." Thousands of the Cuban lifers have gone on to build lives here – marrying, raising families, running successful businesses and excelling in their professions.
"You're talking about people in many cases who have been here 30 or more years," said Ira J. Kurzban, a Miami lawyer who is a past president of the American Immigration Lawyers Association. "That's what makes it more difficult than anything else. They're people who've lived here almost their whole lives."
Like many lawyers in areas with large Cuban communities, Kurzban says his phone has been ringing with calls from Cubans who are concerned that they could now be deported.
In mid-December, Presidents Barack Obama and Raúl Castro announced that they were re-establishing diplomatic relations after more than 50 years of estrangement.
Later this month, U.S. and Cuban government officials are scheduled to meet to discuss migration and normalizing ties.
The U.S. State Department says Roberta Jacobson, America's top diplomat for Latin America, will lead the U.S. delegation to Havana for the talks on Jan. 21-22.
State Department spokeswoman Jen Psaki says the talks focus on how to "create safe, legal and orderly migration between the United States and Cuba."
The last migration meeting occurred in Washington in July 2014.
It's unclear if preliminary talks between the two nations leading up to the December announcement about normalized relations touched on the lifers.
Some 35,000 Cubans have final orders of deportation, and more than 2,000 others have deportation cases pending in immigration court, according to media reports.
Kurzban said that in addition, possibly tens of thousands of other Cubans have been deemed inadmissible, making them ineligible for legal immigration papers or benefits such as work permits.
"They had criminal convictions, but then the government said 'Well, what's the point of putting them in deportation proceedings if we really can't deport them to Cuba?'" said Kurzban, who has a number of clients in that situation.
Some Cubans who are considered removable or who are ineligible for legal residency are required to report to immigration authorities on a regular basis.
In 2005, the U.S. Supreme Court reviewed a case that centered on two Cubans who emigrated to the United States during the 1980 Mariel boatlift and who had subsequent criminal convictions. They finished serving their sentences but were kept in detention because they had been declared deportable.
Proponents of strict immigration policies want the U.S. government to insist in negotiations that Cuba respect the deportation orders.
"I think Cuba's agreement to take back its own citizens should be a prerequisite for normalizing relations," said Mark Krikorian, executive director of the Center for Immigration Studies, which is based in Washington, D.C. "We did not insist on an agreement to take back deportees when we established relations with Vietnam, and we should have."
Kurzban, however, thinks it will be a touchy issue for both countries.
"If I were on the Cuba side, I'd be reluctant to take people who have criminal convictions," he said. "If I were the United States, I'd want to get as many people with criminal convictions deported."
Then again, he said, the issue could be a political hot potato here too, given that many people who might now be in peril of deportation were convicted for relatively minor crimes, such as drug possession or drunk driving. And many of them occurred a long time ago, and the people who committed them have led productive, law-abiding lives since, Kurzban noted.
"Deporting them would be complicated by the politics of Florida and the strength of the Cuban-American community," he added. "With 2016 elections coming, and Florida being a swing state, do you really want to move to deport Cubans whose spouses and children are U.S. citizens, and who are politically active?"
The Associated Press contributed to this report.