Crist, Rubio Face Off Over Spending, How to Manage as a Washington Insider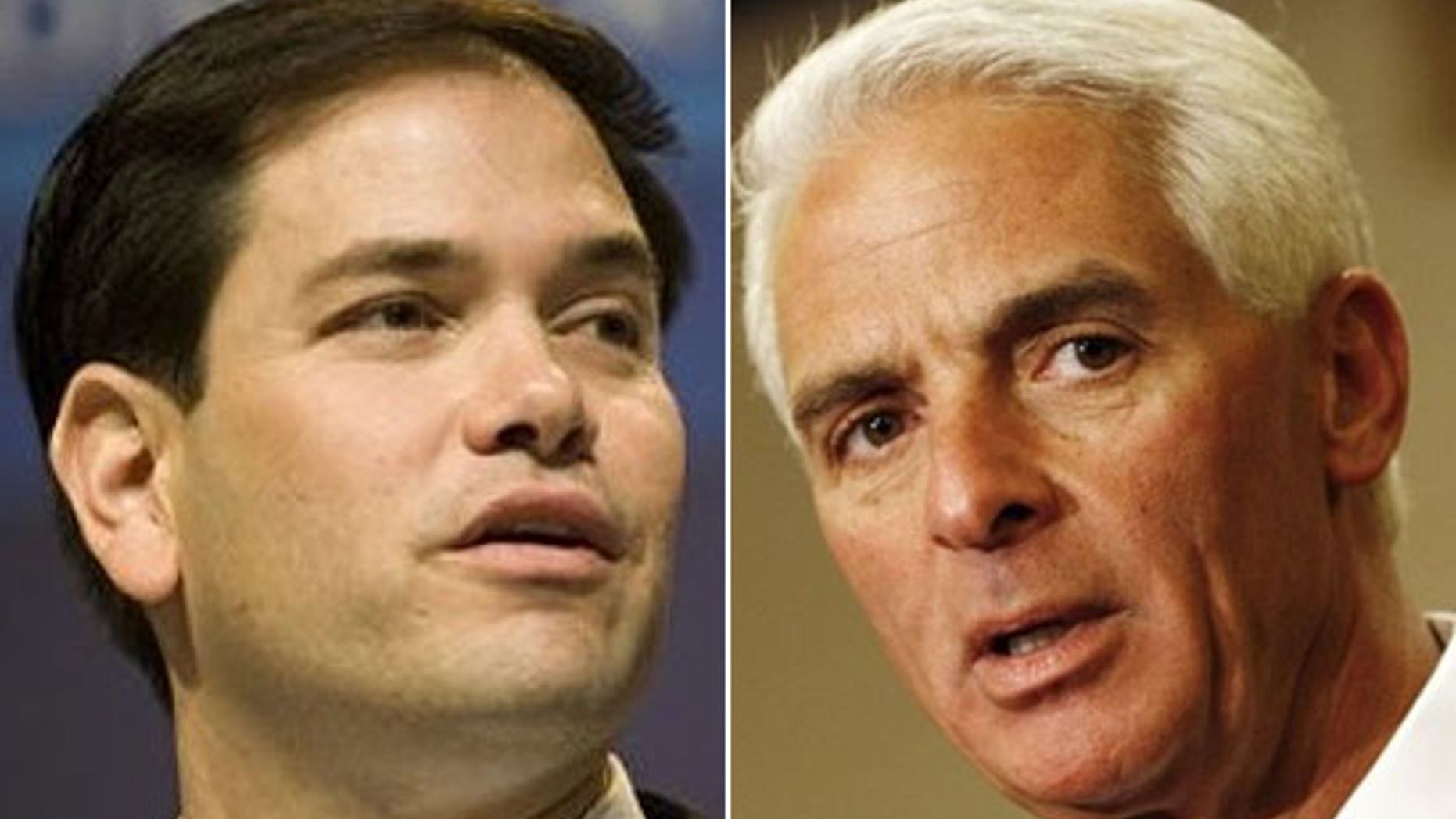 The $8.2 billion to Florida from the $787 billion stimulus plan helped provide 87,000 jobs in the state, Florida Gov. Charlie Crist said Sunday, defending his support of the law that his U.S. Senate Republican primary opponent is using to link Crist to President Obama.
"I think it was the right thing to do at the time," Crist said of the package, noting that the U.S. economy "was literally falling off a cliff" in late 2008 and early 2009. "Things are starting to stabilize now and they're getting better in Florida."
But former Florida House Speaker Marco Rubio -- in a debate with Crist on "Fox News Sunday" -- argued that the stimulus has increased the national debt without saving 211,000 jobs lost in Florida since the bill became law 13 months ago.
"Well, I don't know how you define stability. Having the highest unemployment rate in Florida's history is certainly not stability, especially to the one out of 10 Floridians that can't find a job," Rubio said.
Congress' imprint on the economy has also left its mark on the Florida Republican Senate primary as the two GOP candidates vying for the seat held by placeholder Sen. George LeMieux offered very different approaches to the way they would stand up to Obama if elected to the U.S. Senate.
Sunday's debate offered the first national look at what is shaping up to be one of the fundamental fights within the Republican Party nationwide -- how to take on Washington's spending habit without sounding like the "party of no" that Democrats have tried to characterize the GOP to be.
The stimulus plan, health insurance overhaul and general fiscal instability, all Washington trademarks, are widely hated by Republicans -- only three GOP senators supported the stimulus bill, and one of them has since become a Democrat. No Republican voted for the health insurance bill signed into law last week.
The stimulus plan's purported success is hard to sense among many Americans who are still out of work, and the two Florida primary candidates' sharp differences about the bill demonstrated the difficulty of balancing state issues with federal-level decision-making.
"We utilized those monies just like (Gov.) Haley Barbour did in Mississippi, just like (Gov.) Sonny Perdue in Georgia, some of these wild-eyed liberals," Crist said, jesting in his description of the two conservative governors. "If we'd taken the speaker's approach, we would have had 87,000 more people on top of that 12 percent that would be unemployed in Florida today, 20,000 of those, as you indicated, school teachers who are teaching the children."
Defending his support -- and the widely disseminated image of him hugging Obama during a trip to Florida to promote the legislation -- Crist said that as a "common sense, practical conservative," he would "work to make sure that I stand with people who will help the people of my state and my country."
"And you can't just be off on some limb, you know, rattling the cage and saying you're going to do great things and stand on principle or politics above the people of your state that you're supposed to serve," he said.
Rubio said he would be more than happy to work with people who want to help his state, but Democrats in Washington are trying to "fundamentally redefine the role of government in America and we can't cooperate with" taking action like spending $787 billion "we don't have."
"How does that in any way make sense for Florida or our country?" he asked.
Rubio said had he been a senator at the time, he would've voted against the stimulus bill, which was touted as a barrier to rising unemployment. The jobless rate nationally is now 9.7 percent, 2 points higher than it was at the time of the bill's passage. Florida's unemployment rate reached 12.2 percent in February.
"The stimulus is a failure. ... I would've voted against the stimulus," Rubio said, offering instead to have lowered capital gains, lowered corporate tax rates and flatten tax rates, among other items.
Rubio and Crist did agree that the health insurance overhaul will do little to help patients and should be repealed.
"Pre-existing instances should not be a discriminatory tool that's used by insurance companies to not give people insurance. I think what we need to do is go ahead and repeal this thing. Let's start over," he said.
Crist said he'd like to improve access and affordability using an insurance plan like the one he signed into law in Florida, which has no subsidies, no mandates, allows group negotiations, reduces premiums and adds people to the insurance rolls.
But "Cover Florida Health Care" has been widely criticized for insuring only 5,000 people since its inception two years ago. Rubio said he would provide alternatives to employer-based insurance and allow small businesses to pool resources. He added that the current law is unaffordable.
"The bill, when the true numbers are applied to it, add to our debt and bring us closer to insolvency as a nation," he said.
While much of the Florida race has little to do with the rest of the nation -- the two jousted over personal spending and parted ways on whether user fees are taxes or which tax -- sales, property, income -- could do the most to balance budgets and hurt Floridians the least -- the candidates offered glimpses into where they would stand in Washington.
The two disagreed over how to reform Social Security and other entitlements. Crist said he opposed raising the retirement age and would save money by eliminating waste and abuse of the Social Security system. Rubio said he wants a graduated change to Social Security so people his age -- he turns 39 in May -- would face rising retirement ages and cost of living increases would be indexed differently.
The two also bickered over illegal immigration with Rubio saying he opposes offers for illegals to earn citizenship as was developed in a plan by Republican Arizona Sen. John McCain in 2007. But he supported giving the children of illegals to pay the same tuition as in-state residents. Crist said tougher enforcement at the border is key.
In a more personal exchange, Crist, who is double digits below Rubio in polls, defended his record and repeatedly attacked his opponent's in the state House. Rubio said he was waiting to hear new ideas from the governor on policies he would take to Washington.
Florida voters got in two of the toughest questions of the debate, raising concerns about Crist's political ambitions and Rubio's relationship with tea partiers.
Rubio said he hasn't avoided a "vetting process" by Tea Party groups and wasn't aware one exists. But he added, "Tea parties are where people go and what people do, it's not what they are. It's not an organization, it's a lot of people from all walks of life who are fed up with our country."
Crist said he was not looking at a presidential bid in 2012 and he would not leave the party to run as an independent, calling himself a proud Republican from the party of Abraham Lincoln or Ronald Reagan.
When Rubio asked whether Reagan had ever been questioned about running as an independent, Crist retorted that Reagan was a Democrat before he was a Republican.