Costly cuts for the military could leave nation exposed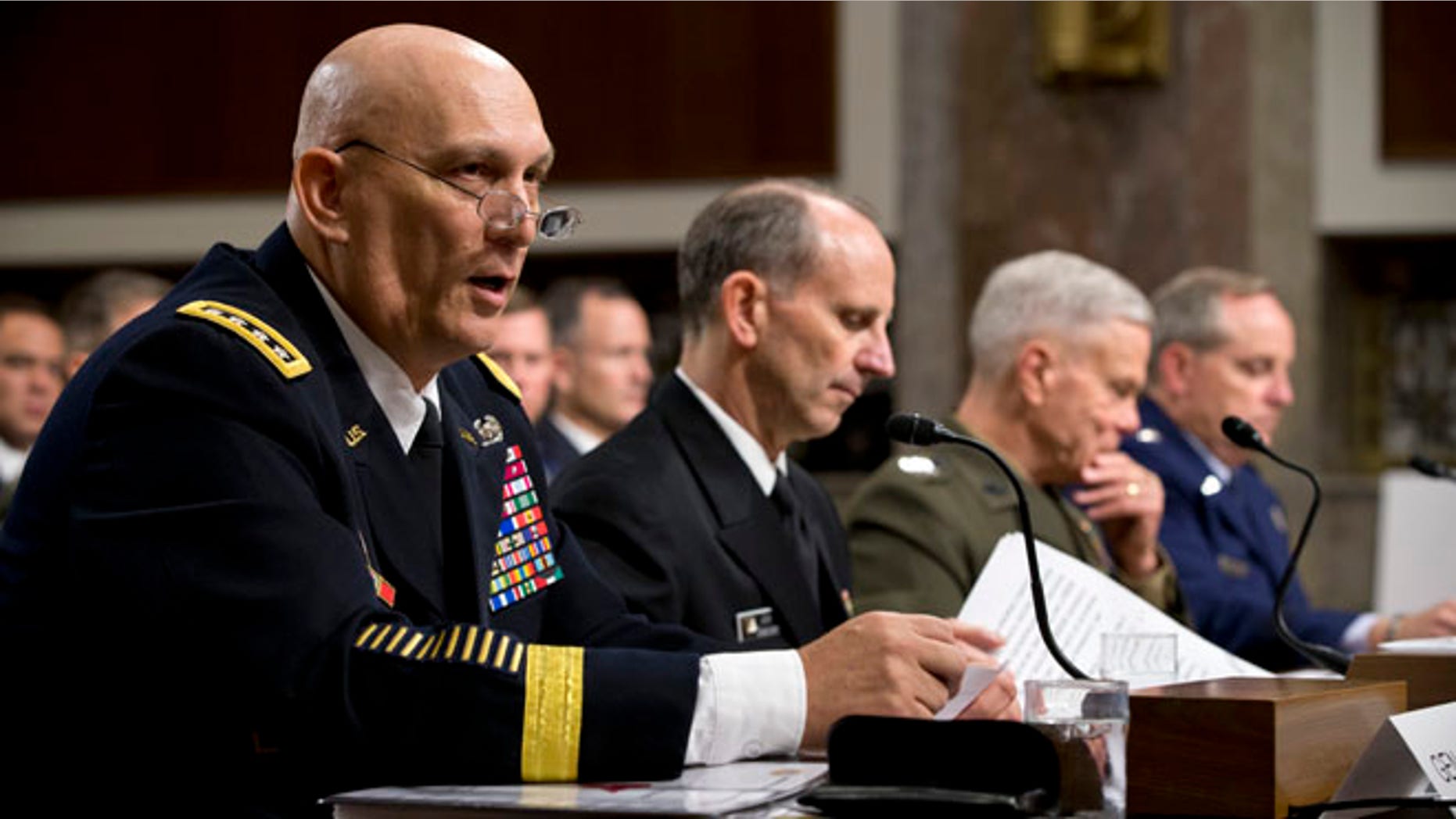 The country's top military officers told lawmakers Thursday that additional cuts to their budgets could put the nation's ability to defend itself in jeopardy.
The chiefs of the Army, Navy, Air Force and Marines testified before the Senate Armed Services Committee. They warned that continued automatic cuts would force a reduction in manpower, training and weapons purchases.
Admiral Jonathan Greenert, chief of naval operations said, "We're tapped out."
The panel's senior Republican, Sen. James Inhofe of Oklahoma, said President Reagan would be rolling in his grave if he saw how weak the military was becoming.
"This is unsustainable," Gen. James Amos, commandant of the Marine Corps, told the lawmakers, referring to curbed spending for training, equipment and force strength that the Marines face. He called those cuts "a formula for more American casualties."
The automatic cuts, called a sequester, started taking effect this year across defense and many domestic programs. Through 2021, they are slated to cost defense programs a total of $480 billion. They are being imposed because Congress failed to reach a budget compromise for reducing federal deficits.
Sen. Mark Udall, D-Colo., apologized to the officers.
"We in Congress created this monster, and we keep dragging you up to the Hill to tell us how much damage it has done," Udall said.
Amos also criticized the furloughs of 14,000 civilian Marine Corps employees that were part of the government-wide furloughs forced last month during the budget standoff that resulted in a 16-day partial federal shutdown.
"I'm ashamed about the way they've been treated through the furlough and the uncertainty" it created, he said.
Republicans and Democrats alike, as well as President Obama, have expressed a desire to halt the sequester. But while Republicans want to retain an equal amount of savings by cutting federal spending, Democrats want to do it by also raising some taxes, and the two sides remain at a stalemate.
Some of those differences spilled over into Thursday's hearing.
Sen. Mike Lee, R-Utah, who helped steer Republicans into the fight that produced the government shutdown, quizzed the officers on whether they were conveying their worries about the defense cuts to the White House.
He said that while Obama has shown great concern over issues like gun control and his embattled health care program, "I've not heard the same level of concern" about the defense cuts.
  
Sen. Tim Kaine, D-Va., said such comments were "an effort to kind of avoid looking in the mirror."
The Associated Press contributed to this story.