Congressmen: Boeing deal with Iran would turn airplanes into 'warplanes'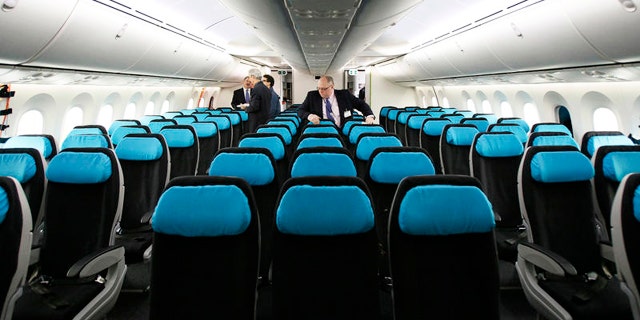 Any deal between Boeing and Iran "would effectively subsidize the world's leading state sponsor of terrorism" and would turn American airplanes into Iranian "warplanes," according to three members of Congress in a strongly-worded letter sent to the aircraft giant Monday.
The letter to Boeing CEO Dennis Muilenburg implores the company to refrain from a reported deal with Tehran to supply planes and other services. Under the terms of the Iran nuke deal, commercial aircraft can be sold to Iran, a concession made "at the behest of Tehran," the letter said. The Islamic Republic's ruling regime holds a majority ownership stake in the country's national airline, Iran Air.
"This is not about doing what is legal – it is about doing what is right," the letter said.
The authors, Illinois Republican members of Congress Peter Roskam, Bob Dold and Randy Hultgren, repeatedly cite Iran's well-documented links to terror financing and allege that passenger air flights have played a particular role in Iran being able to supply deadly weapons – such as rockets or missiles – to notorious groups.
"We urge you not to be complicit in the likely conversion of Boeing aircraft to IRGC warplanes," the letter said, using an acronym for the Islamic Revolutionary Guard Corps.
Roskam, the Ways and Means Oversight chairman, has been particularly vocal in his opposition to American companies conducting business with Iran. Seeking to pressure Airbus into scuttling a $25 billion deal to sell 118 planes to Iran, Roskam spoke with leading European media outlets last week to express why he believed the decision was unwise. Roskam on Friday introduced an amendment to the National Defense Authorization Act which would prohibit the Department of Defense from awarding contracts to any entity that does business with Iran. Roskam is also the author of a March 31 opinion piece for the Wall Street Journal, writing that businesses "should not be tempted" to deal with "a dangerous geopolitical foe."
Boeing is not alone in its interest in Iranian ventures. General Electric Co., among others, is also reportedly exploring opportunities.
"Should any agreements be reached at some future point, they would be contingent on the approval of the U.S. Government," Boeing said in a statement in April.
While any future agreement may be legal to enact – and certainly lucrative to Boeing – Roskam, Dold and Hultgren warn Boeing's board, which meets this week in Chicago, that an Iranian deal is akin to supporting tyranny and terror.
"The greatest beneficiaries of any potential aircraft sale to Iran would be the Islamic Republic's despotic leaders," the letter said.