Congressional race pitting Pete Gallego, Will Hurd is the only competitive midterm race in Texas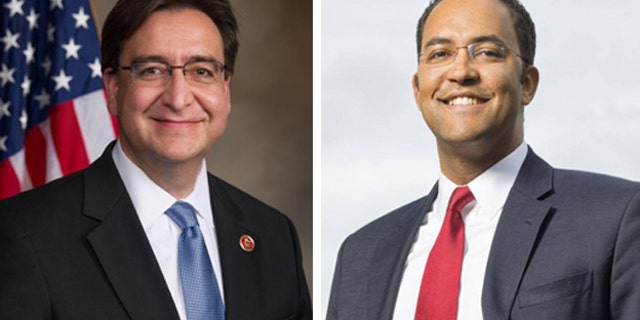 NEWYou can now listen to Fox News articles!
They call it the only true competitive race in Texas in this year's election.
It's the state's 23rd congressional district, where no party really ever has a lock on voters.
First-term, incumbent Democrat Rep. Pete Gallego is fighting to hold on to his seat, which he won in 2012 by beating then-incumbent congressional freshman Quico Canseco, a Republican.
His challenger is former CIA operative Will Hurd, who won a competitive primary and is getting strong support from national Republican and conservative groups. GOP presidential candidate Mitt Romney beat President Barack Obama in this district in 2012, 51-48 percent. U.S. Sen. Ted Cruz, a Tea Party Republican, also came out the winner in this district.
And so, Gallego, who is 52, said he is pushing hard to win re-election in this vast district, which spans more than 800 miles of the U.S.-Mexico border and includes about a quarter of the land area of Texas. Roughly 70 percent of the district's population is Latino – something that, clearly, has not guaranteed Democrats victories.
"By itself the district is bigger than 29 of the 50 states," Gallego pointed out in an interview with Fox News Latino.
Hurd, who is 36, has cast Gallego, who served in the state legislature for more than a decade, as a career politician. In a statement to Fox News Latino, Hurd's campaign blasted Gallego for opposing the Keystone Pipeline, saying that the project would bring thousands of jobs to Texas
"It is clear that job creation and energy independence are not priorities for Pete Gallego, although both are pressing issues in his home district," the campaign told FNL. "His alliance with radical environmentalists will only lead to more job-killing regulations and higher energy costs that middle-class Texas families can't afford."
Gallego, whose ancestors are from Mexico, said that Hurd seems interested only in the most conservative faction of voters.
National Republican groups have poured hundreds of thousands of dollars into ads supporting Hurd.
"This district, which Mitt Romney won, is definitely seen as a huge pick-up opportunity for us," said Katie Prill, spokeswoman for the National Republican Congressional Committee, to the Dallas Morning News. "The race is very winnable for Republicans."
While Hurd scoffs at long-time politicians, he plays up his service in the CIA.
"It is clear that of the 435 elected members of Congress, not one shares his unique knowledge of national security and foreign policy, and now more than ever, we need elected officials at work who have a critical understanding of the ongoings in the Middle East, of border security, and of the energy industry," his campaign said. "We need individuals who have real life experience in the field, and not just politicians who have spent decades behind a desk."
Gallego, meanwhile, backs away from being seen as one voting bloc's candidate.
Yes, he is Latino, he says, but adds that Latinos care about the same issues as other voters.
"They're passionate about making sure that kids have an education," he said. "They care about jobs, about the economy. They want to work their way into the middle class and beyond."
It's also a district that is home to many military families, he said.
"One of the things that ties people together, whether they live in a rural or urban area, is the really big number of people who have served in the military. Veterans issues are very important in the district."
Gallego recently sent out an email to constituents accusing Hurd of dodging debates.
He especially took Hurd to task for refusing to do a debate hosted by Univision and the San Antonio Express-News. The debate, Gallego insists, would have been in English.
"This is a heavily Hispanic district," he said. "We've not had any debates. It's a lack of respect for the community, when you're not willing to debate because it's the 'wrong' network."
Hurd's campaign, however, insists they offered to reschedule and that Gallego never bothered to respond to them.
"This is a classic case of a career politician who does not want to debate, but later warps the situation to play politics," the campaign said.
Hurd plans to launch Spanish-language web ads this week. Gallego has run ads targeting Latinos, telling them Hurd wants to cut programs, such as low-income education-related programs, that are valuable to Latinos.
"Will's support for a balanced budget," Hurd's campaign said, "does not translate to slashed funding for education and border patrol, as Gallego's ads suggest."