CASTLE ROCK, Colo. – Parents, kids and schools across the nation could feel the impact of the results from one Colorado school board election today, depending on the winners.
At issue: Private school vouchers, and whether the courts deems them constitutional.
In 2011, the conservative Douglas County School Board attempted to implement a voucher program to provide money to some students to attend private or religious schools of their choosing, regardless of their family's income or whether the new school was located outside the county they live in. A legal challenge over taxpayer dollars being used for religious purposes went all the way to the U.S. Supreme Court. It was kicked back to Colorado courts, which prevented it from ever getting off the ground.
Depending on Tuesday's Election Day results, that could change.
Eight people are running to fill the four open seats on the Douglas County School Board. The race has generated a political storm in Colorado's third largest school district, inside one of the nation's wealthiest counties.
That's because if the balance shifts, by even one seat, the results could have a major impact on the pro-school-choice movement vocally endorsed by President Trump and his Education Secretary, Betsy DeVos. More than $500,000 has been poured in by outside interests on both sides, including the nation's second-largest teachers union and traditional Republican donors – with deep pockets.
"I don't think politics should be involved. No way," says Shaylee Holland, a mother of three, and supporter of the "school choice" slate of candidates. That slate, which calls itself "Elevate Douglas County" is made up of four conservative Republicans who say they believe the voucher issue should play out in the courts and, if deemed constitutional, be put to the community.
"It's the reality of America today," says commercial real estate developer Grant Nelson, one of the candidates on the Elevate slate. "Everything is polarized. School board elections didn't use to be polarized but now they are, and it is big money that changes how things work."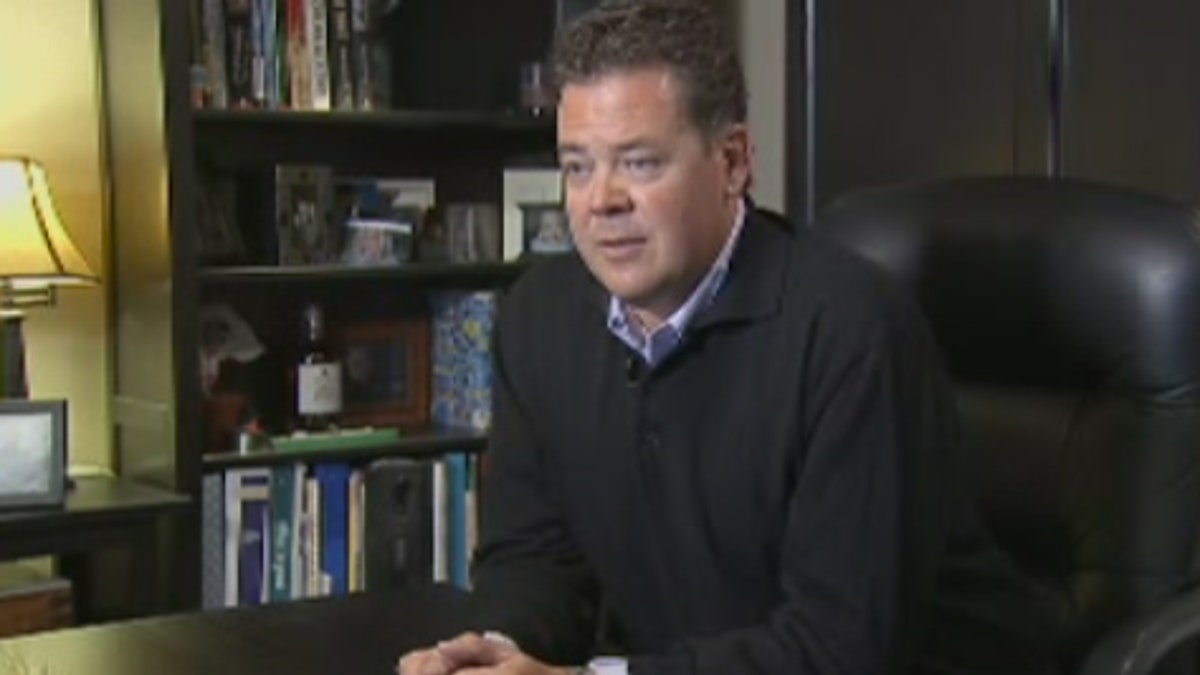 Colorado political analyst Eric Sondermann said he isn't surprised the race has gotten so nasty and that it is attracting big money. Even in a county where registered Republican voters outnumber Democrats two-to-one, the battle lines are all over the place, he said. And it's triggered Republican infighting.
"It has partisan overtones but no, it is not purely partisan. Douglas County is a very Republican county. Yes, there are Democrats and unaffiliated voters down there, but the heart and soul of Douglas County is Republican," Sondermann said. "To a very large extent, it's Republicans fighting with other Republicans"
Flyers, attack ads and even vehicles hand-painted with support for one side have prompted finger-pointing from both sides that the other side is making this a hurtful race.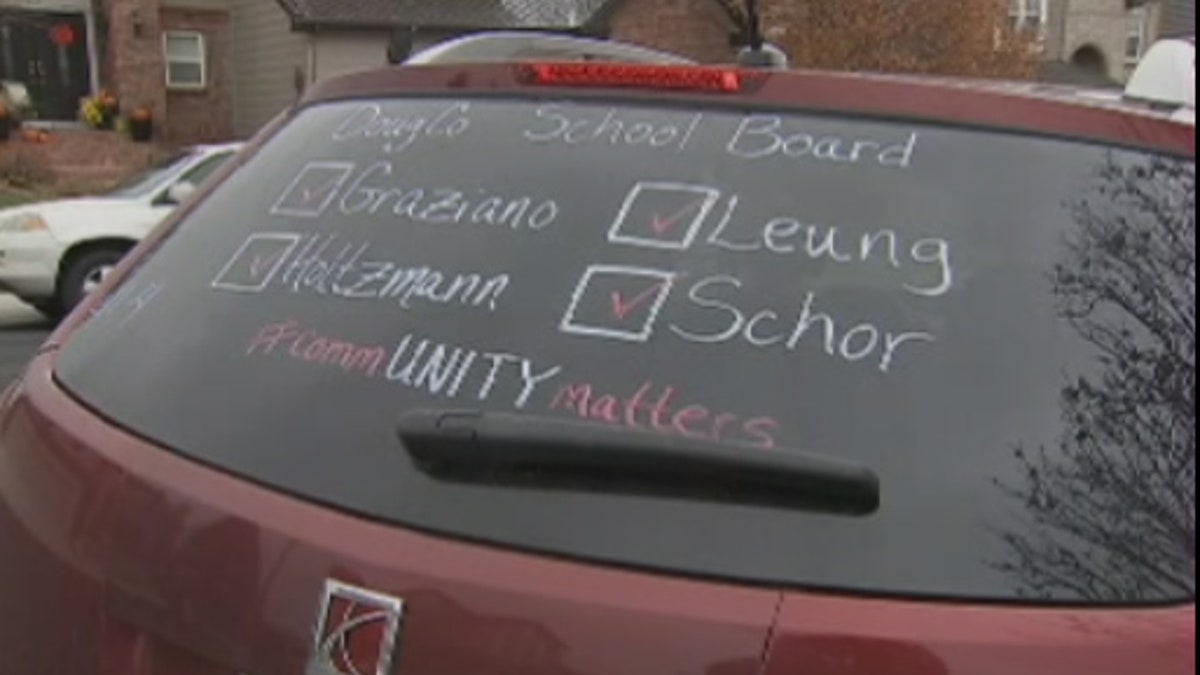 Chris Schor, a former elementary school principal running on the CommUnity slate, didn't go into detail about the division. But she said she altered the hand-paint on her car after a road rage incident she encountered. Her side of the ballot would let the voucher idea die.
"So, for me personally, I could tell you I have one vote, to vote for public education," she said. "Public funds for public education."
Beth Kerr, a mother and vehement supporter of the CommUnity slate, is also a Republican. She said she feels her party isn't listening to its members. She is also tired of the national attention.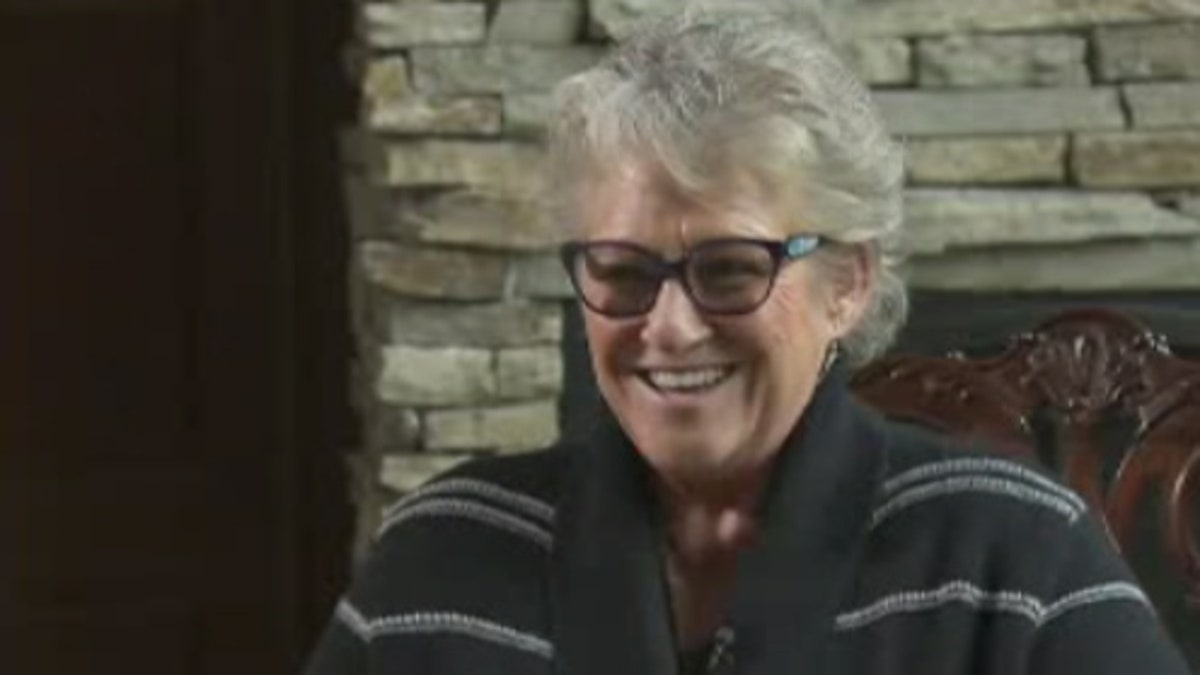 "I think it's sad," Kerr said. "I would love for our district to be our district and our community focus on our families and our community and our students. And not look at what the outside interest is or being the best in the nation. I think it needs to be what's best for our kids here."
On the other side, Shaylee Holland is also frustrated. Frustrated that things have gotten this bad.
"No matter what you think about the vouchers, it should have never gotten to this level," Holland said. "But the bottom line is it does need to be decided once and for all."
Most parents Fox News spoke to agree that what's getting lost in the fight is how the students are impacted by the actions of adults.
"As it gets kicked up the line, to national interests, national implications," Sondermann said, "kids are probably not as central to the debate as they are for average voters that are actually going to decide this."