Colin Powell, Wasserman Schultz support Iran nuclear deal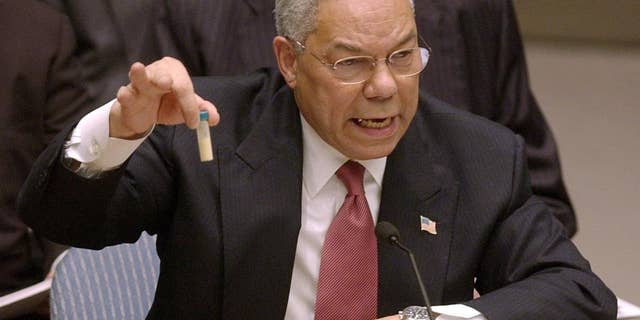 NEWYou can now listen to Fox News articles!
President Obama's Iran nuclear deal on Sunday got some largely unexpected support -- from former Secretary of State Colin Powell and Florida Democratic Rep. Debbie Wasserman Schultz.
The deal, which is expected to receive a vote this week in the Republican-led Congress, has essentially no other GOP support.
Still, Obama late last week secured enough support from Senate Democrats to ultimately complete the deal, despite the Republican opposition.
Powell, who served in the Republican administration of President George W. Bush, said on NBC's "Meet the Press" that the international agreement is "a pretty good deal" that would reduce the threat of Iran gaining a nuclear weapon.
Wasserman Schultz, chairwoman of the Democratic National Committee, joins about half of the roughly two-dozen congressional Jewish lawmakers in supporting the deal, which Israeli Prime Minister Benjamin Netanyahu strongly opposes.
New York Sen. Charles Schumer, expected to be the next Senate Democratic leader, is among a handful in that group who opposes the deal. And his decision in early August was among the first.
Powell said Sunday that Iran's nuclear program "has been thrown into a detour," decreasing the likelihood that it can produce a nuclear weapon to be used against Israel or other countries.
"So that's pretty good," he said.
The international deal would lift billions of dollars in crippling economic sanctions on Iran in exchange for the rogue nation curtailing its nuclear development program.
Wasserman Schultz made her announcement in The Miami Herald, saying the decision to endorse the agreement was the most difficult one she has made in nearly 23 years in elected office.
She expressed concerns about the agreement, but argued it "provides the best chance to ensure" security for the U.S., Israel and other allies.
"Under the agreement Iran will not be able to produce a nuclear bomb for at least 10-15 years," she said, while the U.S. and its allies "will be able to more closely concentrate on stopping Iran's terrorist activity."
The White House already has enough Senate votes to ensure that Congress will uphold the deal even if Obama has to veto a disapproval resolution set for a vote in the week ahead.
But with that support in hand and more piling up, the White House and congressional backers of the deal have begun aiming for a more ambitious goal: enough commitments to bottle up the disapproval resolution in the Senate with a filibuster, preventing it from even coming to a final vote.
That effort suffered a setback on Friday as Sen. Ben Cardin of Maryland, who is Jewish and top Democrat on the Senate Foreign Relations Committee, said he opposed the deal.
The Associated Press contributed to this report.