Clinton: U.S. Won't Give Up Push for Mideast Peace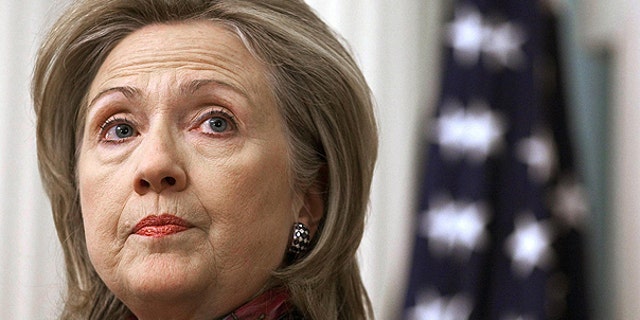 WASHINGTON -- Secretary of State Hillary Rodham Clinton insists the U.S. will keep pressing Israel and the Palestinians to settle their stubborn differences even as she betrays frustration with the latest impasse.
"When one way is blocked, we will seek another," she vowed in a speech that nevertheless brought no new ideas to the table.
The path the Obama administration sought from the day it took office -- insisting that Israel freeze most settlement construction to pull the Palestinians into direct negotiations -- has ended. After Clinton's comprehensive review of the prospects for peace, it remains unclear what new avenue might prove more promising.
"It is no secret that the parties have a long way to go and that they have not yet made the difficult decisions that peace requires," she said in a dinner speech Friday at the Saban Forum, a Mideast policy seminar sponsored by the Brookings Institution think tank. "And like many of you, I regret that we have not gotten farther, faster."
She spoke just days after the administration dropped an effort to persuade Israel to impose a temporary freeze on some settlement activity. The Palestinians insist that direct peace talks cannot resume until Israel halts settlement construction.
Clinton made clear that she believes the Israelis and Palestinians are ultimately responsible for settling their long conflict.
"Unfortunately, as we have learned, the parties in this conflict have often not been ready to take the necessary steps," she said. "They must take responsibility and make the difficult decisions that peace requires."
The status quo is untenable, she said.
"I know that improvements in security and growing prosperity have convinced some that this conflict can be waited out or largely ignored," she said. "This view is wrong and it is dangerous."
Following Clinton to the podium before an audience that included former President Bill Clinton, Israeli Defense Minister Ehud Barak predicted that without Israeli-Palestinian peace, the cycle of Mideast violence will be perpetuated. He said Israel needs the "political wisdom" to find a way to a two-state solution: a secure Israel existing side-by-side with an independent Palestinian state.
In her speech, Clinton said that despite the latest setbacks, the U.S. would not give up its effort to draw the two sides toward a final settlement. And she said the establishment of a Palestinian state through negotiations is "inevitable."
"We will push the parties to grapple with the core issues," she said. "We will work with them on the ground to continue laying the foundations for a future Palestinian state."
Clinton did not mention the administration's frequently repeated goal of achieving at least the outline of a final peace settlement by September 2011. That goal was set when Israeli and Palestinian leaders came to Washington in September to resume negotiations -- a process that quickly broke down over disagreement on Israeli settlement activity in the West Bank.
She pledged to stay actively involved, but offered no new strategy for achieving the peace deal that has eluded other U.S. administrations.
"The United States will not be a passive participant," she said. "We will work to narrow the gaps, asking tough questions and expecting substantive answers. And, in the context of our private conversations with the parties, we will offer our own ideas and bridging proposals when appropriate."
That has been the U.S. position all along.
In his speech, Barak called on Washington to do more.
"A sophisticated and thoughtful American approach to Middle East issues is essential, but not enough," he said. "America has to demonstrate its determination to stand up to the enemies of peace, of Israel and of our moderate neighbors."
Before her remarks, Clinton met the Palestinian prime minister, the lead Palestinian negotiator, the Israeli defense minister, Israel's former foreign minister and the U.N. special envoy for the region.
On Thursday, Clinton held lengthy talks with Israel's chief negotiator.
The administration's special Mideast peace envoy, George Mitchell, will travel to the region next week for talks with Israeli Prime Minister Benjamin Netanyahu and Palestinian President Mahmoud Abbas. He will also visit neighboring Arab states.