Clinton Drums Up Support for Democrats in Calif.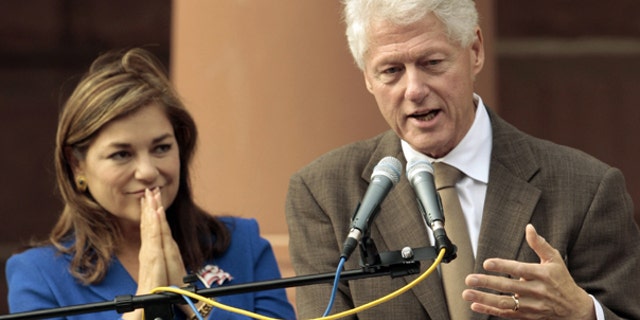 NEWYou can now listen to Fox News articles!
SANTA ANA, Calif. -- Former President Bill Clinton on Friday called the November election a clash of ideas and urged Democratic voters not to let their anger over the sluggish economy cloud their judgment.
Clinton spoke to about 1,000 supporters at a rally in Santa Ana to drum up support for Democratic Congresswoman Loretta Sanchez, who is facing her first serious challenge in 14 years against Republican state Assemblyman Van Tran.
The former president credited Democrats with helping to stem the economic downturn, noting Sanchez voted for the federal stimulus package that he said helped prevent a bad situation from getting worse.
"You have a choice. Don't let this election be a referendum on people's disappointment and anger. Don't let amnesia get in the way," he told the crowd after running through a list of votes taken by Tran.
Clinton was appearing later Friday with Democratic gubernatorial candidate Jerry Brown at the University of California, Los Angeles, where hundreds of students and other supporters awaited his arrival. He heads to Northern California next for weekend rallies in San Jose and Napa.
Clinton is campaigning nationwide with Democrats, many of whom are vulnerable this year. He was in Mississippi and Arkansas on Thursday and has also campaigned on behalf of incumbents facing tough challengers this year, including Senate Majority Leader Harry Reid of Nevada and Sen. Patty Murray of Washington.
While Sanchez's district is predominantly Democratic, she could be hurt this year by a tide of anti-incumbent sentiment sweeping a nation frustrated by the economy.
The race in California's 47th Congressional district came into the spotlight after Sanchez told a Spanish-language television interviewer the "Vietnamese and Republicans" were trying to unseat her -- prompting Tran to accuse her of going on a "racial rampage."
The ethnic friction in the campaign is unique to the gritty district that is home to Disneyland, where 71 percent of residents are Latino and 9 percent are Vietnamese, many of whom arrived as refugees in the 1970s.
Clinton said the last time he spoke at a rally in Santa Ana was to help Sanchez win election in 1996. He said this year's elections mark an important choice between two sets of competing ideas about where to take the country.
The Democrats, Clinton said, helped slow the economic downturn, while the Republicans blame government for the economy's ills and want to cut taxes for the rich -- taxes he said he doesn't mind paying.
Clinton, professing his love for football, ran off a list of measures Democrats have taken to help small businesses and encourage investment in clean energy.
"I'm giving you evidence. Look at the facts. Watch the game film," he said.
Brown is in a tight race with Republican former eBay chief executive Meg Whitman, who launched a California bus tour this week, stopping at burger joints and hot dog stands. On Friday she stopped at an In-N-Out Burger in Sacramento.
Whitman said Clinton's visit to boost Brown is more evidence of national interest in the governor's race. She noted she has recently campaigned with New Jersey Gov. Chris Christie, Louisiana Gov. Bobby Jindal and other well-known Republicans.
Brown won Clinton's endorsement even though he mocked the former president last month for lying about his affair with White House intern Monica Lewinsky.
Brown and Clinton also were rivals in the 1992 presidential primary.
Both of Brown's events with Clinton will also feature San Francisco mayor and lieutenant governor hopeful Gavin Newsom, whom Clinton endorsed in the Democratic gubernatorial primary last year before Newsom dropped out. Newsom was an early and ardent backer of Hilary Clinton's presidential campaign.
Brown noted his "fairly acrimonious" 1992 debate with Clinton during a campaign stop Thursday, but he said the two have made up.
"We had a very good conversation. We're joined at the hip as we go forward to get California working again," Brown said.