Clinton Denies He Tried to Lure Sestak Out of Race Against Specter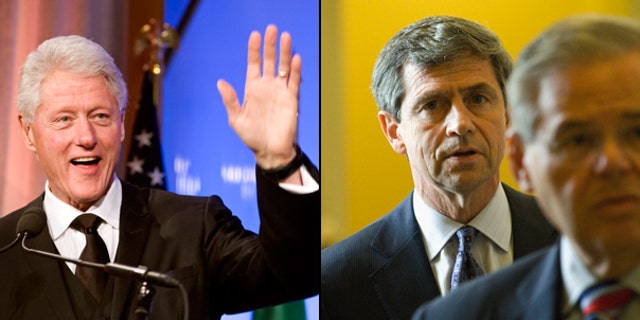 Former President Bill Clinton this week denied any role in trying to lure Rep. Joe Sestak out of the Senate primary against establishment-backed Sen. Arlen Specter, an assertion that undermines a White House explanation of a controversy that left egg on the face of President Obama.
Clinton made the denials three times as he responded Tuesday to a reporter asking him why he is campaigning for Sestak, who defeated Specter in the May primary, if he tried to get him to drop out of the race.
"I wasn't," Clinton said while he was in a scrum of people trying to get his autograph. "I didn't try to get him out of the race."
Clinton repeated his assertion when asked whether he talked to Sestak to aid Specter. He denied it again when the reporter asked, "You did not?"
"In fact, I wasn't even accused of that." Clinton added.
It's not clear what Clinton believes he was accused of -- the former president's media team did not respond to an e-mail seeking clarification -- but the comments evoked his infamous needle-threading denial of an affair with Monica Lewinsky when he was president.
Clinton defended his denial to a grand jury, saying the veracity of his account depended on what the meaning of the word "is" is.
Clinton's role in the Sestak case was revealed in May as the controversy threatened to erupt into a firestorm after calls from Republican lawmakers for an investigation grew. The White House issued a report that said President Obama's Chief of Staff Rahm Emanuel asked Clinton to talk to Sestak about the possibility of dropping out of the race and taking a seat on an advisory board picked by the Obama administration. The report dismissed allegations of improper conduct as baseless.
Sestak, who first sparked the controversy in February by acknowledging, without going into details, that the White House had dangled a federal job in front of him, confirmed the White House report and said Clinton called him last summer to express concerns over his jumping into the primary. He said Clinton also talked about how his military background could help him leave a mark on the House.
Sestak is now facing Republican Pat Toomey to succeed Specter.
Sestak played down Clinton's comments while making campaign stop at a Harrisburg barbeque restaurant, the Philadelphia Inquirer reported Thursday.
"President Clinton was carrying a message," Sestak told the newspaper. "It was no secret Washington wanted me out of the race."
Clinton's denial came on the same day Andrew Romanoff, a Colorado candidate for Senate he endorsed, lost in the Democratic primary to Sen. Michael Bennet, who was backed by Obama.