Clinton defends Obama decision to back off Syria 'red line'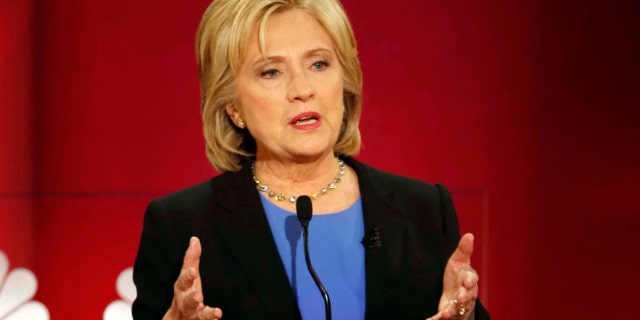 Hillary Clinton defended President Obama's decision to back off the "red line" he set with Syria's Bashar Assad.
The president has come under renewed criticism from other former officials – including former Defense Secretary Chuck Hagel – for not following through on military action after Assad was accused of using chemical weapons during Syria's bloody civil war.
But during Sunday's Democratic primary debate, Clinton said the 2013 decision to instead engage the Russians and help ship out Assad's chemical weapons led to a "positive outcome.'
"Getting those chemical weapons out was a big, big deal," she said.
The former secretary of state said a commander-in-chief needs to constantly reevaluate decisions, and cited the "red line" as one of them.
By contrast, Hagel recently told Foreign Policy that "there's no question" the president's decision "hurt the credibility of the president's word when this occurred."
During Sunday's debate, Clinton also defended the controversial "reset" with Russia, which was initiated under her tenure as secretary of state.
But she said Russia's Vladimir Putin is someone the U.S. and others must "continually stand up to."