Clinton Condemns Attacks on Syrian Protesters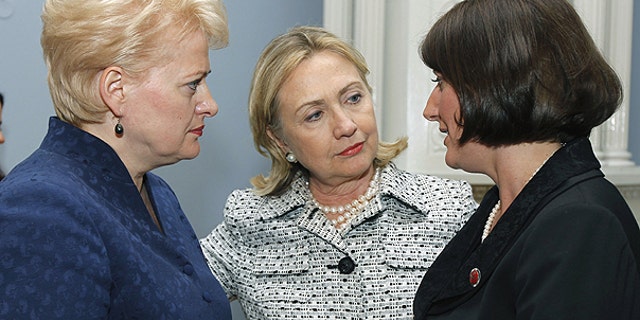 VILNIUS, Lithuania -- U.S. Secretary of State Hillary Rodham Clinton said Friday she was disheartened by reports that security forces and government-organized thugs attacked protesters in the Syrian city of Aleppo.
Speaking at a news conference in Lithuanian capital where she was attending an international democracy conference, Clinton said that President Bashar Assad's regime wasn't sending a coherent message.
On the one hand, she said, it allowed an opposition meeting in Damascus this week, yet it has pressed on militarily in the north.
A single meeting, Clinton said, does not amount to a serious effort toward democracy.
"It doesn't appear that there's a coherent and consistent message coming from Syria," Clinton said. "We know what they have to do. They must begin a genuine transition to democracy and allowing one meeting of the opposition in Damascus is not sufficient action toward achieving that goal."
She said Assad's government is running out of time and it must advance a serious political process or face increased resistance.
The regime is either going to "allow a serious political process that will include peaceful protests to take place throughout Syria and engage in a productive dialogue with members of the opposition and civil society, or they're going to continue to see increasingly organized resistance," she said.
Clinton said she was "disheartened" by the recent reports of continued violence on the borders and in Aleppo, Syria's second largest city, where "demonstrators have been beaten, attacked with knives by government organized groups and security forces."
Aleppo is home for much of Syria's small middle class, and activists said the regime feared that if the city's residents threw their weight behind the anti-government protests, they could badly shake Assad's government.