Christie call for larger military, more US intervention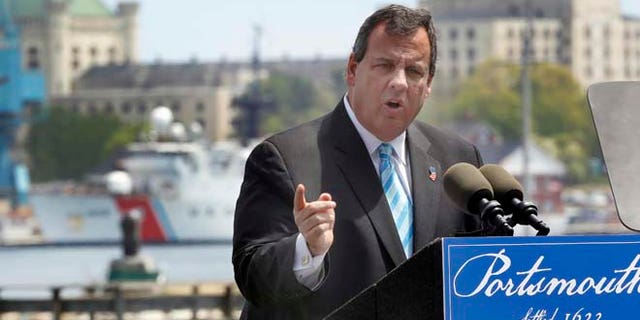 New Jersey Gov. Chris Christie made the case Monday for a more active U.S. presence overseas, including a larger military, and defended the government's intelligence-collection efforts in a speech laying out his foreign policy platform.
The likely 2016 Republican presidential contender used the New Hampshire appearance to criticize the president's approach to the Islamic State militants and the emerging nuclear deal with Iran, as well Russia's backing of separatists in Ukraine and China's encroachment in the South China Sea.
"All these things are happening because American power is in retreat and we've backed away from the principles that made us a source of strength and stability," said Christie, standing on the bank of the Piscataqua River, with the Portsmouth Naval Shipyard in the distance behind him. "No one understands any longer whom America stands with or whom we stand against. No one understands exactly what we stand for and what we're willing to sacrifice to stand up for it.
Christie, who worked as a U.S. attorney before he was elected governor, also offered an unapologetic defense of the U.S.'s intelligence-collection efforts. He noted that in that job he had used provisions of the Patriot Act in pursuing terrorists, and said the country needs to toughen its anti-terror and surveillance laws, not weaken them.
He took specific aim at former National Security Agency contractor Edward Snowden, who in 2013 leaked thousands of documents to journalists. Among Snowden's revelations: NSA had for years been secretly collecting data about millions of Americans' landline phone calls.
"When Edward Snowden revealed our intelligence secrets to the world in 2013, civil liberties extremists seized that moment to advance their very own narrow agenda," he said. "They want you to think that there's a government agent listening in every time you pick up the phone or Skype with your grandkids. They want you to think our intelligence community are the bad guys -- straight out of the `Bourne Identity' or some other Hollywood thriller. They want you to think that if we weakened our capabilities, the rest of the world would somehow love us more."
"Let's be clear, all these fears are exaggerated and ridiculous. When it comes to fighting terrorism, our government is not the enemy," he said.
Last week more than 300 House members voted to end the NSA's bulk phone records collection program and replace it with a system to leave the data with telephone companies and allow the NSA to search the data on a case-by-case basis. The supporters of ending the program include Democrats and Republicans, and even the NSA doesn't object to having private companies store the data.
Independent reviews have found that the bulk collection program did not foil a single terrorist attack.
In addition to his defense of intelligence gathering, Christie also called for boosting defense spending. He said that automatic budget cuts imposed a few years ago should be immediately reversed and called for new investments, including more ships for the Navy and a larger Air Force.
He also made the case that the U.S. must do more to support its allies overseas, including intervening more frequently to serve as a force for global stability.
The speech is the third Christie has delivered in recent weeks in the early-voting state as he lays the groundwork for an expected campaign. His previous speeches focused on overhauling Social Security and lowering taxes on individuals and corporations.
Christie has been working to try to re-establish his place in the top tier of likely candidates after the fallout from the George Washington Bridge scandal. He'll hold his fifth town hall event in the state Monday evening.