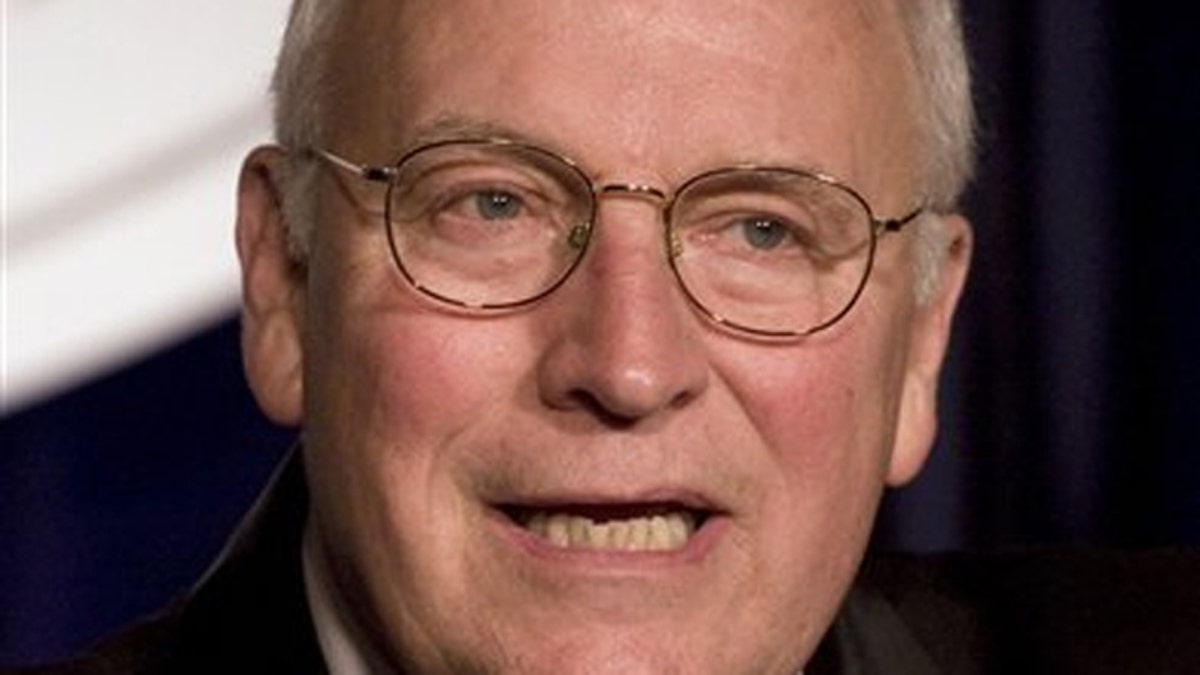 Former Vice President Dick Cheney said Sunday it's an "outrage" the Obama administration continues to investigate CIA agents who interrogated terror suspects, claiming they did nothing wrong and expressing concern about the precedent it sets.
Cheney weighed in on the probe after several Republicans and other ex-officials have renewed their call for the Justice Department to drop the investigation -- launched nearly two years ago by Attorney General Eric Holder -- in light of the killing of Usama bin Laden.
Though it's unclear what role so-called enhanced interrogation played in finding bin Laden, Cheney told "Fox News Sunday" the techniques probably "contributed" and suggested the circumstances make the Justice probe all the more unsettling.
"It's unfortunate," Cheney said. "These men deserve to be decorated. They don't deserve to be prosecuted."
Cheney noted there was a "complete investigation" during the Bush administration that concluded the agents had not violated the law. He said the decision by Holder to reopen that case and hand it over to a special prosecutor sets a "terrible precedent."
"These are government employees. They did nothing wrong, as best as any of us knows," Cheney told "Fox News Sunday." "It is an outrage that we would go after the people who deserve the credit for keeping us safe for seven and a half years."
Former Defense Secretary Donald Rumsfeld also said Sunday that the Obama administration should set the CIA probe "aside" and move on, calling it a "most unfortunate thing."
"These people were operating at the direction of the president. They were doing things that had been approved by the Department of Justice," Rumsfeld said on CBS' "Face the Nation." "And it sends a chill throughout the government."
The investigation has been kept under wraps since Holder first announced it, and it's unclear how far along it's come. The sister of a Sept. 11 victim said Thursday that President Obama turned down her request to advise Holder to drop the probe.
Asked about the investigation Sunday, National Security Adviser Tom Donilon told "Fox News Sunday" he could not comment on the probe itself. But he praised the work of the intelligence community in helping track bin Laden.
"I have the highest regard for our intelligence professionals," he said.
Like other Obama administration officials, Donilon downplayed the role of enhanced interrogation techniques, including waterboarding, in tracking bin Laden. He said the CIA-led Navy SEALs raid last weekend on his compound was the result of a "mosaic of information" and stressed that techniques like waterboarding have no place in interrogators' arsenal.
"Our judgment is that it's not consistent with our values ... and not necessary in terms of getting the kind of intelligence that we need," he told "Fox News Sunday."
Khalid Sheikh Mohammed, the architect of the Sept. 11 terrorist attacks, was interrogated with the enhanced interrogation techniques when he was captured in 2003. Months after being waterboarded, he acknowledged knowing one of Al Qaeda's most important couriers -- who eventually led the U.S. to bin Laden -- but denied that he was of any importance.
The question is how big a role the waterboarding and other techniques played in persuading Mohammed, and others, to cooperate.
Cheney on Sunday said it appeared early leads came out of the program and again called for the interrogation techniques to be reinstated.
"It was a good program. It was a legal program. It was not torture," Cheney said. "If it were my call, I'd have that program ready to go."
Cheney said that with those techniques taken "off the table," it's not clear whether there's a reliable interrogation program that could be used if another high-value detainee with crucial information is captured.
Still, Cheney gave Obama "high marks" for his handling of the bin Laden raid.
"I think you've got to give him a lot of credit for making the decision to have the SEAL team 6 conduct the raid that got bin Laden," Cheney said. "It's no question that was his responsibility and I think he handled it well."