Carter Sends Condolence Letter to Kim Jong Il's Son, North Korean Media Say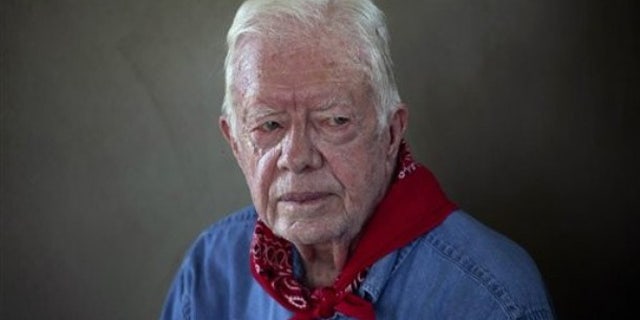 NEWYou can now listen to Fox News articles!
Former President Jimmy Carter reportedly sent a personal condolence letter to the son of Kim Jong Il, the late North Korean leader who presided over one of the most repressive dictatorships in the world.
The state-run Korean Central News Agency claimed that the former U.S. president sent "a message of condolences" to Kim Jong Un, the son tapped to succeed Kim Jong Il at the helm of the communist state. The news agency said Carter wished the next leader of North Korea "every success as he assumes his new responsibility of leadership, looking forward to another visit to (North Korea) in the future."
A representative for Carter so far has not returned a request for comment on whether the KCNA account was accurate.
But the thought of a former U.S. president sending his best wishes to the next "dear leader" of North Korea while lamenting the loss of the last one didn't sit right with some observers.
"For someone who has uttered nary a word about the plight of the North Korean people ... it seems bizarre to lament the passing of his dictatorship," said Danielle Pletka, vice president for foreign and defense studies at the American Enterprise Institute.
Pletka noted sarcastically that Carter "is in quite charming company" - according to KCNA, messages of condolence also came from the leaders of Syria, Sudan and other rogue regimes.
While Carter may have sent a letter of condolence, other U.S. officials took a much different approach -- celebrating Kim Jong Il's passing as an opportunity for reform.
"The world is a better place now that Kim Jong Il is no longer in it," Sen. John McCain, R-Ariz., said in a statement after the North Korean leader died, reportedly of a heart attack. "For more than six decades, people in North Korea have been consigned to lives of dire poverty and cruel oppression under one of the most totalitarian regimes the world has ever known. I can only express satisfaction that the Dear Leader is joining the likes of Qaddafi, Bin Laden, Hitler, and Stalin in a warm corner of hell."
Former Defense Secretary Donald Rumsfeld tweeted that the rule of Kim Jong Il was "monstrous," expressing hope for a better future.
"May the people of N. Korea come to know the freedom the South has enjoyed for years," Rumsfeld wrote.
North Korea is by many accounts the most isolated society on earth thanks to the Kim dynasty's policies. By law, North Koreans are not allowed to leave North Korea, though some refugees have managed to escape. Media outlets are state-run, there is no independent judiciary and human rights abuses are widespread.
It is estimated that at least 150,000 political prisoners are held in North Korea's detention camps. As the people of North Korea suffered through famine and a dismal economy, Kim Jong Il used state money to maintain a luxurious lifestyle while building up the nation's military.
Kim Jong Il also interminably frustrated Western leaders with his pursuit of nuclear weapons and his repeated provocation of North Korea's neighbors.
The White House has said little about the legacy of Kim Jong Il, other than to note the country is "in a period of national mourning" to and stress the importance of ensuring the security of South Korea and Japan.
Secretary of State Hillary Clinton said in a statement that "we are deeply concerned with the well being of the North Korean people and our thoughts and prayers are with them during these difficult times," while urging the new leadership to put the nation on "the path of peace."
It's unclear whether Carter might have sent any similar words of advice to the next leader of North Korea.
The former president has visited North Korea several times since leaving office, including in 1994 for vital talks on the country's nuclear program. He also visited in 2010 to secure the release of an American held in North Korea, and again earlier this year.