Carson getting 'personnel, rationale' in place for possible 2016 White House run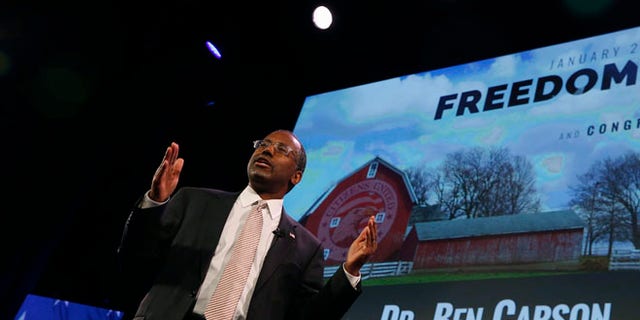 NEWYou can now listen to Fox News articles!
Dr. Ben Carson acknowledged Sunday that he is building a campaign team for a potential 2016 presidential run and indicated he will make a formal announcement by May.
"We're making sure all the infrastructure is in place -- personnel and rationale," said Carson, a conservative favorite expected to run in the Republican primary. "We're putting all of that together."
Carson indicated on "Fox News Sunday" that he will, in the next couple of weeks, announce an exploratory committee toward a White House bid and that he would make public in May whether we will formally enter the race.
The 63-year-old Carson continues to do well in early polling.
"We're making sure all the infrastructure is in place . . ."
He finished tied for fifth in a Bloomberg Politics/Saint Anselm New Hampshire Poll for potential GOP candidates released Sunday.
He finished behind former Florida Gov. Jeb Bush, Kentucky Sen. Rand Paul, Wisconsin Gov. Scott Walker and New Jersey Gov. Chris Christie. Carson tied with former Arkansas Gov. Mike Huckabee.
Carson criticized President Obama's plan to provide free community college education to Americans. He said existing Pell Grants already help students from low-income families receive a higher education. And he offered advice for those who don't qualify for assistance.
"W-o-r-k," he said, arguing that government is not responsible for providing everything to it citizens, including those in low- and middle-income families.
"We don't have to give away everything," Carson said. "That was never the intention. The government is not there to give away everything and to take care of people. It is to facilitate our ability to have life, liberty and the pursuit of happiness. That's it."
Carson also weighed in on the recent debate about immunization and the measles outbreak that has divided the potential 2016 GOP White House field. He said parents should immunize their children.
Carson said many parents who don't immunize are the victims of old misinformation and suggested the public health community hasn't done a good enough job of getting out the correct information, which is that the obvious upsides outweigh the potential downsides, such as allergic reactions.
However, he argued the issue shouldn't be partisan.
"It's not a Republican or Democratic issue," Carson told Fox News.
Days earlier, Paul suggested parents should have their children immunize but also argued that "the state doesn't own the children."