California initiative calls for pols to wear NASCAR-style donor logos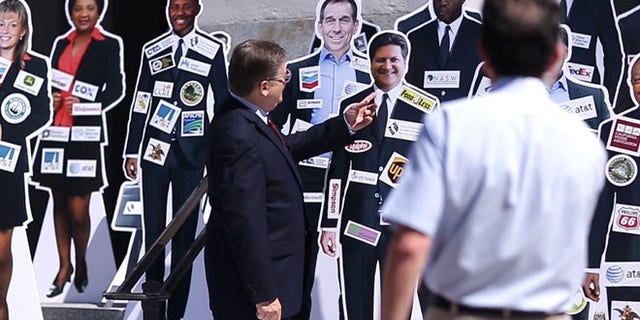 A California businessman is trying to expose the influence of money in politics by getting an initiative on the November ballot that would require state legislators to wear the logos of their top donors -- NASCAR-style.
The Name All Sponsors California Accountability Reform initiative (NASCAR for short) is being led by businessman John Cox, also a former Republican congressional and White House candidate who says "big money in politics has gone too far."
"Candidates on both sides raise enormous amounts of money, then become beholden to those who give it to them," Cox told FoxNews.com on Wednesday.
Cox has until April 26 to get 365,880 valid signatures to qualify to get on the ballot and has vowed to spend $1 million of his own cash.
He's also hiring paid signature-gathers and has organized rallies at city halls, courthouses and other sites throughout the state to which he brings cardboard cutouts of the 120 state legislators with corporate logos plastered across their clothes.
"Unions and corporations have too much power in our state," Cox says. "The 'California is not for sale' initiative will bring a level of transparency never before seen in politics."
Cox, a lawyer and investor, faces an uphill battle, considering getting a voter-led initiative on the ballot can cost millions and requires a well-oiled grassroots effort.
Still, he's got a few factors working in his favor.
Bernie Sanders has made campaign-finance reform a key part of his insurgent 2016 campaign, though Cox doesn't agree with the Democratic presidential candidate's alternative of publically funded campaigns.
And Republican Donald Trump has taken his campaign to the top of the GOP presidential field in part by telling Americans he is not beholden to special interests because he doesn't need their money.
The signature requirement in California is the lowest since 1982, the result of low voter-turnout in 2014, which has helped some.
Cox said the low threshold hasn't brought the expected advantages because it has also resulted in more ballot initiatives and their backers flocking to shopping centers to hawk signatures.
"It's absolute chaos," he said Wednesday.
He also acknowledged having about 250,000 signatures with less than three weeks to go and asked that Californians go to his website to download a petition, then mail in a signed copy.
Nine voter initiatives already are certified in California this year, including the highly publicized one in November that would require actors having sex in pornographic films to wear condoms.
The official language in Cox's initiative states in part that legislators and other elected California officers must "display on their persons the identity of the top 10 donors to their controlled committees" when testifying or voting on state legislation, with the possibility of "criminal and civil sanctions" for violations.
Cox arrived in California is 2008, after his brief and unsuccessful White House bid earlier that year. He also failed in 2002 and 2004, respectively, to win a House and Senate seat in his home state of Illinois.
Since the move, he also has tried to lessen the influence of special interests in California government and give voters more access by making the state's legislative districts more community based.
However, his 2014 plan to divvy up the 120 districts into roughly 12,000 more community-based ones failed to get enough signatures to get on the ballot.