Calif. Churches Near Murrieta Lend A Hand - Or A Home - To Immigrants, Sparking Debate Among Parishioners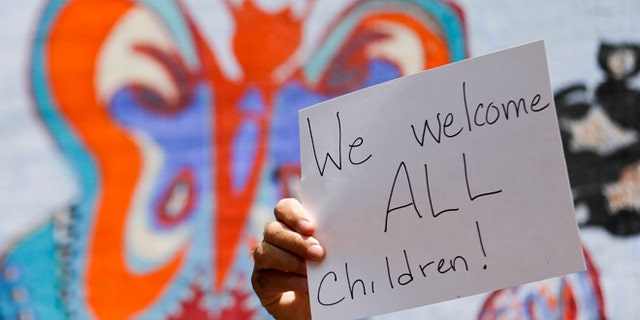 NEWYou can now listen to Fox News articles!
Images of angry protesters in the California town of Murrieta denouncing plans to hold undocumented Central Americans in a local Border Patrol facility and facing off against counter-demonstrators have dominated television screens and the Internet this week.
Meanwhile, faith leaders in the area have been responding to the immigrants in a much less dramatic way.
To varying degrees, churches of different denominations have been lending assistance – including food, clothing and toys – to the immigrants who have been released pending their court hearings.
Several churches are allowing immigrants to stay on their property while they prepare to travel to other states where they have relatives or friends.
And some pastors and members of their flock also are opening up their homes, allowing individual immigrants, or a whole family, to remain with them while they wait to take the next step – be it attend court or join a relative elsewhere in the country.
"It's very unfortunate that the perspectives of a few people and their particular political stance would be the voice of our community," said Father Cameron Lemons, whose St. Paul City Church in Murrieta is a neighbor of the Border Patrol processing facility.
He and some of his parishioners have spoken to the protesters, Lemons said.
"It's a very emotional response to the immigrants," Cameron said. "There's a lot of fear that our nation is changing, there's a lot of frustration with the Obama administration."
Tens of thousands of Central Americans have crossed the U.S.-Mexico border illegally in recent years, with the influx becoming a flood this year. Many of the immigrants are unaccompanied children.
The children and the other immigrants are coming mostly from El Salvador, Honduras and Guatemala, many fleeing cartel violence but also hearing rumors, sometimes from smugglers, that once they arrive in the U.S. they will be allowed to stay. More than 50,000 have arrived already since fall, a number that's expected to rise to 90,000 by the end of this fiscal year.
The unexpected spike is overwhelming immigration courts and holding facilities in the Southwest and turning into a major political crisis for the Obama administration.
Last week, the protests in Murrieta put the middle-class city on the map and made it a flashpoint in the debate over the border crisis.
The protesters' argument, echoed by Murrieta's political leaders, centered on what they said was federal government's failure to address the border influx when signs of it first appeared – about two years ago – and that the inaction had created a burden for local communities, which were ill-quipped to deal with large numbers of immigrants.
It was an argument that resonated nationwide, and struck a chord with those concerned by the influx of immigrants from Central America.
Lemons and other faith leaders say they also wanted to show another side to the reception to the immigrants, who arrived in Murrieta in buses that protesters forced to turn around and go elsewhere.
Lemons said that many of the immigrants exhibit signs of having been traumatized in their homelands and along the border while being smuggled.
He said that a mother, for instance, will take all her children into the bathroom with her to wait while she showers because she doesn't want to leave them alone for even a brief while.
The children, he said, seem to fare a bit better.
"They'll just play with toys or watch TV," he said.
"People don't know these immigrants are not a bunch of criminals, they're refugees," said Joey Aszterbaum , pastor of the Spirit of Joy Church in Hemet, a neighboring town. "There's a lot of misinformation."
Aszterbaum went to some of the meetings in Murrieta to hear out the opposition and to try to lighten the environment.
"I brought my guitar," he said. "There were a lot of signs from the anti-immigrant crowd that said 'Don't tread on me,' and 'Citizens first.' But there were also signs from the pro-immigrant crowd that quoted scripture from the Bible. Faith plays a part in public discourse."
Aszterbaum and his wife have opened up their home to immigrants until they get on their feet and can join relatives.
He said he felt a particularly personal obligation to help people fleeing violence.
His ancestors, he said, were Eastern European Jews who fled to Argentina, where they were given refuge. Then, later, relatives came to the United States.
"It must be terrible for people who are immigrants and who are on the buses" to see the protests, he said. "My family and my friends went there to show people that we are compassionate."
To be sure, debates about the undocumented immigrants occurred even among the congregations whose pastors have led efforts to provide help and shelter to the Central Americans.
Lemons said that in a meeting with his parishioners, some objected to the idea of opening up their homes to them.
"This was an issue that not only divided our community, but also had the potential to divide our church," Aszterbaum said. "Some people were concerned that we don't have all the resources" to deal with the influx.
"Other folks said we need to be compassionate," he said. "I said that we need to respond with compassion and common sense, and we also need to fix our broken immigration system. So we also need to push for immigration reform as well."