Bush cancels millions on ad buys in early battleground states amid campaign woes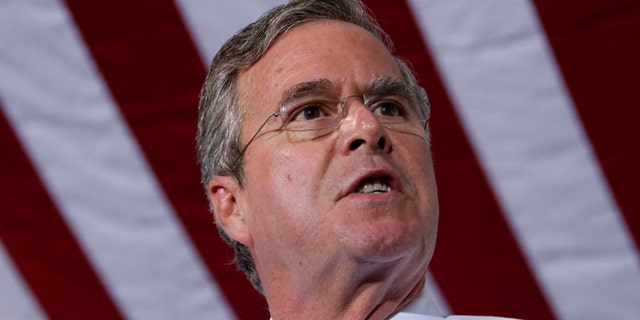 Jeb Bush can't seem to a catch a break.
As the former Republican presidential front-runner's campaign continues to limp along, Bush has been forced to cancel reserved advertising time in the early battleground states of Iowa and South Carolina.
The cancellation of the ads – which keeps Bush from a little more than $1 million in Iowa and just under $2 million in South Carolina – means that the former Florida governor's camp will instead redeploy 50 staffers to the crucial early decision states of Iowa, New Hampshire, Nevada and South Carolina.
The reassignment of staffers will be felt most heavily in New Hampshire, where the number of workers will double to 40 and where Bush's camp says the former governor's chances of winning are best. Bush's efforts in the Granite state will be far greater than that of his three main rivals in New England, Florida Sen. Marco Rubio, Ohio Gov. John Kasich and New Jersey Gov. Chris Christie.
In Iowa, his staff will grow to about 20 and in South Carolina and Nevada it will climb to about 10.
Besides bumping up the ground game to help spread Bush's message, his team will also invest in radio ads on conservative stations throughout South Carolina — a cheaper, but far more effective medium than television spots.
The move toward rearranging staffers and cutting back television spots is expected to be greeted from Bush's rivals as another desperate move from a cash-rich campaign that is struggling to gain footing with an increasingly more conservative voter base. Bush has seen his status in the polls plummet over the last six months as outsider candidates like businessman Donald Trump and retired neurosurgeon Ben Carson gain prominence.
Bush's super PAC, however, is seeking to reassure skeptics and voters that his campaign is nowhere close to running out of funds.
"Right to Rise USA has more than $3.6M reserved in IA between now and Caucus Day," the super PAC's spokesman Paul Lindsay tweeted Wednesday afternoon, the Washington Post reported. "Will add more in the coming days."
Lindsay added that PAC plans to spend $4.2 million in South Carolina and more than $10 million in New Hampshire on television, radio and digital advertising, plus direct mail pieces.
Meanwhile, Trump announced he is just ramping up his efforts in the early voting states.
Earlier this week Trump said he plans to spend at least $2 million a week on television advertising in the first three voting states, a move that would mark a massive departure for a candidate who has so far relied on free media to fuel his insurgent campaign.
Despite Trump's typically ironclad confidence, he told reporters invited aboard his private jet Tuesday he didn't want to take anything for granted.
"I don't think I need to spend anything. And I'm very proud of the fact that I've spent the least and achieved the best result," Trump told reporters before a rally in Council Bluffs, Iowa. "I feel I should spend. And honestly I don't want to take any chances."
Trump, who leads in national Republican preference polls, has seen his lead dissolve in leadoff Iowa, where Texas Sen. Ted Cruz is surging on the backing of the state's robust evangelical conservative voting bloc.
The front-runner has spent nothing on television advertising to date, and just over $300,000 on radio ad time, according to advertising tracker Kantar Media's CMAG — far less than his rivals. Bush, for example, has spent more than $40 million and trails Trump and several other candidates.
The Associated Press contributed to this report.