Budget deal wins final approval in Senate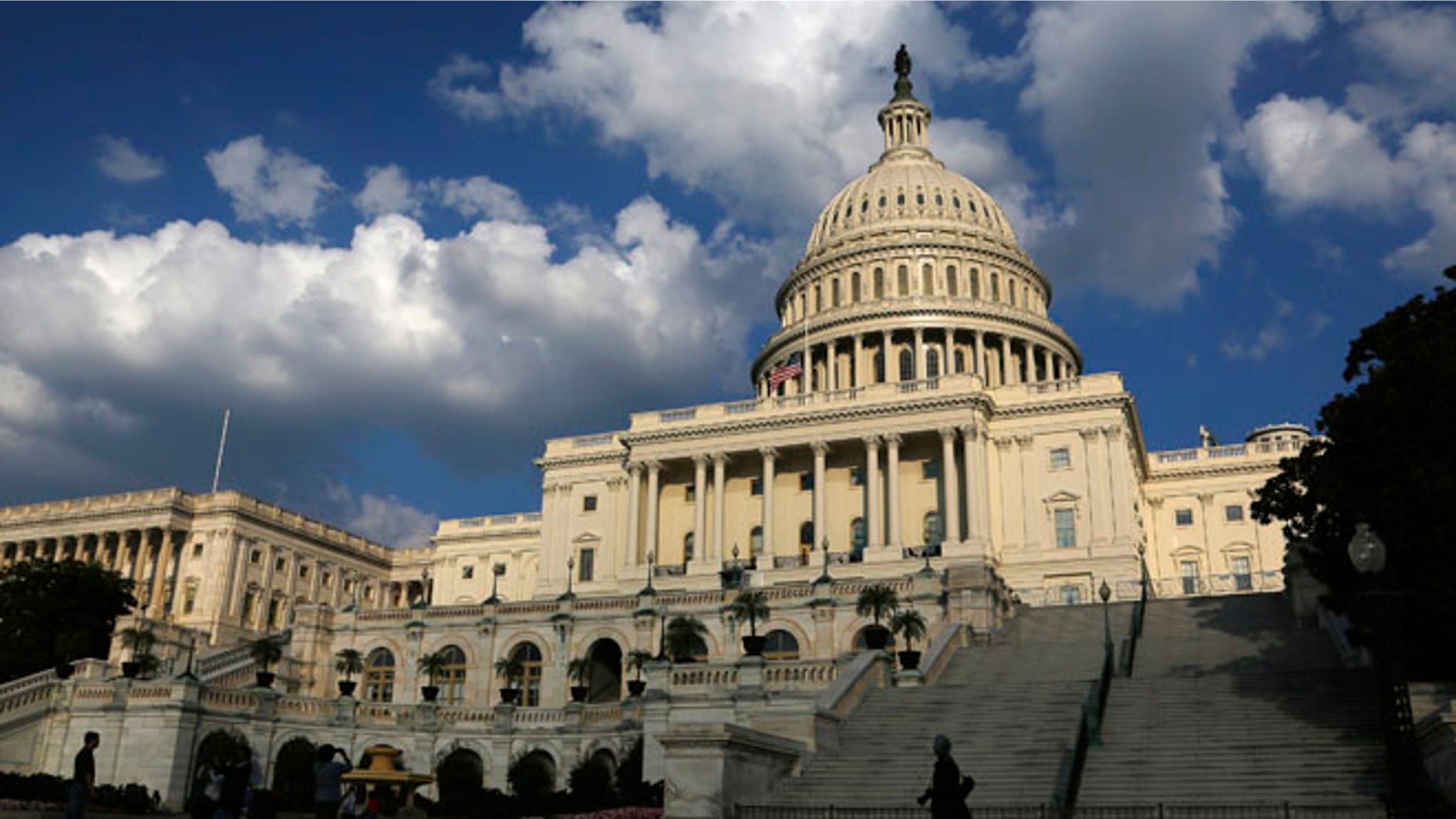 The Senate on Wednesday approved a two-year budget deal, sending it to President Obama's desk and staving off the threat of a partial government shutdown.
The bill cleared the Senate on a 64-36 vote. It passed despite the objections of Republican senators to a provision that cuts billions from military retiree benefits.
"It's not correct, and it should not happen," Sen. Jeff Sessions, R-Ala., said of the cuts to veterans.
The majority of lawmakers, though, were eager to avoid another budget brawl two months after the last showdown. The bill earlier passed the House on a strong bipartisan vote.
The bill would set in place a spending plan for the next two years, while undoing some of the sequester spending cuts -- to the chagrin of fiscal conservatives. Unclear is how lawmakers will address a looming deadline, early next year, to raise the debt ceiling.
The budget measure approved Wednesday would restore $45 billion, half the amount scheduled to be automatically cut from the 2014 operating budgets of the Pentagon and some domestic agencies, lifting them above $1 trillion. An additional $18 billion for 2015 would provide enough relief to essentially freeze spending at those levels for the year.
The provision cutting the inflation increases of pensions for military retirees under the age of 62 was perhaps the most unpopular. Members of the military are eligible to retire after 20 years at half pay. The provision was included in the bill at the direction of House Budget Committee Chairman Paul Ryan, R-Wis.
Sessions tried, late Tuesday, to push an amendment blocking those cuts, but was stymied by Democrats on the floor.
However, top Democrats said Wednesday they would revisit the change in military pensions before it takes effect in two years. Senate Budget Committee Chairwoman Patty Murray, D-Wash., who negotiated the bill with Ryan, said lawmakers would at least reverse the impact on disabled retirees -- calling their inclusion a mistake.
"I want to make absolutely sure today that they know that a provision included in this deal that mistakenly included disabled retirees and survivors for changes in the pension growth will be addressed in short order following passage of this bill," Murray said. "I think all of us know that our disabled veterans have made tremendous sacrifices for our nation and deserve the peace of mind that their benefits will not be adjusted under this compromise legislation. This technical error certainly can, should, and will be addressed."
Sen. John McCain, R-Ariz., a former prisoner of war, was among the few willing to defend the benefit cut.
"We cannot have continued increases in costs and benefits forever because of our inability to fund our national security," McCain said. "In other words, the dramatic increase in personnel and benefit costs are such that we really aren't going to have money left over for the mission, the equipment, and the capabilities."
More representative, however, were endangered Democrats like Mark Pryor of Arkansas, deadlocked with GOP Rep. Tom Cotton in an already heated campaign, who promised support for revisiting the pension provision before if takes effect in two years. "We cannot balance the budget on the backs of our hardworking military members and their families," Pryor said.
Sen. Jeanne Shaheen, D-N.H., who also faces a potentially tough re-election campaign next year, promptly announced she would seek to repeal the military pension cut and immediately won backing of other Democrats facing difficult races next year.
The bill caps a sometimes chaotic year in Washington that began with a January deal to avert a "fiscal cliff" of automatic spending cuts and expiring Bush-era tax rates. The year also featured brinkmanship over the federal debt limit and a 16-day partial shutdown of the government sparked by Republicans in a futile attempt to curb implementation of the Affordable Care Act.
The budget agreement allows lawmakers to claim a modest accomplishment as they leave a bitterly divided Washington.
It sets the stage in January for the pragmatic-minded House and Senate Appropriations committees to draft a trillion-dollar-plus omnibus spending bill combining the 12 annual appropriations bills for the budget year that began Oct. 1. It would provide $1.012 trillion for the fiscal 2014 year already underway, a $45 billion increase over what would be required under the penalty imposed by a 2011 budget deal.
Agency budgets totaled $986 billion in 2013 after automatic cuts called sequestration were imposed, causing numerous furloughs, harming military readiness and cutting grants to local school districts, health researchers and providers of Head Start preschool care to low-income children, among numerous effects.
Due to the design of the automatic cuts, even with the boost the Pentagon still would see its non-war 2014 budget essentially frozen at 2013 levels, while domestic agencies would see an increase of about 4 percent. But those levels remain well below what was envisioned in the 2011 budget pact.
The cuts would be replaced with money from things such as higher airline security fees, a requirement that new federal workers pay more toward their pensions, the 1-percentage-point cut in the pensions of working-age military retirees and premium increases on companies whose pension plans are insured by the federal government.
The Associated Press contributed to this report.