Brownback Wins in Kansas; Blunt Prevails in Missouri, Bernero Tops in Michigan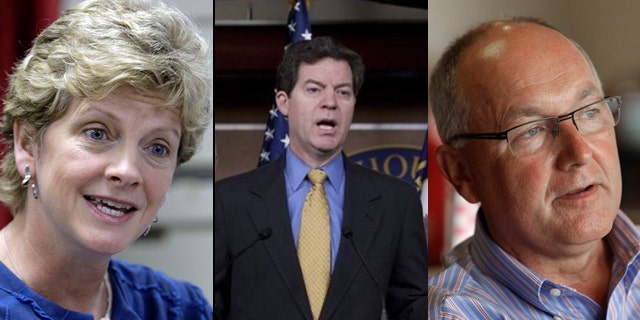 Longtime Sen. Sam Brownback snatched the GOP nomination in Kansas' gubernatorial race Tuesday while members of two famed political dynasties in Missouri -- Robin Carnahan and U.S. Rep. Roy Blunt -- prevailed in their primaries to set up a long-anticipated showdown in November.
In Michigan, Lansing Mayor Virg Bernero won the Democratic primary for governor over House Speaker Andy Dillon, the party's highest-ranking state lawmaker.
Bernero will take on businessman Rick Snyder, who captured the GOP primary for governor
Another longtime politician -- GOP Rep. Jerry Moran -- was leading a fellow congressman, Rep. Todd Tiahrt, in the race for the party's Senate nomination in Kansas.
None of the outcomes in the major contests was a surprise. Carnahan defeated two lesser-known opponents in the Democratic primary. Blunt overcame a challenge from a Tea Party competitor in the GOP primary.
Brownback, who is giving up a Senate seat he's held since 1997, crushed Joan Heffington, a former home builder and Boeing Co. purchasing agent. The Democratic nominee for governor, state Sen. Tom Holland, faced no primary opponent.
They will square off to succeed Democratic Gov. Mark Parkinson, who was finishing out the remainder of Kathleen Sebelius' term. She left office last year to become President Obama's Health and Human Services Secretary.
In Missouri, the November general election contest between Blunt and Carnahan marks the first time two political dynasties have faced off directly as they compete to replace Republican Kit Bond, who is retiring after 24 years in the Senate..
Members of the two families have served at almost every level of government, yet both Blunt and Carnahan have played up some humble attributes.
Blunt, 60, recalls how he was raised on a dairy farm in southwest Missouri in a home that lacked running water and insulation. Carnahan, who turns 49 on Wednesday, stresses that although she lives in St. Louis, she still helps run her family's cattle farm in Rolla.
Carnahan is in her second term as secretary of state. She is running for Senate on the 10-year anniversary of the death of her father and one of her brothers. They died in an October 2000 plane crash while Mel Carnahan was campaigning for the Senate.
Blunt is in his 14th year in the U.S. House. He previously served as secretary of state in the 1980s and early 1990s.
The Associated Press contributed to this report.