Brazil's Dilma Rousseff Cancels White House State Dinner Invitation Over NSA Spying Scandal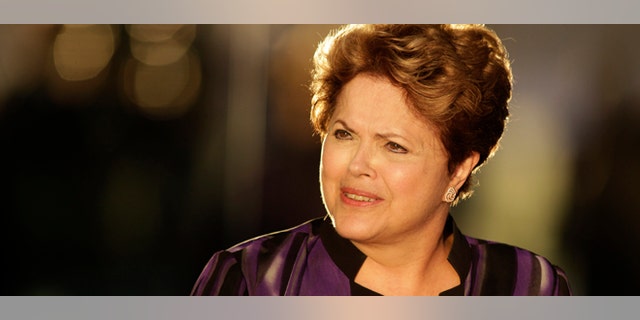 RIO DE JANEIRO – Brazilian President Dilma Rousseff has postponed a state visit to Washington originally scheduled for next month over revelations that the U.S. secretly spied on her government.
Apparently, even various pleas from the leader of the free world weren't sufficient to convince Rousseff to change her mind.
Rousseff confirmed on Tuesday that she's not making the trip to the White House next month, which was to include an official state dinner.
Rousseff was angered after reports surfaced based on leaked U.S. National Security Agency documents, showing that the spy agency intercepted Rousseff's messages with her top aides.
The NSA espionage program also targeted Brazil's state-run oil company Petrobras.
Brazil reportedly has been the top Latin American target for spying, with data on billions of emails and telephone calls swooped up in NSA programs. Other Latin American nations, such as Mexico, weren't spared, but thus far Rousseff has been the most vocal in criticizing the espionage.
President Barack Obama called Rousseff late Monday and tried to talk her into keeping her trip, the Brazilian president's office and the White House confirmed on Tuesday.
"The President has said that he understands and regrets the concerns disclosures of alleged U.S. intelligence activities have generated in Brazil and made clear that he is committed to working together with President Rousseff and her government in diplomatic channels to move beyond this issue as a source of tension in our bilateral relationship," Jay Carney, White House press secretary, said in a statement.
Rousseff had demanded an unequivocal, public apology from Obama for the spying -- which she didn't get.
The White House painted the turn of events as only a minor hiccup in the visit of arguably Latin America's most powerful leader.
Obama's spokesman, Carney, said that the "United States and Brazil enjoy a strategic partnership" and that the invitation for a state visit – the first of Obama's second term – reflects the importance of Brazil as a global geopolitical and economic power.
"President Obama and President Rousseff both look forward to the State Visit, which will celebrate our broad relationship and should not be overshadowed by a single bilateral issue, no matter how important or challenging the issue may be," Carney added in his statement. "For this reason, the presidents have agreed to postpone President Rousseff's State Visit to Washington scheduled for October 23."
The Associated Press contributed to this report.
Follow us on twitter.com/foxnewslatino
Like us at facebook.com/foxnewslatino