Bloomberg stokes 2020 chatter with New Hampshire voting rally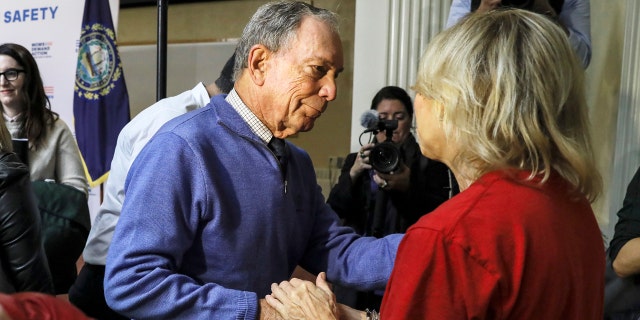 Former New York City Mayor Michael Bloomberg continued to fuel rumors of presidential aspirations on Saturday after he made an appearance at a voting event in New Hampshire.
Bloomberg spoke in front of dozens at the get-out-the-vote rally organized for the six candidates running for the state's House of Representatives.
The newly registered Democrat targeted gun safety laws and the National Rifle Association, further sparking speculation about a potential bid at the White House in 2020. He commended the state's advocacy groups for landing "some big punches against the NRA."
BLOOMBERG RE-REGISTERS AS DEMOCRAT AMID RUMORS OF 202 PRESIDENTIAL RUN
"We haven't knocked them out yet, not by a long shot, but we've got them on the ropes. And while we're getting stronger and stronger every day, they're getting weaker," he told the crowd. "We've got to send a message to elected officials. Vote for common-sense gun laws or we will throw you out."
Bloomberg, 76, tried to dismiss the rumors when he told The Associated Press that he's only "focused on Nov. 6."
Bloomberg has mulled presidential bids in the past and decided against it, but after he re-registered as a Democrat, many have speculated that he might envision himself heading the Democratic ticket in two years' time. New Hampshire is the scene of the first in a series of nationwide presidential primaries, and is the second party contest in that once-every-four-years cycle (the first being the Iowa caucuses).
The Associated Press contributed to this report.