Blog Wants Celebs to Help Oust Lieberman's Wife From Susan Komen Ambassadorship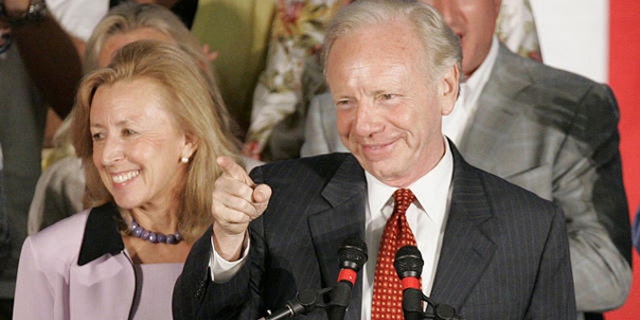 A liberal Web site is trying to enlist celebrities to persuade a top breast cancer research group to dump Sen. Joe Lieberman's wife as its "global ambassador," saying Hadassah Lieberman's health care lobbying work and her husband's opposition to the so-called public option make her unfit for the role.
The site Firedoglake has started lobbying celebrities attached to the organization, Susan G. Komen for the Cure -- including daytime talk show host Ellen DeGeneres and actor Neil Patrick Harris -- to use their star power to force out Lieberman.
"People who are racing for the cure wouldn't be racing to pay Hadassah Lieberman money," the Web site said in a statement Monday.
The move comes after the Komen foundation rebuffed Firedoglake founder Jane Hamsher, who wrote in a letter sent Friday to Komen founder Nancy Brinker that Lieberman's relationship with Komen "is unethical and misleading."
"Important and often very personal donations made to Susan G. Komen for the Cure to benefit the sick and dying are essentially undermining their intended use. And as Hadassah travels the globe under the banner of Susan G. Komen for the Cure, decrying the inadequacies of our health care system and the desperate need to reform it, her husband is at home to kill the reform efforts we so desperately need," she wrote.
In response, the Komen group called Lieberman a "valued" member of the team and said it has no intention of cutting her loose.
"Hadassah Lieberman is an important and valued global ambassador for Susan G. Komen for the Cure," the group said in a written statement. "As a global ambassador, Ms. Lieberman is focused on helping us reach out and educate women outside our borders about breast cancer, sharing our knowledge and experience in a culturally sensitive way that is making a real impact on the lives of women across the globe. We have every intention of continuing our relationship with Ms. Lieberman in our mutual pursuit of a world without breast cancer."
Sen. Lieberman has vowed to oppose health care reform if it contains a government-run insurance plan. Over the weekend, he also said he would not back a bill if it contains a Medicare expansion that Senate Majority Leader Harry Reid has been shopping around as a compromise.
The Connecticut independent Democrat says he's concerned about the long-term costs of the package to the federal government. His position has made him persona non grata to many liberal Democrats.
Hadassah Lieberman used to work for Pfizer Pharmaceuticals and for lobbyist APCO Associates, which represented health care companies. She also worked as a senior counselor at lobbying firm Hill & Knowlton in the company's health care practice.
The list of Hollywood celebrities Firedoglake is calling on for help might not be the most reliable, either. Hamsher wants to punish Lieberman in part because of her husband's stand on health care reform -- yet several celebs on the list have themselves endured heavy public scrutiny or attention over their significant others. Christie Brinkley, Cynthia Nixon, Trisha Yearwood and DeGeneres are all on the list.
Brinkley's bitter divorce from husband Peter Cook thrust her back into the public spotlight after years of a seemingly perfect marriage. In the summer of 2006, revelations surfaced that Cook, now 50, had engaged in a secret affair with his then-barely legal office assistant, Diana Bianchi.
When Cynthia Nixon was outed as a lesbian at the height of her "Sex and the City" fame, she slammed the press for digging for information about her lover.
"She's just a private citizen who would like to remain private," Nixon reportedly told the prying press.