'Bill Clinton Inc.': Email details how top aides helped make ex-president rich
One of Bill Clinton's closest confidants outlined in a lengthy 2011 memo how he and another aide helped secure at least $50 million in speaking fees and other ventures for the former president – in addition to raising "the bulk" of funds for the controversial Clinton Foundation.
The 12-page memo from Doug Band, released Wednesday by WikiLeaks, was designed to highlight the crucial role he – and his global strategy company Teneo – played in procuring money for the ex-president and Clinton's namesake foundation.
"Throughout the past almost 11 years since President Clinton left office, I have sought to leverage my activities, including my partner role at Teneo, to support and to raise funds for the Foundation," Band wrote. "This memorandum strives to set forth how I have endeavored to support the Clinton Foundation and President Clinton personally."
CLINTON AIDE CRITICIZED EX-PRESIDENT FOR CONFLICTS OF INTEREST
Under a section titled "For-Profit Activity of President Clinton (i.e., Bill Clinton, Inc.)," Band wrote that he and Clinton aide Justin Cooper "found, developed and brought" to Clinton all four of his advisory arrangements at the time – arrangements that "yielded more than $30 million for him personally, with $66 million to be paid out over the next nine years should he choose to continue with the current engagements." The memo also included a footnote explaining how Clinton's speaking agent estimated that during a 10-year period, "$20 million in speeches for the President have derived ... from Justin and my efforts."
What's more, Band and Cooper apparently helped make Clinton wealthy – and "solicited and obtained … in-kind services … for personal travel, hospitality, vacation and the like" – at no extra charge.
"Neither Justin nor I are separately compensated for these activities," Band wrote, noting the pair didn't take a "fee" or "percentage" of Clinton's income, only collecting their standard Foundation salaries.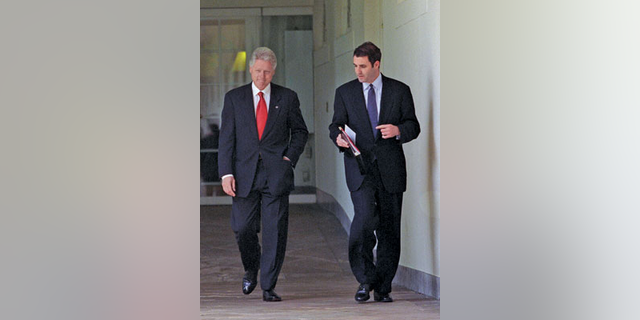 While the Clintons previously have disclosed the former president's hefty post-White House speaking fees, the memo sheds new light on how his inner circle helped arrange these appearances and other deals.
Band wrote that Teneo was solely responsible for negotiating numerous speeches and speaking fees for Clinton, including $1.15 million from Ericson, $900,000 from UBS and $700,000 from Barclays.
Band also used his position at Teneo, which was established in June 2011, to solicit the company's clients to donate to the Foundation. That roster of contributors included The Coca-Cola Company giving $4.33 million over six years and Barclays Capital paying $1.1 million over four years.
Though the memo never identifies all four advisory roles Clinton held at the time, Laureate International Universities is noted to have paid Clinton $3.5 million per year "to provide advice and serve as their Honorary Chairman." Clinton's relationship with Laureate had previously been disclosed.
The memo was sent on Nov. 16 to Bill Clinton and several Foundation board members, including Chelsea Clinton, then-special adviser John Podesta and two lawyers involved in an internal audit of the Foundation that was set up to ferret out any potential conflicts of interest. The memo was made public after a hack exposed a purported 50,000 emails from Podesta's account. WikiLeaks has posted more than 30,000 of the messages so far.
"As the memo demonstrates, Teneo worked to encourage clients, where appropriate, to support the Clinton Foundation because of the good work that it does around the world," Teneo said in a statement to FoxNews.com. "It also clearly shows that Teneo never received any financial benefit or benefit of any kind from doing so."
At the time Band wrote the email, the Foundation, in an effort spearheaded by Chelsea Clinton and Hillary Clinton aide Cheryl Mills, was attempting to clearly delineate Band and Clinton's roles at the Foundation and at Teneo, where Clinton was initially tasked to be an adviser.
Eventually, Band's official relationship with the Foundation was severed, though he remained an adviser to Clinton, and Clinton stepped back from his Teneo adviser role, but became a client of the company.
FoxNews.com's Cody Derespina contributed to this report.