Biden gets the bully 'pope'-it as 2016 chatter builds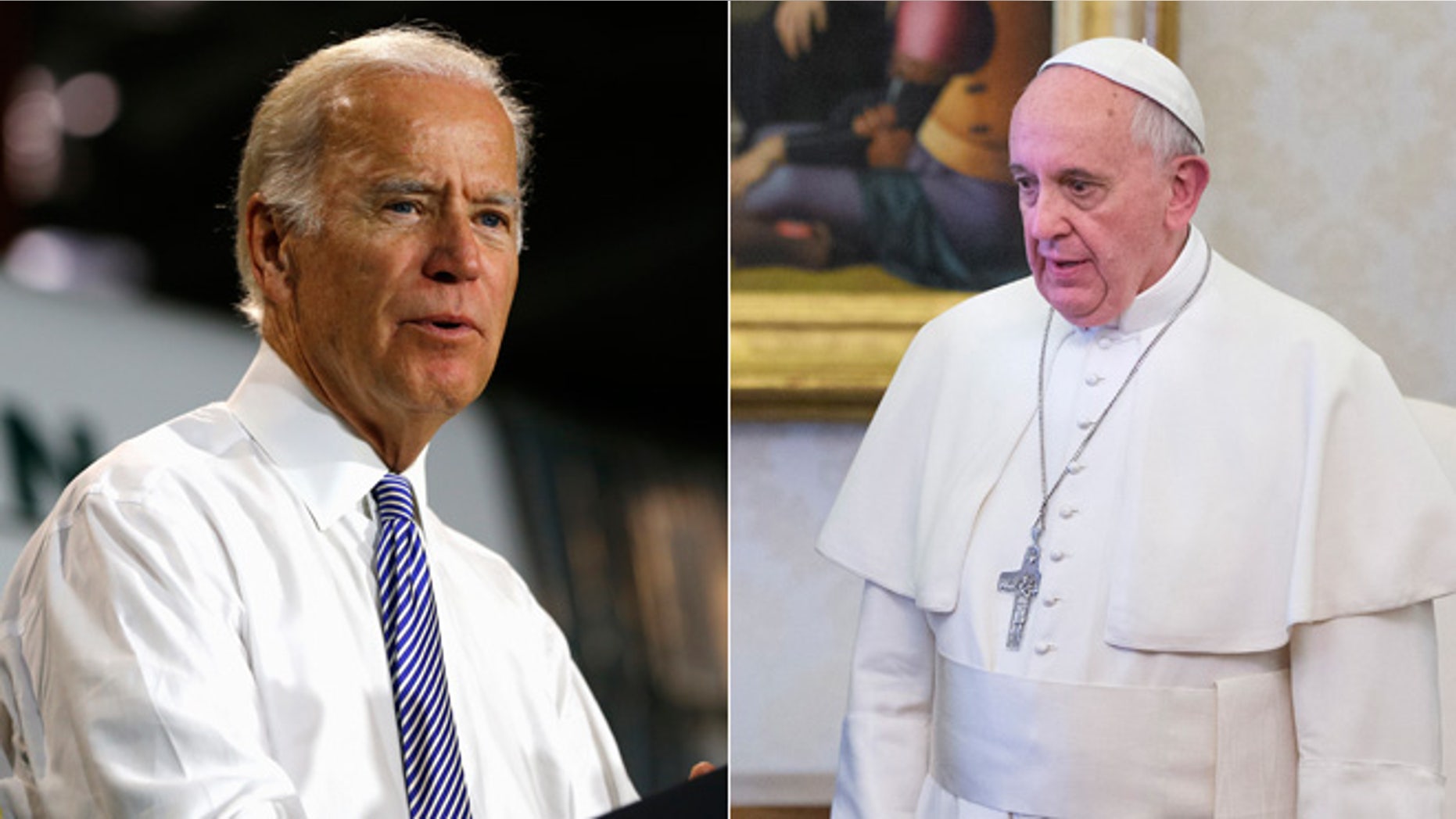 Vice President Biden hasn't yet jumped into the 2016 fray but will be as visible as any candidate – if not more – as he makes several appearances next week with Pope Francis during his U.S. visit.
The vice president, who is Catholic, plans to help welcome the pontiff, attend Mass and later lead his farewell ceremony in Philadelphia.
Biden's major role in the pope's visit is sure to raise his already-high profile as he deliberates over jumping into the presidential race. The VP repeatedly has declined to say which way he's leaning, but Hillary Clinton's struggles in the polls are keeping the speculation alive -- and Biden's supporters are supplying plenty of grist for the Washington rumor mill.
The National Review reported Thursday that Josh Alcorn, a senior adviser and fundraiser for the Draft Biden super PAC, was overheard Wednesday saying, "I am 100 percent sure Joe is in," in the middle of a crowded train.
He reportedly was talking loud enough in the Amtrak dining car traveling from Wilmington, Del., to Washington's Union Station that others could hear. The conversation, which Alcorn later did not deny, was apparently filled with nuggets about Biden's chances in New Hampshire, Iowa, and the other key primary states, and a guess that Biden may announce by mid-October.
Biden's papal responsibilities, meanwhile, follow him representing the White House on a three-state trip this week, beginning on Wednesday in Los Angeles, where he talked about clean energy. He then visited Detroit, hailing it as a "come-back city," and Ohio State University Thursday night, where he spoke passionately about the problem of sexual assault on campus.
Like at other venues on the official tour, Biden was greeted with thunderous applause and shouts of "Joe! Joe! Joe!" Biden, 72, even basked in the celebrity glow of teen heartthrob Josh Hutcherson, 22, of "Hunger Games" fame. The two traveled on Air Force Two  from L.A. to Detroit, and then on to Ohio.
Biden last week, in an emotional interview with Stephen Colbert, spoke to the personal grief he's still dealing with after the loss of his son Beau to brain cancer. He said he'd "be lying" if he said he knew he'd be able to give 110 percent for a presidential race.
Biden nevertheless has been included in recent presidential polling, and is registering in double digits nationally as a non-candidate. This, as Clinton slips behind socialist-leaning insurgent Sen. Bernie Sanders in Iowa and New Hampshire.
On Tuesday, Biden dipped his toe in the fray by going after GOP front-runner Donald Trump, saying his campaign "will not prevail," and accusing him of peddling a tired and "sick message" about immigrants to voters. Biden was speaking at the Hispanic Heritage Month reception at the Naval Observatory in Washington, and used the event to preview the pope's visit.
"Very shortly, the most popular man in the world is about to come to the United States," he told his audience, referring to Pope Francis, whom Biden first met in 2013.
"Why is he so popular?" he asked. Because his message, that "whatever you do unto the least of my brethren, you do unto me," is "where people are….the vast majority of people are prepared to give somebody a chance if they get a chance."
Again, the audience shouted, "run Joe, run!" to which Biden said no, and made the sign of the cross.
President Obama and first lady Michelle Obama, along with Biden and his wife Jill, will welcome the pontiff at Andrews Air Force Base on Tuesday. On Wednesday morning, they will greet Pope Francis on the South Lawn of the White House for an arrival ceremony that thousands will witness. Also on Wednesday, Biden will attend Mass with the pope at Basilica of the National Shrine of the Immaculate Conception. Later, Biden is scheduled to give a farewell address as Pope Francis readies to leave Philadelphia on Sept. 27.
"I admire Pope Francis deeply and I'm excited about his upcoming visit," Biden said in a statement given to Reuters on Thursday.
Clinton's allies still are pushing back on the idea of a Biden bid. When Clinton's campaign chairman John Podesta was asked about Biden in a recent meeting with members of the Clinton super PAC, Priorities USA, Podesta, according to The New York Times, said Biden wouldn't have enough time to put together a ground organization to compete with Clinton in key early primary states.