Betsy DeVos' family boat untied from dock, causing up to $10G in damage, police say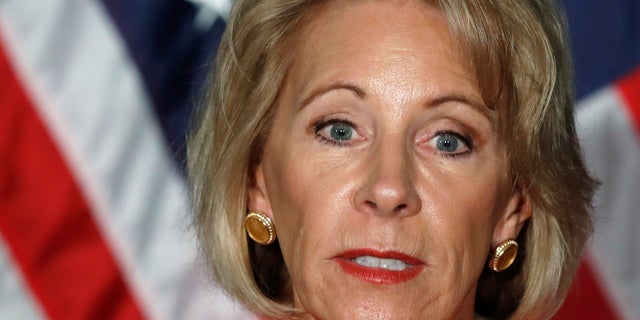 A $40 million yacht owned by Education Secretary Betsy DeVos' family was untied from its dock this weekend, causing thousands of dollars in damage, police said.
The 163-foot Seaquest yacht had been moored at the Huron Boat Basin when the captain alerted authorities early Sunday morning it had been untied and set adrift, according to a police report provided to Fox News.
According to the Toledo Blade, which first reported on the incident, the yacht had "several large scratches and scrapes" from hitting a dock – resulting in what the captain estimated to be between $5,000 to $10,000 in damage.
The investigation is ongoing, Huron Police Chief Bob Lippert told Fox News on Thursday morning.
DeVos was in Ohio earlier this month to tour a career center and a correctional treatment program. One of the more controversial figures in the Trump administration, she assumed office as secretary of the Education Department in February 2017.
PROTESTERS BLOCK DEVOS FROM ENTERING DC SCHOOL
She's a proponent of school choice and charter schools – which has resulted in large protests when she addresses college students. Her decision to rescind an Obama-era guidance instructing how college campuses investigate allegations of campus sexual assault was also met with indignation.
DeVos and her husband are known for their philanthropic work – especially when it comes to education – in their home state of Michigan.
SEN. MARK WARNER'S OFFICE VANDALIZED; SUSPECT ARRESTED
A spokeswoman previously announced that DeVos plans to donate her nearly $200,000 salary to charities that focus on special needs and education. She also travels on her own private plane, but foots the bill, The Associated Press reported.
The Seaquest is one of 10 vessels owned by the DeVos family. According to MarineTraffic.com, the yacht was back in Harbor Springs, Michigan, Thursday morning.
The Associated Press contributed to this report.