Baier Tracks: Border crisis secrecy unacceptable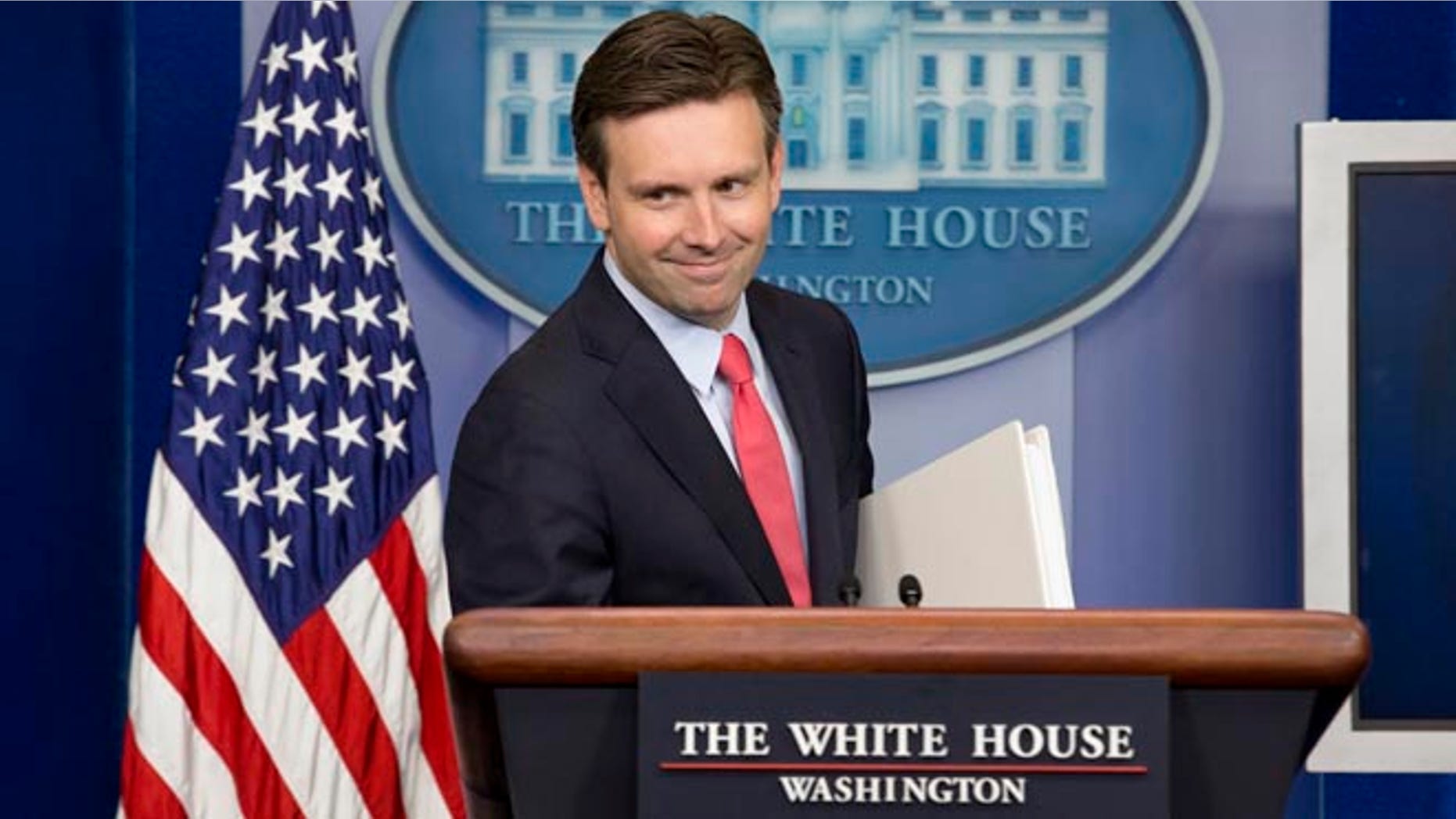 **Want FOX News First in your inbox every day? Sign up here.**
Buzz Cut:
• Baier Tracks: Border crisis secrecy unacceptable
• Cruz, Rubio blame Obama executive order
• Gardner grabs lead in Colorado Q poll
• Hillary's heavy rider reveled
• Lesson learned
BAIER TRACKS: BORDER CRISIS SECRECY UNACCEPTABLE…
"It may be the easiest form of punditry: look at any given situation in the Obama administration and imagine what that same move would have triggered from the media and from Congress if it had happened during the Bush administration. But the ongoing crisis at the southern U.S. border perhaps gives us the most striking example yet.
White House Press Secretary Josh Earnest said 'privacy rights' of the Central American children who have illegally entered the United States are the reason governors around the country have not been given warnings about incoming busloads or planeloads of kids coming to their states, but somehow this kind of secrecy doesn't prompt an uproar. We have passed into another reality. Imagine if the Bush administration had refused information about such a program or forbidden access to federal detention facilities housing illegal immigrant children not just to reporters, but even to lawmakers.
Jim Bridenstine, the Oklahoma congressman who fought for and eventually won access to the detention facility at Ft. Sill in his district released the memo from the administration dictating the conditions for his visit. Included on the list:
- No recording devices will be allowed
- No questions will be allowed during the tour
- No interacting with staff and children at the shelter
- We ask that your questions be provided via email or phone after the tour…
- HHS ACF public affairs will provide answers to your follow up questions as quickly as possible
- We will provide photos of the facility after the tour
- There will be no on-site interviews by HHS staff before or after the tour…
This would be World War Three in the media and in Congress if it happened during the Bush administration. Rightly so. When the Bush administration refused to release information about Vice President Dick Cheney's energy task force, the response was enormous and the administration was eventually compelled to back down on some of its lack of transparency. Isn't this at least as big of an issue as an energy policy working group? Where is the outrage? Where is the media uproar? Where is the coverage?
I know the Radio Television Digital News Association has spoken out on the subject and that the National Press Foundation has generally decried the Obama White House's lack of openness, but this should be the moment when our profession pushes back." – Bret Baier
O'Malley wants migrant kids to stay, but not in Maryland - 2016 Democratic presidential hopeful Maryland Gov. Martin O'Malley recently declared his opposition to more rapid deportations for unaccompanied minors streaming across the southern border, even as he also balked at administration plans to house the immigrants in Maryland. WaPo has details.
[The Hill: "Rep. Lee Terry (R-Neb.) has introduced a bill that would require the Obama administration to report on the number of unaccompanied immigrant children in the U.S. and how many are showing up for hearings. …Terry said the issue came to his attention when his staff was told during a briefing with DHS that about 200 minors from Central America were transferred to Nebraska. However, DHS could not state the whereabouts of the children."]
'This isn't theater. This is a problem. I'm not interested in photo ops' – This afternoon, President Obama will take the White House press corps to a construction site on Interstate 495 in Delaware to again call for new highway funding. While he focused his remarks at a similar event Tuesday on attacking Republican intransigence, the House-passed highway bill now sits on Senate Majority Leader Harry Reid's desk.

[Fifty-three percent of Americans think that President Obama is not able to get things done, according to a new Pew poll.]

'Are folks more interested in politics or interested in solving a problem?' - WaPo: "[This morning], President Obama is off to a party fundraiser in New York. Next week, he's flying to the west coast for another fundraiser with the Hollywood glitterati. When Obama was in Denver last week, he attended no less than four cash-gathering events in the space of 24 hours."

[Washington Examiner has the details on the first family's upcoming vacation on Martha's Vineyard, an island off the coast of Massachusetts: "It will be among the longest vacations Obama has taken and four times longer than the average 3.8 day vacation the typical American family takes."]

CRUZ, RUBIO BLAME OBAMA EXECUTIVE ORDER
While a pair of fellow Texan lawmakers look to modify a 2008 law that many blame for the current border crisis, Texas Sen. Ted Cruz says that he's more concerned about undoing a 2012 executive order Obama issued allowing the children of illegal immigrant to remain in the U.S. "Cruz spokeswoman Catherine Frazier [told Politico] the senator's "top priority" is to end the deferred action program, noting that he is drafting a legislative proposal to prohibit the White House from broadening the policy. "We believe that needs to be a prerequisite of any bill that is considered by the Senate," Frazier said.

Rubio: Obama sent wrong message, time to secure border - The Hill: "I never would've signed an executive action granting deferred action to those who were in this country illegally,' [Rubio] told Fox News host Bill O'Reilly. 'That wasn't the right way to do it. It sent the message that actually invited people to come, and you see the disaster that has followed.' …'The first step in this process needs to be an all-out effort to finally put to rest the illegal immigration problem in America,' he said, adding that the U.S. needs to install strategic fencing and deploy specific technologies – such as ground sensors and drones — to secure the Southern border. He also called for an e-verify system requiring employers to confirm that their employees are legal residents."

[Hey, y'all - The (S.C.) State: "U.S. Sen. Marco Rubio, R-Fla., will be the keynote speaker at U.S. Rep. Jeff Duncan's Faith & Freedom BBQ fundraiser on Aug. 25 at the Anderson Civic Center, the congressman's campaign said Wednesday.]

ISSA: LABOR SECRETARY PRESSURED STAFFER FOR OBAMA DONATION
Daily Caller: "[Former Obama administration Labor Secretary Hilda Solis] pressured a Labor Department employee who worked under her to contribute to an Obama campaign fundraiser that she was headlining at the La Fonda Supper Club in Los Angeles, according to bombshell new audio released by House Oversight and Government Reform Committee chairman Rep. Darrell Issa Wednesday. Solis was prohibited from fundraising by the federal Hatch Act, which pertains to all Cabinet members." Listen to voicemail here.

THE JUDGE'S RULING: CREEPING CHILL
In recent weeks, Democrats have decried racism toward President Obama, including in the form of a Nebraska parade float depicting Obama's presidential library as an outhouse. That float is now the subject of a Department of Justice probe. Fox News Senior Judicial Analyst Judge Andrew Napolitano argues that America's first freedoms are at stake: "Surely, government officials can use words to defend themselves; in fact, one would hope they would. Yet, when the people fear exercising their expressive liberties because of how the governmental targets they criticize might use the power of the government to stifle them, we are no longer free."

WITH YOUR SECOND CUP OF COFFEE...
Fifty-four years ago today American pilot Francis Gary Powers pleaded guilty to spying charges in a Moscow court after his CIA U-2 spy plane was shot down while flying a reconnaissance mission over then Soviet Union airspace. U-2 pilots flew espionage missions using aircrafts that flew above 70,000 feet, higher than the missiles trying to shoot it down. But Powers' plane was felled by a newer version of Soviet missiles, which in turn led to the development of a new ultra-sonic spy plane, the wraith-like SR-71 Blackbird. But what's next? "The unmanned SR-72 will rely on an experimental new ramjet engine (ramjets start working at high speed, when the air coming in is compressed by the motion of the vehicle) which is intended to accelerate it to over 4,000mph (6,400km/h), twice as fast as the SR-71."

Got a TIP from the RIGHT or LEFT? Email FoxNewsFirst@FOXNEWS.COM

POLL CHECK
Real Clear Politics Averages
Obama Job Approval: Approve – 41.9 percent//Disapprove – 53.1 percent
Direction of Country: Right Direction – 26 percent//Wrong Track – 63.5 percent
Generic Congressional Ballot:  Democrats – 41.4 percent// Republicans 40.2 percent

GARDNER GRABS LEAD IN COLORADO Q POLL
Republican Colorado Senate nominee Rep. Cory Gardner has pulled past incumbent Democrat Sen. Mark Udall in a Quinnipiac poll released today. Forty-four percent of voters support the challenger while 42 percent would vote for the freshman senator. In April, Udall held a one point lead. Respondents told Quinnipiac pollsters that Gardner would be better at helping the middle class, improving the economy, controlling spending and dealing with gun control. Like Udall's recent campaign platform suggests, respondents thought Udall is a better candidate to take on women's issues, abortion and environmental issues. But with 49 percent saying the senator did "not deserve to be reelected" and Udall having already saturated airwaves with social issue attacks on Gardner, the poll suggests that the incumbent has little opportunity to expand his support.

[2016 Head-to-head - Clinton 42% - Christie 40% //Clinton 43% - Paul 46% // Clinton 44% - Bush 40% // Clinton 44% - Huckabee 41%]

Dems crack up over fracking - Washington Examiner: "Democratic Sen. Mark Udall announced his opposition Wednesday to statewide ballot initiatives being bankrolled by Rep. Jared Polis that would impose restrictions on hydraulic fracturing, or fracking. Udall is facing a tough fight from GOP Rep. Cory Gardner, who has slammed the ballot effort, to maintain his Senate seat. 'Colorado has served as a model for the nation on finding the right balance between protecting our clean air and water, the health of our communities, and safely developing our abundant energy resources. In my view, these proposed ballot initiatives do not strike that balance,' Udall said. Udall's move was compelled partly because Democratic Gov. John Hickenlooper, also up for re-election this year, canceled a special legislative session that aimed to shelve the Polis-pushed proposal. The ballot proposals are likely headed for the November ticket."

[New in Fox News Opinion:  Republican Colo. Rep. Mike Coffman, a veteran with 21 years of service and the only member of congress to have served in the first Gulf War and in the Iraq war, lays out how the U.S. must handle the Iraq crisis: "The time is now to put pressure on the Iraqi government to change. [Iraqi Prime Minister Nouri al-Maliki] must go. A change in Iraq's government is our only hope. Sending a contingent of U.S. military personnel, no matter how small, will be counterproductive to that goal."]

BOLTON PAC HIGHLIGHTS BENGHAZI IN FIRST AD
Former U.N. Ambassador John Bolton will launch today his super-PAC's first independent expenditure of the cycle. Bolton's group will hit New Hampshire Democrat Rep. Ann Kuster. The minute-long spot target's Kuster avoiding questions about the Benghazi terror attack at a recent town hall. "That she's unable to address her constituents' questions about the Benghazi tragedy is shocking at best," says Bolton in the ad. "Having a basic understanding of the Middle East and America's security concerns in Benghazi should be a fundamental qualification to be in Congress and Ann Kuster should know better. New Hampshire deserves an informed representative who isn't afraid to take a lead on both domestic and foreign affairs." The $30,000 digital ad buy will run for at least two weeks throughout the Granite State. Bolton has yet to endorse a GOP candidate in New Hampshire's Sept. 9 primary. The PAC plans for many more 2014 midterm election expenditures. Bolton's other group, a traditional political action committee , has already contributed to Senate candidates Rep. Tom Cotton, R-Ark., state Sen. Joni Ernst, R-Iowa, Republican Michigan hopeful Terri Lynn Land and Sen. Mitch McConnell, R-Ky., along with a handful of House candidates.

CONSERVATIVE GROUP HAMMERS N.H. DEMS ON OBAMACARE
Conservative group Americans for Prosperity takes aim at a pair of Granite State races with a two new ads. The $1.3 million ad buy targets Sen. Jeanne Shaheen's, D-N.H., and Rep. Ann Kuster's, D-N.H., and focuses on the negative impact ObamaCare has had in New Hampshire. "As a state senator [Shaheen's] bill chased 21 insurers out of our state," the narrator says in the 30 second spot. "It reduced our choices and raised prices for New Hampshire families." The second ad also points out that 10 out of the state's 26 hospitals are no longer covered under the President Obama's signature health care law. The non-profit advocacy group will run the ads though the first week of August. Shaheen currently leads challenger Scott Brown in the polls.

PRO-GRIMES PAC SPENT MORE THAN IT RAISED
The (Louisville, Ky.) Courier-Journal: "We Are Kentucky, a super PAC supporting Democrat Alison Lundergan Grimes' campaign for the U.S. Senate, continued to show little activity during the second quarter of 2014. A report the super PAC filed late Tuesday with the FEC shows that it raised $50,000 during the three-month period, but spent $64,824. Since it formed last year, We Are Kentucky has raised $343,000. And as of June 30 it had $83,514 on hand. By comparison, a super PAC supporting Grimes' opponent - incumbent Republican Sen. Mitch McConnell - has raised more than $3.7 million since it formed last year. And it has spent most of that money on broadcast ads attacking Grimes."

HOSPITAL GROUP PUSHES FOR ROBERTS IN NEW ADS
AP: "The American Hospital Association has disclosed spending $212,000 on television advertisements praising Kansas Sen. Pat Roberts[, R-Kansas,] as he faces tea party challenger Milton Wolf in the state's Aug. 5 primary….. Roberts' re-election campaign said the ads began airing statewide last week. The ads say Roberts is a leader on protecting rural health care. Wolf's campaign said the association is a special-interest group that is part of what it called 'an incumbent-protection racket' in Washington. Roberts' campaign said the ads show Wolf doesn't have the backing of medical groups even though he is a Leawood radiologist."

PICK SIX: EYES ON THE HAWKEYES
Republicans need to gain six seats to take control of the Senate. Which six Democrat-held seats are the most vulnerable? The current consensus among Fox News First readers: Arkansas, Louisiana, Montana, West Virginia, South Dakota and North Carolina. Fox News First reader Charlie Stone thinks that Iowa's race between state Sen. Joni Ernst, R-Iowa and Rep. Bruce Braley, D-Iowa, should be a part of our top six.

Share your top six picks. Email them – just your top six, please – to FOXNEWSFIRST@FOXNEWS.COM or tweet @cstirewalt.

Ernst just beats out Braley in fundraising - State Sen. Joni Ernst, R-Iowa, outraised Rep. Bruce Braley, D-Iowa, April to June by about $80,000. Ernst brought in $1.78 million in the second quarter while her opponent brought in just over $1.7 million. The two are battling to succeed retiring Sen. Tom Harkin, D-Iowa, in the fall.

HILLARY'S HEAVY RIDER
Daily Caller: "On top of the $225,000 she is charging the UNLV Foundation to speak at an event in October, former first lady Hillary Clinton is requiring an additional $1,250 to pay for a stenographer to transcribe her speech and may request a teleprompter if she so chooses. Those stipulations and others, including restrictions on the press, are included in a contract obtained by The Daily Caller between the university and the Harry Walker Agency, which is handling Clinton's speaking tour. …As part of the contract, two event staffers will be dispatched three days in advance of the speech. The contract also gives the agency and Clinton final approval of the event program, all advertisements contained in it, and all additional event sponsors. Clinton will also be given final approval over who gets to introduce her to the crowd. 'It is agreed that [Clinton] will be the only person on stage during her remarks. …Audience questions must also be relayed to Clinton through the approved moderator, according to the contract.'"

Buffalo bills - WaPo: "When Hillary Rodham Clinton agreed to address the University at Buffalo…The contract required the university to reserve 20 seats in a 'priority seating area' for Clinton's staff and guests, and that the university pay for any additional security requested by the U.S. Secret Service…"

[Politico reports that the 2106 Democratic frontrunner will appear on PBS' "Charlie Rose" tonight.]

Still number one - Hillary Clinton is currently the best known and liked of the potential 2016 presidential field, according to a new Gallup poll. Ninety-one of respondents are familiar with the Democratic frontrunner and she has a strongly favorable rating. Former Gov. Mike Huckabee, R-Ark., landed the second highest favorable rating, 6 points behind Clinton. Both Vice President Joe Biden and former Sen. Rick Santorum, R-Pa., bottom out the favorability scale weighing in at negative four points.

KELLY FILE: CARSON ANSWERS HILLARY ON DECLINE
Dr. Ben Carson sounded off on 2016 Democratic frontrunner Hillary Clinton's suggestion that Americans had forgotten their country's "great story about human freedom, human rights, human opportunity." Carson told anchor Megyn Kelly that the country needed renewal, not new storytelling methods. Carson compared America to previous "pinnacle" nations that fell from greatness. "They tolerated political corruption.  They lost their moral compass," Carson said on "The Kelly File." "They lost their vision.  These are all the things that are happening to us and a real question is can we learn from the things that happened in the past that led to the decline of great nations or must we inexorably go down the same path." Watch the full interview here.

I THINK I'D RATHER TRY THE JELLY
"With me, the people know the butter might be rancid, but it's going to be spread on their side of the bread." – Former Louisiana Gov. Edwin Edwards, who only spent half as long as a federal prisoner on corruption charges as he did in the governor's mansion, in the must-read New York magazine profile on the 86-year-old Democrat's effort to return to Congress 50 years after he was first elected.

LESSON LEARNED
Remember the 12-year-old boy who stole a school bus and took it out for a late night joy ride last month? Well he has apparently learned neither his lesson nor how to drive. One day after the boy got out of juvenile detention for his June joy ride, police pulled him over Wednesday morning driving another bus erratically through the streets of Panama City, according to The (Panama City, Fla.) News Herald. Police allege that the boy found a key to the parked bus hidden on board and took it out for his own route. The bus bandit did seem to learn one thing from his previous brush with the law. Last time, he blamed his ride on the urging of an unknown adult. This time, the boy reportedly told police he was going to "plead the Fifth."

AND NOW A WORD FROM CHARLES…
"This is clearly an attempt by the administration to handle a problem by concealing it from the people who most have to know, meaning the governors, the mayors and the American people." –Charles Krauthammer on "Special Report with Bret Baier" Watch here.

Chris Stirewalt is digital politics editor for Fox News. Want FOX News First in your inbox every day? Sign up here.