As Economy Limps Along, Obama Touts Efforts Ahead of Crucial Midterm Elections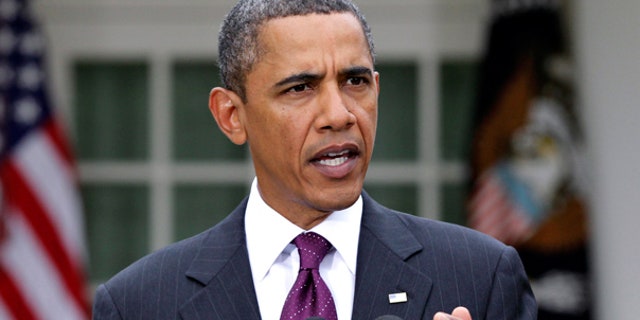 NEWYou can now listen to Fox News articles!
Faced with an economy that won't kick into gear, President Obama nonetheless took to the airwaves Saturday, telling Americans -- particularly the middle class -- they'd be worse off without his economic policies.
With crucial midterm elections just 59 days away, Obama used his weekly radio and Internet address to sell American workers on the idea that his economic team and policies have the nation's economy moving in the right direction -- in spite of near-10 percent unemployment and slow jobs growth.
The speech came as he and his economic team searched for a new strategy to jumpstart a stalled economy, including a proposal to allow the Bush tax cuts to expire for the wealthy and redirect the revenue gained toward small businesses, amid another disappointing jobs report.
New employment figures released Friday showed that the economy was still limping along with the unemployment rate rising to 9.6 percent from 9.5 percent.
Obama will unveil his economic ideas on Wednesday as part of an effort to show that his policies are helping move the country in the right direction before Democrats face the wrath of voters in the Nov. 2 election that could give Republicans control of Congress. Obama
Republicans on Saturday continued their verbal assault on Obama's policies, claiming that they have killed jobs.
In the weekly Republican message, Rep. Geoff Davis, R-Ky., criticized nearly 200 pending rules and regulations as a threat to job creation. Davis said many of the mandates would cost small-business owners who don't have the money or time to comply with them.
"The more time small-business owners spend pushing paper, the less time they have to focus on creating jobs," Davis said.
He highlighted legislation he introduced that would require Congress to vote on every major new rule before it can take effect.
"The sooner we rein in the red-tape factory in Washington, D.C., the sooner small businesses can get back to creating jobs and helping more Americans find an honest day's work," he said.
In his address, Obama touted efforts to create jobs, make college more affordable, help the middle class build retirement nest eggs, cut taxes on these families and stop health insurance companies from refusing to cover people with pre-existing medical conditions.
Labor Day is about more than grilling food and spending time with family and friends, Obama said.
"It's also a day to honor the American worker -- to reaffirm our commitment to the great American middle class that has, for generations, made our economy the envy of the world," he said.
But Obama said that, for a decade, middle-class families have experienced stagnant incomes and declining economic security while tax breaks were given to companies that shifted jobs overseas and Wall Street firms reaped huge profits.
"So this Labor Day, we should recommit ourselves to our time-honored values and to this fundamental truth: To heal our economy, we need more than a healthy stock market; we need bustling Main Streets and a growing, thriving middle class," Obama said. "That's why I will keep working day by day to restore opportunity, economic security and that basic American dream for our families and future generations."
The Associated Press contributed to this report.