Arkansas lawmaker who asked transgender woman if she had a penis calls backlash 'all a show'
State Sen. Matt McKee's question during a legislative hearing drew audible gasps and jeers
The Arkansas state senator who recently asked a transgender pharmacist if she had a penis during a committee hearing claimed the outrage over his now-infamous question is "all a show."
State Sen. Matt McKee, a Republican, received international attention last week after a video of Dr. Gwendolyn Herzig went viral. Herzig was testifying against a proposed law to ban transition drugs and procedures for minors.
"I was trying to point out the fact that, as a grown man, he had not yet taken the step that he was advocating to be available for small children," McKee told Fox News Digital of his question, which prompted jeers from those in the room and an accusation of Republican transphobia from the Democratic Party of Arkansas.
"Unfortunately, I was never able to get to the end of my line of questioning, but my goal was just to point out that there may be a reason why he hasn't done it, and I wanted the committee to be able to understand that," said McKee said, who referred to Herzig with both masculine and feminine pronouns.
ARKANSAS STATE SENATOR ASKS TRANSGENDER PHARMACIST IF SHE HAS PENIS AT COMMITTEE HEARING
McKee claimed the exchange has been unfairly represented by some news outlets, saying the viral footage has circulated outside the context "of where we were going with the committee meeting."
His question came during a Senate Judiciary Committee hearing on a bill introduced in the Arkansas State Senate that would prohibit physicians in the state from performing transgender surgeries or prescribing puberty blockers and cross-sex hormones to minors.
The legislation, which has moved to a House committee after the Arkansas Senate passed it Tuesday, would also provide Arkansans who have received such medical care a 15-year window to sue practitioners who provided it.
RACHEL LEVINE'S CLAIM ALL AGREE ON 'GENDER-AFFIRMING CARE' IS SLAMMED BY DOCTORS IN HIDING
McKee said while he has taken heat for his question from other parts of the country, many in Arkansas have expressed support.
"A lot of Arkansans have watched for the last several years as this [transgender] movement — in our opinion — has tried to wage war on our families and our kids," said McKee, who is the father of four daughters.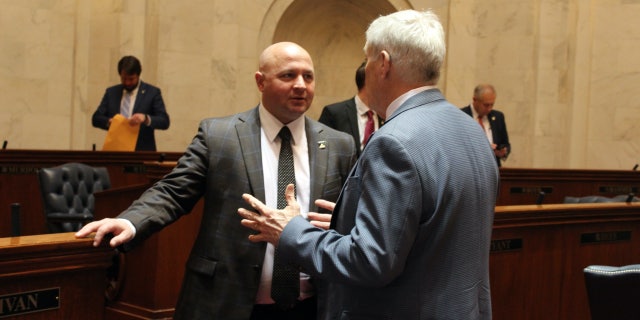 "And there's a lot of frustration, there's a lot of anger and there's a lot of people who are just so frustrated that it seems like nobody is standing up and asking the tough questions," he said, claiming many have thanked him for asking his question so bluntly.
"It seems like there's so much censorship with regard to the language that we're allowed to use with regard to the questions we are allowed to ask," said the lawmaker, who argues a woke mentality of college campuses has seeped into the broader culture.
NPR DEFENDS SEX-CHANGE SURGERIES FOR CHILDREN, FEATURES 13-YEAR-OLD ON 'PUBERTY BLOCKERS'
Herzig condemned McKee's question as "horrible" during the hearing, but the senator noted that the pharmacist did not shy away from genital-related topics during an interview less than two weeks before the committee meeting.
During an interview on "The Transgender Show," Herzig went into detail regarding her desire for gender reconstructive surgery, according to the Daily Mail.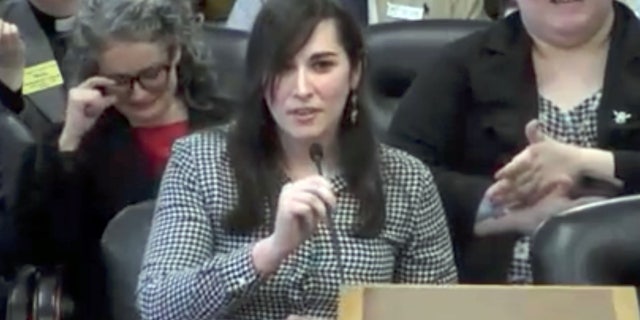 "For me, personally, [gender reconstructive surgery] is the biggest one I want," Herzig said of her desired changes, which included "the full package" of hormone replacement therapy and "every surgery that there is to know."
"I think it's all a show," McKee said of the outrage in response to his question. "I think they will use whatever opportunity they can to ostracize individuals who would point out inconsistencies in their arguments and positions."
CALIFORNIA SCHOOL DISTRICT ACCUSED OF SECRETLY COUNSELING CHILD TO TRANSITION GENDER FACES PARENTS' WRATH
The lawmaker said he believes those on board with transgender ideology do not want to be challenged regarding "irreversible sex change surgeries on minors or adults, their lack of consistency and their lack of willingness to look at the actual medical evidence."
"They can't allow that to be in public," he added.
Herzig did not respond to Fox News Digital's request for comment.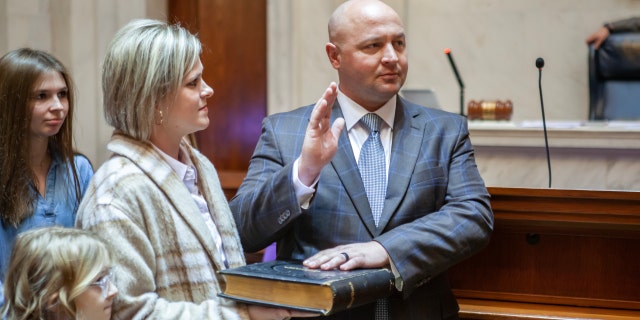 McKee said he believed that the transgender movement is beginning to crumble. Some European countries are already restricting transgender procedures for minors, and the U.S. will likely follow, he said.
"They're realizing the error of their ways. They're closing these gender clinics, and they're trying to go back to realistic therapies and treatments for what were considered mental disorders in the United States up until only a few years ago," he said.
McKee said he remains hopeful such trends will continue as more evidence emerges and more individuals step forward expressing pain and regret that they have effectively "become lifelong patients to these doctors and pharmacists."
CLICK HERE TO DOWNLOAD THE FOX NEWS APP
"I believe these doctors and pharmacists have a financial interest, and it's clouding their thinking," McKee added.