Arizona's governor asks for 'tens of millions of dollars' in funding for border security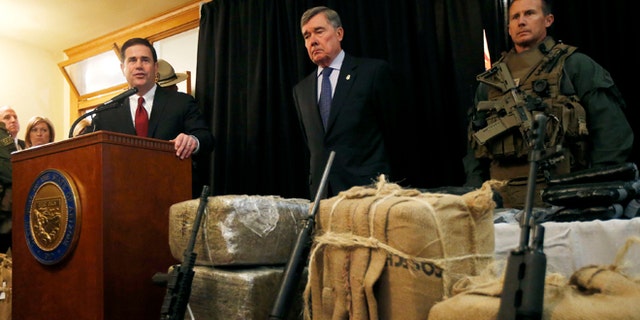 PHOENIX (AP) – Arizona Gov. Doug Ducey said Monday he wants the Legislature to approve "tens of millions of dollars" in new funding for a border security force made up of state police, a move intended to address border smuggling even as immigration and terrorism worries emerge as potent 2016 political issues.
The Republican governor said his new plan to target smuggling along the Arizona border will focus on adding staffing, technology, air assets and highway patrol coverage. He also wants to boost spending on prosecutors, help county jails pay for holding added prisoners and temporarily use Arizona National Guard troops.
The troops, equipment and added staffing will be used by a newly formed Arizona Department of Public Safety unit called the Border Strike Force. Since he created it in September, the unit has seized more than $2.2 million in cash, multiple firearms, nearly 4,000 pounds of marijuana, 73 pounds of meth, and 19 pounds of heroin - "more (heroin) than the entire amount seized in all of 2014," by state police, Ducey said.
Ducey highlighted the new efforts after testifying at a field hearing of the U.S. Senate Homeland Security and Governmental Affairs Committee at the state Capitol. Arizona Sens. John McCain and Jeff Flake attended the meeting chaired by Sen. Senator Ron Johnson, R-Wisconsin.
Johnson said the root cause of the smuggling issue along the border is "America's insatiable demand for drugs."
McCain noted that while the Border Patrol has made substantial progress, smuggling of drugs and people continues to be a major issue.
"We've made progress in securing our border, there's no doubt about that," McCain said. "But clearly we are losing the war with the transnational criminal organizations that smuggle illicit narcotics into our country. The demand for these drugs —heroin, meth, cocaine— is too high, and the profit the cartels make too great to simply arrest our way out of this problem."
The Arizona effort pales in comparison to what is happening in Texas, where new Republican Gov. Greg Abbott championed an $800 million, two-year border security proposal through the Legislature in June. Abbott pointed to drug cartel crime as the impetus for the effort.
Ducey's effort primarily targets cartel smugglers, but he also noted that increasing national concerns about terrorism play an important role in his effort. Just last week, the Border Patrol captured five Pakistani immigrants and one Afghan immigrant near the Arizona-Mexico border.
"What we're taking about today is seizing these weapons and these drugs that are causing so much hurt and anguish with our families," Ducey said. "At the same time we know that the world has changed. If you can get these things through our borders or our ports, you can certainly get other things through our borders and ports."
Ducey appeared alongside U.S. Customs and Border Protection Commissioner Gil Kerlikowske, a move that highlights a new tack toward cooperation with federal officials on border security issues after years of acrimony.
"I think this is a recognition that we can do so much more when we work together," Ducey said, citing a conversation he had with Homeland Security Secretary Jeh Johnson after the Super Bowl. "Once we renewed that type of communication and relationship from federal to state to county to local law enforcement, what kind of difference could we make on the border. You're seeing the results of that in just eight weeks."
The hearings focused on heroin smuggling, a growing part of enforcement efforts as communities across the nation combat rising addition to the potent narcotic. But they also delved into problems of drug cartels smuggling other drugs and people into the U.S.
Ducey's plan drew criticism from the American Civil Liberties Union of Arizona, which called it a "misguided effort that is likely to create more problems than it solves."
"Arizonans have seen time and again that involving state police in U.S. border policies damages the well-being of our communities and the image of our state," ACLU executive director Alessandra Soler said. "Texas has wasted hundreds of millions of taxpayer dollars on an initiative similar to Gov. Ducey's proposed 'strike force' that bipartisan critics agree has had little impact, other than to make communities less safe. We should not repeat these failed policies in Arizona."
But the governor rebuffed the criticism, saying his main job was to protect Arizona.
"You can look at the human toll that's happening in our communities, you can see the results ... in the two months of this strike force," Ducey said. "My No. 1 concern is public safety for the state of Arizona."
Ducey took office in January when it appeared the state could have a budget deficit approaching $1 billion, including money that courts had ordered the Legislature to pay to schools for failing to provide required yearly inflation boosts. But the school lawsuit was settled last month, without using much general fund cash, and tax revenue is running well above forecasts.
The Legislature's budget analysts say the state should start the budget year on July 1 with $555 million in the bank, plus a rainy day fund approaching $500 million. Although only about $240 million is considered ongoing revenue, the cushion should leave Ducey plenty of space to boost border security while also cutting taxes and increasing other spending.
Border sheriffs in Yuma and Santa Cruz counties said recently that new state efforts should focus on boosting highway patrols, aiding sheriffs that already have deputies on smuggling task forces and other support efforts. But Ducey said he's gotten positive feedback from other law enforcement and that those sheriffs will come around.
The use of National Guard troops will be small and short-lived, DPS Director Frank Milstead said. The small border force operating now uses air assets and support personnel from the Guard's joint narcotics task force, but the funding request will seek to replace them quickly.
"The national guard is not a sustainable alternative for us," Milstead said. "They're very expensive to use and they have other priorities as well. So the temporary use of their air assets and their staffing will fill that need right now."
Ducey said the issue of heroin and drug addiction resonates across the country.
"Arizona must hold the line for the sake of every state, every community and every family in this country, and we intend to do so," he said. "But this is not just Arizona's problem, it's America's problem and it must be met with more money, manpower and multilevel cooperation and support."
Like us on Facebook
Follow us on Twitter & Instagram